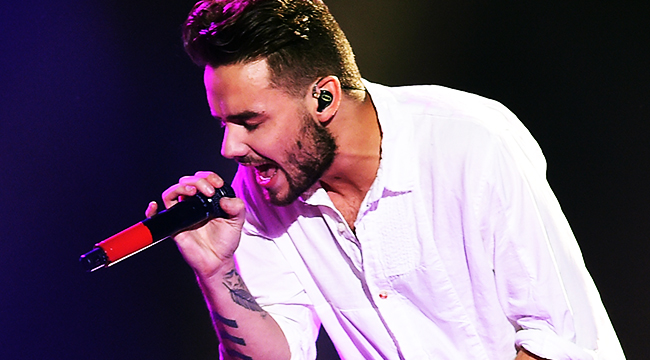 There's a line in Liam Payne's first solo single that made me laugh so hard the first time I heard it that I shot orange juice out of my nose. "Strip That Down" begins with a generic club beat, reminiscent of Nick Jonas, or Ed Sheeran when he attempts a club beat, but the kicker comes a few lines into the first verse. "You know, I used to be in 1D (now I'm out, free) / People want me for one thing (that's not me)."
"Strip That Down" was good for a laugh for the first few weeks of summer 2017, but the song eventually wore me down so hard that I would scream in delight when it came on in the car or at the club. The song played in the dentist's office when I was getting my wisdom teeth removed, and apparently inspired a gauze-mouthed monologue about how Liam was the most crucial member of One Direction. My dentist let me put together a playlist for when she was rearranging my sinuses and gums. Liam's voice was the glue holding One Direction's "Long Way Down" and "Fireproof" together, flexible and capable of taking the spotlight or stepping back to let the others shine. Liam liked singing with his brothers. I asked my dentist if she thought Liam sounded lonely on "Strip That Down." She probably regretted letting me log into Spotify.
Since "Strip That Down," Payne released a few other singles — "Get Low" with Zedd, "Familiar" with J Balvin, "For You" with Rita Ora, "Bedroom Floor," co-written with Charlie Puth. All of them are generally similar to "Strip That Down," club bangers that showcase the smoothness of Payne's voice, if not the versatility he demonstrated in his work with One Direction. All of these songs are well produced and catchy as hell. But in my most cynical moments, I wondered if anything would be lost if any other male pop star sang these songs, and how much Payne needed the outlines drawn by other singers to give him shape.
Who is Liam Payne?
In One Direction, Liam's role was the highest voice in a five-part harmony, the sweet vocals that would come in the bridge after Harry's power in the chorus. He was "Daddy Direction" to the rest of the band's debauchery and teenaged silliness, the one who talked the most in interviews and always looked out for his friends. He's a Virgo — whether you read up on astrology or not, Payne is demonstratively hardworking and fastidious, careful and loyal to the people he cares about. (Today, August 29, is actually his birthday.) For most of his time in the public eye Liam been in serious relationships, most recently with the English pop star Cheryl. He's an actual dad, too. Knowing so much about Payne (or, at least, the illusion of knowing so much) made listening to his solo work a bit dissonant. He opened his mouth, and we expected to hear something sentimental and sweet, a ballad, some crooning.
Every musician (hell, every person) has to contend with expectations. Because you look a certain way, because you're a certain age, people make guesses as to how you're going to sound, what you're going to write about, who you are. Because of his work in the band, and because he began his solo career with a fanbase of millions of young people who already knew his personality, voice, and values, Payne had to contend with double the expectations. On one side, there were the music critics, jaded after years of watching would-be Timberlakes try to break free from their teen pop roots by embracing hip-hop and singing about sex. On the other, there were 1D fans who know Liam's golden retriever puppy energy and sense of humor, how gentle he is with his friends and how much he loves crafting a melody.
Before Payne's EP, First Time was released last Friday, I revisited his old auditions for The X-Factor, the show that would unite him with his bandmates and make him a star. The first go-around, in 2008, the 14-year-old Payne impressed the judges (with a sweet cover of "Fly Me To The Moon") and made it through the first audition, but he was cut a few weeks later. In 2010, the singer returned with a Bieber swoosh haircut (hey, it was 2010) and a determined glint in his eye. Payne told the judges he'd be singing "Cry Me A River" — and then he shocked them by doing the classic torch song instead of the Timberlake radio hit. By the end of the song, he could barely stop smiling, and the audience gave him a standing ovation.
I'm not trying to discount the singles Payne released prior to last Friday — "Strip That Down" is a banger for the ages, and the criminally underappreciated "Get Low" might be one of Zedd's strongest collaborations to date — but Liam's first few singles were a little like his first X-Factor audition. They were a practice run. They were covers. "Strip That Down" sounds like Ed Sheeran desperately wanted listeners to know he wrote that song. "Bedroom Floor" could have been plucked from Drake's slush pile. "For You," honestly, is just a Rita Ora song. When I saw Payne perform his first-ever solo headlining show in New York in June, the singer padded the hour-long set with actual covers. He did "Attention" by Charlie Puth, Sheeran's "Shape of You," and a couple 1D covers, including the treacly, sickly-sweet "Little Things." In the show's best moments, it felt like a night at a club playing all my favorite songs. Other times, I wondered if Payne was using us as a focus group to see which persona stuck.
Payne didn't seem entirely comfortable singing on his own, either. Onstage at the show, he was accompanied by backup dancers who seemed to exaggerate how small and intimate the Beacon Theatre's stage was. And at one point, a One Direction music video actually played behind Payne onstage, Harry's and Niall's ghostly, grinning 19-year-old faces looming in the background while Liam performed "History" by himself. Of Payne' six previous singles, five of the songs have features. Features are common in pop and hip-hop, but for an artist without an album or EP, who became famous as one voice in a five-part harmony, you'd think he would prioritize distinguishing his sound and himself as an artist.
Up until a few weeks ago, Payne was due to release his debut album in September. But on August 16, the singer announced that he'd be scrapping most of the songs he wrote for the album, because the songs felt "from another age" and not representative of where he is right now. First Time, a four-song EP, would represent the journey he's on following his split with Cheryl, his partner of two years. Payne told Australian radio DJ Ash London that "I like [the EP] being a little storybook. It's four tracks, it's not quite an album. There were a lot of songs on the album that I love but — everything was all a bit happy, in that vein, and sometime [life's] not." Payne went on to say that the EP represents the trajectory of a relationship, from the upbeat pop of the first two songs to the more melancholy ending.
"First Time," the EP's first track, might be Payne's best iteration of club pop to date. Payne and French Montana trade verses, and if you close your eyes, the song sounds like it could be a cut off Drake's Scorpion. (Payne is definitely doing his best impression of Drake's moody half-rapped choruses, but it kind of works.) The song is about romantic infatuation, how he picks up the phone "on the first time, hoping you would check on me."
Payne follows "Home With You" (a bit of a snooze that likens a busy and loud club to "too many cooks in the kitchen") with "Depend On It," a really lovely and heartbreaking ballad. The lyrics describe the kind of fight that ends relationships, the look in someone's eyes when you realize that their anger and resentment toward you have built up enough to overwrite the love. Payne is, rightfully, a show off here, displaying his easy falsetto and lower range for the first time since he went solo. The spare piano is a perfect accompaniment to the naked vulnerability of the lyrics. It's not a song that will ever be on the radio, but you get the impression it's one that Payne needed to show to fans and critics. It's the barest he's ever been, and behind that piano, his voice shines alone.
"Slow," the final song on the EP, makes me even more optimistic for the direction of Payne's solo career. Liam has an ear for pop melodies and is smart about crafting songs with mass appeal. His are songs that you can bop to on the highway, the dance floor, or the aisles of the grocery store when no one is looking. This song proves that you don't have to sacrifice honesty for the sake of a good beat. The lyrics are a little sad and wistful, like so many of the best pop songs, and the more you listen to the EP the more you can hear the narrative Payne described in his interview with Ash London. He's dancing, he's infatuated and a little wild and reckless, he knocked something over and had to watch in slow motion as it all tumbled down. "Slow," despite the title, is upbeat, a Zedd-style beat without a feature.
What do you know — Liam Payne sounds great on his own.
First Time is out now via Capitol Records UK. Get it here.