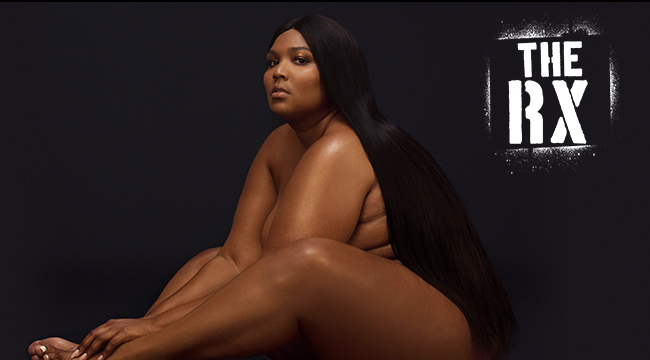 The RX is Uproxx Music's stamp of approval for the best albums, songs, and music stories throughout the year. Inclusion in this category is the highest distinction we can bestow, and signals the most important music being released throughout the year. The RX is the music you need, right now.
Lizzo opens her full-length major label debut Cuz I Love You with an honest-to-god acapella yowl. Iiiiiii'm cryin / Cuz I looooove youuuuu!" she screams, like she's daring you to turn the volume up and match her enthusiasm. It'd be a bold and slightly off-putting intro coming from any other artist, but Lizzo knows her strength, and her strength is in screaming how she feels.
Singer-songwriter-rapper Melissa Jefferson's third solo LP, Cuz I Love You, is an exercise in joy. It's impossible to listen to this album without letting a smile bloom on your face. It makes me want to be a better person. It makes me look in the mirror with a gentler eye, seeing the qualities that might be devalued by Eurocentric, misogynistic, ableist society as a source of stunning beauty. It makes me want to hug my friends and dance and scream how much I love them at the top of my lungs. It might make you want to do those things, too.
There are two types of people — Lizzo fans and people who haven't heard her yet. With the dizzying success of her pre-released Cuz I Love You singles, thankfully, there aren't many in that second camp anymore. She's on top of the world, performing flute solos on Ellen, talking body positivity with Jameela Jamil, all over the radio, and blowing up Twitter. To listen to her once is to fall in love with her. Months before Cuz I Love You was even released, Jefferson sold out a tour playing the biggest venues of her career so far. Her popularity is compounding so fast it's hard to keep up. Mid-size venues aren't big enough to hold her ambition or powerhouse voice. Even arenas seem too quotidian — she belongs in the sky, hands clapping like thunder and positive affirmations cracking the sky like lightning.
Cuz I Love You is an immediate classic. Rather than follow current trends in pop and R&B, Lizzo reaches back to retro '80s pop, '60s doo-wop, and '70s soul for inspiration. Her unapologetic penchant for throwback jams has drawn comparisons to labelmate Bruno Mars, but Lizzo amps up the playful elements of her vintage pastiche, making her music fresh and all her own even as it's indebted to the classics.
Through the album's diverse sonic influences, Jefferson's powerhouse voice is the light that brings every song home. She can go low and sultry ("Tempo") and climb pop queen high ("Heaven Help Me"), and her belting would make any Broadway legend shake. Peacock confident, Lizzo uses every song on the album to demonstrate the versatility and power of her vocals. She chews every word of the swaggering "Crybaby," drawing out the word "family" to at least five syllables.
Apart from that voice, Jefferson is also a master lyricist trading in unexpected, delightful turns. Her wordplay is clever and creative, and each repeated listen of one of her songs yields new jokes and turns of phrase you might have missed the first few times listening. I must have played "Juice" about a hundred times since it came out in January, but it took me until this week to notice the David Copperfield wordplay in the second verse ("David, you ain't bein slick / Don't dare you try and cop a feel").
Although her sound has evolved a lot since her early projects, you can hear Jefferson's rap prowess in her deft wordplay and buoyant stream-of-consciousness narration. Melodically, "Jerome" sounds more like a retro R&B send-up, but the detailed, circuitous way she describes his personality and narrates their breakup is more indebted to hip-hop's icons and storytellers. While pop songwriting today tends to cut right to the feeling, there's a long tradition of situational, multi-perspective storytelling in hip-hop, and Lizzo borrows from the greats to spin this tale of a boy with a pretty face and some "ugly ass" emotional immaturity.
Lizzo's got bars herself, too. The joyful, bouncy opening of "Like A Girl" threw me for a few seconds, giving me serious throwbacks to the second track on Chance's Coloring Book. The whole song shares the same ebullience as "No Problem," as Lizzo alternates between rapped verses and the powerhouse belt of the chorus. Those who were introduced to her music through the poppy "Juice" might be surprised to hear her confidence as a rapper, but Lizzo has been effortlessly blending rap, R&B, and pop melodies since day one.
Apart from the sonic send-ups to hip-hop, Lizzo also includes features from some of the greats. Even without a feature from the rapper herself, "Tempo" would be an absolutely killer Missy Elliott tribute. Elliott has been ahead of her time for decades, and the stuff she was putting out in 1999 still sounds fresh enough to conquer the radio today. Elliott, like Jefferson, is a brash, take-no-prisoners woman who knows her power, and to hear them on the same track feels like a gift. "Tempo" certainly isn't the first song to embrace feminine curves — or even the first Lizzo song to embrace feminine curves — but the duo find a million ways to describe the sex appeal of thick thighs. And no matter how many times Lizzo sings about it, that kind of affirming body positivity never gets old.
Cuz I Love You is a great album on first listen, but I have a feeling it'll compound into something even more special over time. In a bleak moment in history like this, where human life is often treated with the callousness of characters in a video game, and every headline makes me sick to my stomach, music offers a moment of reflection and space to breathe. In its positivity and affirmation, Cuz I Love You is a radical statement of joy. With every flute solo, flawless rap verse, and belted high note, Lizzo shows off the full capacity of her power as a musician and seems to be telling listeners to do the same. Sing loud, love loud, live loudly and unapologetically. If she's shining, everybody's gonna shine.
Cuz I Love You is out now via Nice Life/Atlantic. Get it here.
Lizzo is a Warner Music artist. Uproxx is an independent subsidiary of Warner Music.