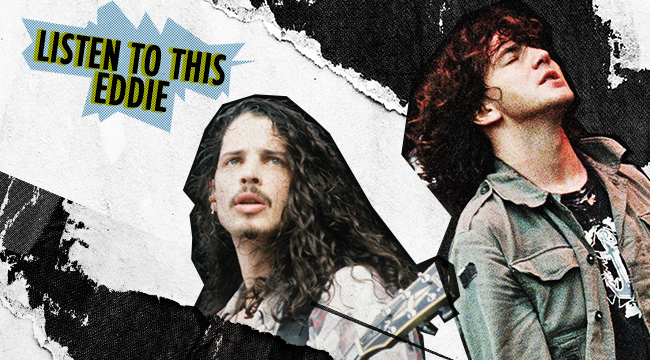 Listen To This Eddie is a bi-weekly column that examines the important people and events in the classic rock canon and how they continue to impact the world of popular music.
Lollapalooza was never meant to become an institution. The way its founders, the members of the band Jane's Addiction, and lead singer Perry Farrell in particular, saw it when they first hit the road in 1991 was as a one-time only thing. An epic farewell before they went their separate ways. They picked the bands and artists that appeared on the bill themselves — Nine Inch Nails, Ice-T and Body Count, Henry Rollins, Siouxie And The Banshees, Living Colour, and Butthole Surfers — and packed amphitheaters across the US with the most adventurous elements of Generation X egging them on and totally losing their sh*t. It endured because the fans demanded it. It endured because the sequel in 1992 was even better than the original.
In a glowing contemporary review, The New York Times described the original Lollapalooza, "a boon for the twenty-something generation, a happening that may instill pride in teenager's who have grown up under the shadow of rock's mythic past." In assembling such a diverse lineup and turning the entire endeavor into a real event replete with art installations, a carnival sideshow and space for activist groups, Jane's and the organizers were creating whole new myths at every stop along the way.
"It was a train of freaks traveling the world, bringing it to Ohio, bringing it to Jersey, bringing it to Seattle, and seeing that it was everywhere, and they were waiting for it, and they were hungry for it," Jane's drummer Stephen Perkins told Spin. "Once we left the town, the town was never the same."
Once he got out in front of the people Farrell saw that even if his band wouldn't continue, there was a future Lollapalooza. That being said, he also realized that if he went out again with the exact same sort of set up, the counter-culture would rise up to denounce the whole thing as an empty cash grab. If he really wanted Lollapalooza to succeed he would have to top the original in every way shape and form, and that meant going bigger. Much bigger.

To begin with Farrell decided that, rather than limiting Lolla to a single main stage, he would also bring out a second side stage on the road, allowing more bands to join the tour. The art display would become even more elaborate, including something called The Rhythm Beast, a sort of interactive sound sculpture. Booths were set up to sell everything from artist merch and fried foods to temporary tattoos and books. You could even bungee jump on site for a mere $79 a ride.
All the stage dressing and activities wouldn't have meant a damn thing of course if Farrell couldn't assemble a compelling lineup, and in that regard he came through in spades. Pearl Jam, who were barely a year removed from their breakthrough record Ten were added to the tour. So were their Seattle cohorts Soundgarden. Ice Cube and Cypress Hill held it down for the hip-hop contingent, but Lollapalooza in 1992 was mostly about the alt-rock groups, and bands like Red Hot Chili Peppers who were riding high on their fifth album Blood Sugar Sex Magik, Stone Temple Pilots, Ministry, The Jesus And Mary Chain, Lush, Rage Against The Machine and Farrell's own band Porno For Pyros dominated the bill.

Lollapalooza '92 kicked off with back-to-back blowout shows at the Shoreline Amphitheater in Mountain View, California, about an hour south of San Francisco, on July 18 and 19. For the next two months, the fest wound its way across the entire country and some parts of Canada, hitting the Midwest, snaking over to New England, New York, then diving down South and shooting back over for three consecutive extravaganza's at the Irvine Meadows Amphitheater just outside of LA.
Along the way, Pearl Jam burnished a reputation as one of the can't miss, high-flying live bands of their entire generation. "Playing to people that you'd never played to before, it was like, 'You know what? We're going to play, we're going to take this to some level that people aren't going to forget,'" lead singer Eddie Vedder said in the band's biography Pearl Jam Twenty. "If that means risking your life to do something that they won't forget in some kind of adolescent, Evel Knievel way, we're gonna do it."
Vedder wasn't joking. The singer regularly took his life into his own hands during their set, jumping into crowds, climbing up tall structures, and dangling precariously while watching the audience cheer him on from down below. It was utter madness, but it definitely left a big impression. On the musical front, lead guitarist Mike McCready regularly brought the house down, soloing like a madman on his Fender Stratocaster, tossing in bits of classics like Jimi Hendrix's "Voodoo Child (Slight Return)" into the middle of their own songs like "Porch."
Even though Ten was currently sitting in the Top 10 on the Billboard album charts, Pearl Jam were given a spot near the bottom of the bill, regularly hitting the stage sometime around 2 PM. "A couple of weeks before the tour there was an opportunity for us to renegotiate, not just the money, but the time slot," bassist Jeff Ament recalled. "But we were like, 'Nah, we don't want any added pressure to this situation.'" Adding, "We still have an absolute blast playing shows, but I don't know that we've ever had more fun on a tour. We were playing intense shows, but within an hour, I'd be playing basketball with Flea and Ice Cube."
Though there was good feelings between all of the acts on Lollapalooza that year. "The key to this tour working is groups coexisting," Ice-T said, "If you take one group on this tour and they're assholes, they won't make it." There was an especially solid bond between Pearl Jam and Soundgarden. "I think it was one of my favorite tours of my career, because we shared a lot of camaraderie" singer Chris Cornell recalled in Pearl Jam Twenty. "It's like your buddies you grew up with that you played in front of ten people with for years, and now you're on tour together playing for twenty-five thousand people. And it seems to mean something culturally."
Soundgarden held it down in the afternoons as well, playing some of the hardest material of any band on the bill. Cornell was probably the best pure vocalist on the tour and regularly blew people away with his four-octave instrument. Nothing can quite prepare you for the utter savagery of songs like "Outshined," "Jesus Christ Pose," "Rusty Cage," and "Slaves And Bulldozers." In a nod to Ice-T, they also busted out a cover of his controversial song "Cop Killer."
Just to show how tight hey were, when Vedder missed the bus from one gig to another in Virginia, Cornell volunteered to fill in for him in Pearl Jam. While he was on the stage, just about to start singing, the Soundgarden front man was interrupted by Vedder who managed to make it to the venue by hitchhiking out on the open highway. With wide smiles on their faces, they launched into their Temple of the Dog supergroup hit "Hunger Strike. That song would get aired out live once again during Soundgarden's set at the show near the hometown in Bremerton, Washington, as well as during a few of stints together acoustically on the smaller side stage.
As the headliners charged with closing the festival out, the Red Hot Chili Peppers were really up against it. At that exact moment they were still in the process of breaking in new guitarist, Arik Marshal, who had the unenviable task of filling in for John Frusciante who had quit the band just a month or so before the tour started. "It's a cosmically confusing, f*cked-up situation to lose a family member like that," Anthony Kiedis told Rolling Stone. "We didn't want it to happen. Emotionally, it's very sad and disheartening. But that's what happened, and we had to carry on." Despite the obstacles, the Chili Peppers held it together and put together incredible displays of funk rock wizardry for 90-minutes at a time on a nightly basis.
According to most accounts, the breakout star was Ice Cube, who made an incredible impression backed by his group Lench Mob. The suburban white kids that made up most of the crowds were incredibly receptive to hearing the former N.W.A member burn the place down each night airing out material from his three solo albums AmeriKKKa's Most Wanted, Death Certificate and The Predator. "I didn't know what to expect," Cube said. "But when I did the first two or three songs and saw everybody was into it, I had to jump out into the crowd." The energy translated, even if the message of songs like The Wrong N***a to F*ck Wit" and "How to Survive in South Central," went over their heads.
Chris Cornell summed up what Lollapalooza was in those early days probably better than anyone else in an interview he gave to the metal magazine Kerrang that same year. "I think it was the alternative culture coming together for a non-alternative audience to check out." The great unwashed mass of young kids raised on MTV showing up by the thousands to praise their heroes and bang their heads, which is pretty much what's it's remained ever since. The only thing that's really changed in the last 25 years really are the mediums which those kids consume pop culture, and the bands who make up the bill…except the Chili Peppers who have performed Lolla three times since, including as recent as last year — they were pretty great then too.
"What Lollapalooza II has proved is that there is a serious market for a youth counterculture," Farrell told Rolling Stone in 1992. "The good news is that these people will sooner or later be in positions of prominence, and we have taken them to school." Looking out at the landscape of festival culture as it exists in 2017, it's amazing how true that prediction turned out to be. See you all out at Grant Park.
The Bootleg Bin
July 21, marks the 30th anniversary of the release of one of the greatest albums ever recorded, Guns N' Roses' Appetite For Destruction. In honor of that heady occasion, I offer for your listening pleasure my pick for the all-time greatest Guns' live performance, their show at Perkins Palace in Pasadena, California on December 30, 1987. This show was a homecoming of sorts for the band after a long year spent on the road supporting other groups like Alice Cooper and Motley Crüe and they tore the damn roof off the place in celebration.
The recording up top was taken from the final evening of four-night stand. It's a savage show, finding the band whipping furiously through some of the best material from their most recent album, all time classics like "Welcome To The Jungle," "Mr. Brownstone," and "Sweet Child O' Mine," while also offering up a preview of the tender ballad "Patience." Incredibly, the band played this gig and the three before it without the aid of their drummer Stephen Adler, who handed over his sticks to Fred Coury of Cinderella after breaking his hand punching a metal door while drunk. "In spite of all of that, the Perkins Palace shows were some of the best shows we'd ever done," Slash wrote in his autobiography.