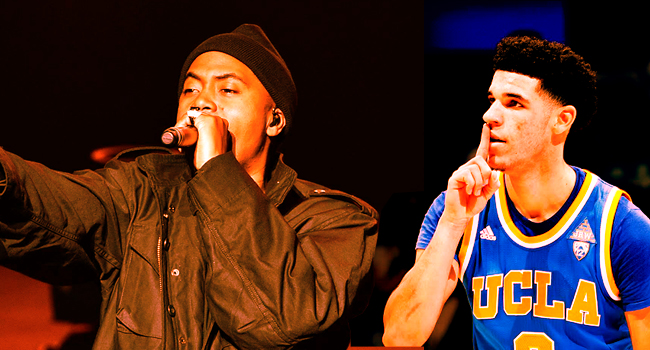 Kids say the darnedest things, word to Art Linkletter.
For example, just last week, NBA draftee/Internet soundbite goldmine (and, I think it should be noted, semi-aspiring rapper) Lonzo Ball said, "Migos and Future is real hip-hop. Nobody listens to Nas anymore," and accordingly, rap fans of a certain train of thought on the internet went berserk. Nas' manager called him "oatmeal face," and Lil B threatened to drop his dreaded curse on the Lakers rookie's first season.
(For the record, I understand exactly how it feels to have the old salts lose it over one of my opinions, so I relate to the young man.)
Here's the thing, Lonzo may not be 100% accurate in his assessments, but he isn't wrong. Certainly people do still listen to Nas, but do they listen in the same numbers? Leaving aside the fact that the video in question was clearly edited around a larger conversation that may have clarified his comments, Ball did make a couple of strong points. In fact, I'll go ahead and say it: Lonzo Ball was right, and beating him up for his opinions on hip-hop is wrong.
This is unscientific, to say the least, but I logged onto Spotify to compare these rappers specifically. Under the "popular" section, Nas' top five songs are:
"If I Ruled The World" — 52,495,046
"NY State Of Mind" — 39,330,742
"The Message" — 36,703,120
"The World Is Yours" — 29,786,277
"Hate Me Now" — 15,844,142
So, right off the bat, the thing I notice is that not one of these songs is from this decade — actually, this century. Nas was at his most prolific post-Y2K, yet none of his more recent output is among his most-streamed, despite the fact that he's released at least two albums during the streaming era. (2012's Life Is Good is a banger, for what it's worth.) Now, I can simply forego the list for Migos; "Bad And Boujee" has over five times the number of streams as Nas' most popular song — which, heads of a certain age will remember, was an obvious grab for pop radio and garnered its own mass outcry when it dropped back in '96.
Future's most recently released single is actually his most popular as well; "Mask Off" has 439,618,696 streams since its release in July of this year. Migos and Future's most popular singles each have more streams than all of Nas' combined, so it does, in fact, appear that nobody is listening to Nas… at least in comparison to the other acts Lonzo mentioned.
So, before the eternal "real hip-hop" debate is reignited again by those who feel that nothing after the golden era of the genre really counts as art, let's get a couple things straight. Lonzo said a thing that is very, very "I'm 19-years-old, and everyone I know is 19-years-old, so my opinions and views of the world are very much shaped by those two facts." They are going to have opinions that are dumb to us, the over-30 crowd, because our lived experience is naturally different and longer than theirs. We've seen more stuff, but we've also seen vastly different stuff.
Our internet came on a 3×4 floppy with the AOL logo and 30-day free trial. Theirs comes with their cell phones. We didn't even have cell phones. To the best of my knowledge, as I did my absolute best to play "real hip-hop" for my now 19-year-old brother, kids are going to do what they want. Like my brother, Lonzo is going to define what is or isn't real hip-hop for himself, despite the unofficial, loosely-codified canon we older heads use to beat the kids over the head with.
That's the rub, isn't it? Because "real hip-hop" is one of those terms that never really seems to go away, but never actually had a solid definition or really ever meant anything. When I was 19, I was super obnoxious about forcing my friends to listen to "real hip-hop," which I defined at the time as being Common, Talib Kweli, Dead Prez, MF Doom, Slum Village, or really anything that wasn't getting played on the radio. Meanwhile, in 2004, Lil Jon and the Eastside Boyz and D4L controlled the airwaves. Everything was "snap your fingers, two step," and I hated it. But, the more I tried to push people into listening to my kind of hip-hop — which is really all anyone means when they say "real hip-hop" — they mean "rap music I personally like" — the more I turned them against my faves.
Today, we see the same thing: Salty rap nerds in the comments sections of any rap video on Youtube are constantly berating the artist and all their fans as too stupid and too tasteless to recognize real talent, followed by a short list of whatever the commenter likes to listen to. However, you may notice one day that all of those commenters' lists vary so wildly, that a common consensus on just what "real rap" is would be nearly impossible to garner. The fact they preface their lists with insults and bitterness doesn't make the fans of Lil Uzi Vert or Lil Yachty more likely to check out Immortal Technique, it makes Immortal Technique fans look like a bunch of haters, and if his music is reflective of their nasty attitudes toward rap (spoiler alert: a lot of it is), then why would any 19-year-old who just wants to have fun at parties ever want to listen to it?
I'm not going to get into the real rap bonafides of Migos and/or Future here, because I don't really care what you listen to or why. You're allowed to listen to whatever you want — that's the point. When you remove the term "real hip-hop" from your vocabulary, you realize you can listen to anything and derive enjoyment from it, because you're not looking for it to fall into neat categories or ordering something that isn't on the menu, so to speak. You wouldn't go to McDonald's and ask for a medium rare filet, would you? Likewise, as dope as eating a perfectly-cooked steak can be, wouldn't it get boring if you never let yourself enjoy a Big Mac every now and again?
The trick is this: you don't have to walk into a McD's and berate everyone in there for not knowing about other kinds of food. That would be rude, reductive, and presumptive on your part. You don't know what those people do or don't know or like. The point is, you don't have to be a dick about other people not liking what you like, and you would be a lot more successful in sharing your taste with others if you chilled out and just offered it to them like a normal person.
The vitriol being served by the proponents of real rap and supposed Nas fans toward Lonzo is unnecessary, yes, but it's also wasted. When rappers beat up women, where is all that same energy? When Nas' new album drops (if it drops), will all these fans rush to the stores and streaming sites and make it go platinum in a day? Or will the result be the same collective shrug that follows every "real hip-hop" release, with the exception of Jay-Z's 4:44 and Kendrick Lamar's DAMN.?
There's plenty of lyrical, throwback, '90s-style boom-bap hip-hop, but somehow it still flies below the radar, while hip-hop heads screech at the kids for liking music specifically designed for and by their own peer group. That's just hate, and no matter what generation you belong to, hating has never been and never will be real hip-hop.