Hot Take incoming: Two days is the perfect length of time for a music festival.
By cutting off a fest right when most are gearing up for a slog to the finish line, you avoid the Day 3 crash that comes after two long days of sun exposure, drinking and illicit drug use (or free sandwich bloat, if you're a journalist). Made In America Festival in Philadelphia fully understands this, knowing that if you only give folks two days, then the turn up will be all the more real. And by the time that crash sets in, you'll be safely nestled on an airplane and typing out a recap with your thumbs.
Too specific? Anyway, here's the best of what I saw at Made In America.
Teens Get Off The Internet And Run The World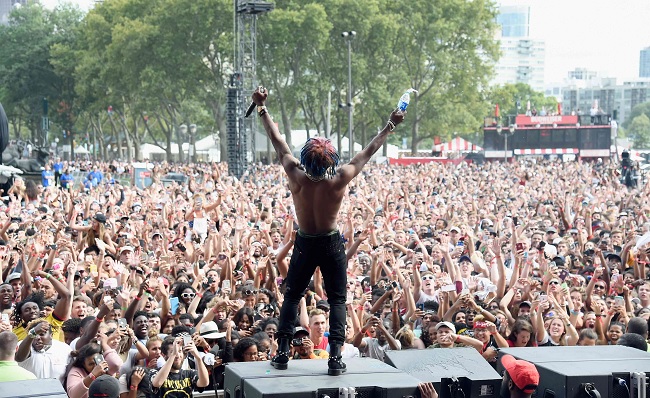 It's easy to dismiss acts like Lil Uzi Vert and Lil Yachty as purely internet sensations for teens who Tumbled before they could walk. The rappers largely made themselves online and their music as well as their attitude toward the canon sounds like a pure distillation of Generation Whatever We're Calling Post-Millennials.
But then you see them in person. You see Lil Uzi pull thousands upon thousands of drunk teens to the main stage and deliver one of the most hectic and vibrant sets of a fest with plenty of competition in that regard.
You see Yachty draw in an even larger crowd at a smaller stage where things get so hype that kids start crowd surfing trash cans full of garbage. You see Yachty come out 30 minutes late in a boxing robe to "Gonna Fly Now." You see kids in kimonos and giraffe costumes and Hood By Air all losing their f*cking minds over a weird little guy with bright red twists. Most importantly, you see both young dudes rap for their lives.