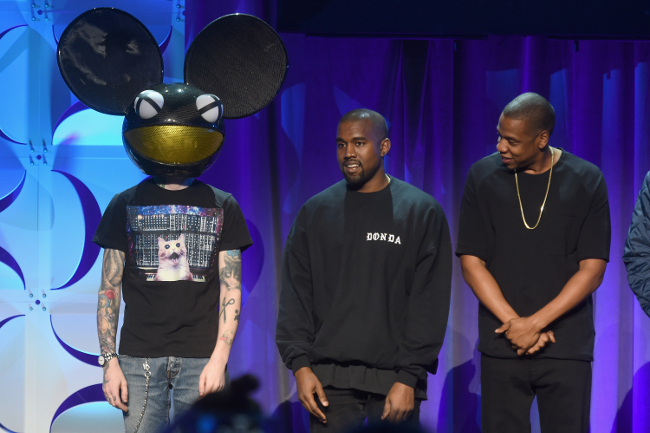 Jay Z rolled out the music industry's biggest stars to launch the artist-backed streaming service Tidal in New York City yesterday, and the response has been mixed. Most notably, music fans are concerned about the price tag, as $10 or $20 a month seems like a bit much for something that looks a lot like Spotify and does the same stuff that we already get from that service or iTunes Radio. However, while Jay Z denied that Tidal is a direct competitor for Spotify, his is not without its unique bells and whistles, so it's really all about the consumer sitting down and determining what he or she wants in a music streaming service.
Some people, though, have been concerned about a darker side of Tidal, as the same folks who believe that Jay Z is a member of the Illuminati are convinced that the service he and Project Panther Bidco acquired last October is just the tool of the New World Order. Apparently, people believe that Tidal's logo is an Illuminati symbol, and this video of the meeting of musical superpowers is supposed to seal the evil deal.
https://twitter.com/kanyewest/status/582573084089065473
Not so fast, though. Attention-loving pop queen Madonna wants people to know that if they're calling Tidal a device of the Illuminati as if it's a bad thing, they're all wrong. Because she sees herself as a voice of change in any and every capacity – even if Barack Obama is too scared to have someone so edgy in the White House – Madonna is willing to dub herself a member of the Illuminati, because it means "The Enlightened Ones."
See how she flipped that on the haters? Well done, Madge. You're truly the best at being more enlightened than the rest of us, even if you can't spell knowledge.