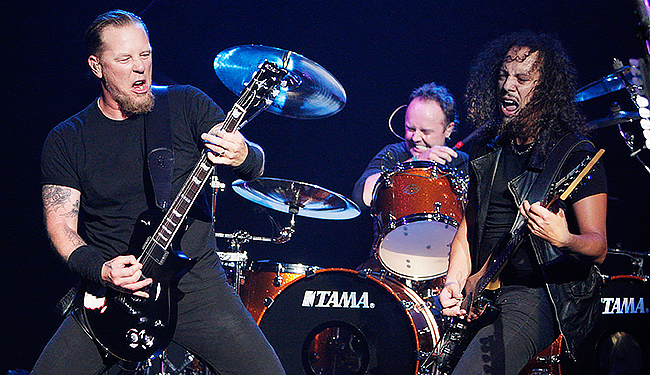 When considering the legacy of Metallica, pretty much everyone agrees that their first five albums (Kill 'Em All, Ride the Lightning, Master of Puppets, … And Justice for All, and Metallica/The Black Album) are all-time heavy metal classics. After that, however, it gets a bit muddled. In 1996, Metallica released Load, and the sequel (in name anyway) the following year, Reload. While these albums certainly have their admirers, they're nowhere near as beloved as the albums that preceded them. Opinions were so intense at the time of the albums' releases that some long-term fan decided to give up on Metallica.
On a recent episode of VH1 Classic's That Metal Show, guitarist Kirk Hammett was asked to rank Metallica's albums from best to worst. At the very bottom of the spectrum, he put Load. That's right, he thinks it's even worse than St. Anger! If that's not a strong condemnation, I don't know what is. Of course, for all of its glaring flaws (THAT DAMN SNARE DRUM!), St. Anger is a thrash metal record in the vein of Metallica's classics. The same cannot be said for Load or Reload.
When considering why these albums are so reviled by Metallica fans (and Kirk Hammett), that might be our answer. The problem isn't that the albums are bad, it's how far they drifted from Metallica's thrash roots. The Black Album wasn't as thrashy as previous Metallica releases, but it was still undeniably metal from start to finish. The same cannot be said for Load and Reload, on which the band tried their hand at several other genres. (The band's softened sound was personified when they cut their long hair for Load, which also angered many long-term fans.)
Consider the single "Hero of the Day," which got quite a bit of radio airplay upon its release. It's a mid-tempo number, and it's tamer than any previous Metallica single. It's a perfectly fine song, but it's not exactly the kind of thing you headbang to. Elsewhere, the band experiments with southern rock on "Ronnie," which has one of Kirk Hammett's more underrated riffs, but it never turns into a full metal blast.
The biggest diversion from Metallica's past on Load, however, was the country-ish ballad "Mama Said," which would have been completely unthinkable on any other Metallica record, including The Black Album. Despite not sounding anything like what we expect from Metallica, it's actually a great song. The lyrics discuss James Hetfield's strained relationship with his mother, and it ranks among the most honest songs he's ever written.
There are great tracks on Reload, as well. At this point, you may have heard "The Memory Remains" more than enough times for one life, but once you get past how overplayed it's been, it's a perfectly executed hard rock song, and it makes excellent use of Marianne Faithfull. Elsewhere, the nearly eight-minute ballad "Low Man's Lyric" is a harrowing portrait of a homeless drug addict, featuring some of Hetfield's most evocative lyrics.
Neither of these records are perfect. "Wasting My Hate" doesn't really go anywhere, and, despite being a huge hit, "Fuel" is just kind of dumb. The line "gimme fuel/gimme fire/gimme that which I desire" isn't half as badass as Hetfield probably thought it was when he wrote it.
Still, on both of these albums, the good far outweighs the bad. Metallica fans have never quite let these albums in their hearts like the first five records, or even 2008's comeback Death Magnetic. They'd be wise to give both records a serious re-appraisal, however. No, these albums aren't the classic thrash of Ride the Lightning or the complex prog-metal of … And Justice for All, but both feature some of the band's most mature songwriting, and plenty of memorable hooks. Just to be clear, though, you don't have to listen to St. Anger again. That album is exactly as bad as you think it is.