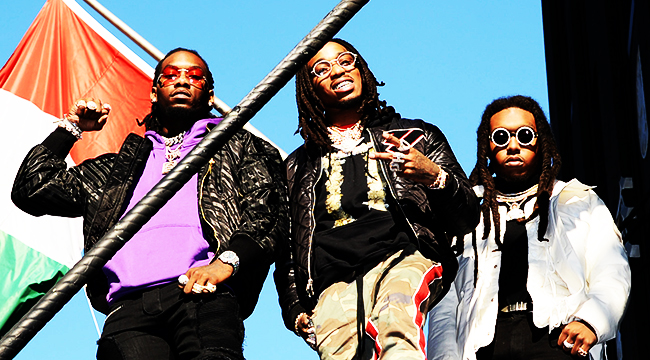 Thanks to its reasonably priced homes and respectable school system, Georgia's majority-white Gwinnett County has been known as picture-perfect suburbia 30 miles outside of Atlanta. Yet when Migos entered music, the group stressed that a family trap act coming out of Atlanta suburb Lawrenceville, Georgia, wasn't as absurd as locals may think.
"If you look at the paperwork, Spaghetti Junction is in Gwinnett County," Quavo told Noisey in 2013, referring to the traffic interchange that became a crucial hub for Mexican cartels.
Thanks to early hits like "Bando" and "Versace," Migos has epitomized the power of repetition over the past few years. But the group has also used that same technique to nudge the center of Georgia rap's orbit in their direction. Migos mention their connection to northside Atlanta — "The Nawf," as heard in "Bad And Boujee" — in nearly 30 songs. Culture II, which debuted at No. 1 earlier this week, features three of them.
[protected-iframe id="d7c79274ede9116ae904ea02aa59129d-60970621-76566046″ info="https://open.spotify.com/embed?uri=spotify:track:3Jo2cNQKU6Je7LVClYyJH9″ width="650″ height="380″ frameborder="0″]
When Offset, Quavo and Takeoff say they are the first rappers to rep the Northside, they are hardly exaggerating. OutKast began its 1994 debut album Southernplayalisticadillacmuzik with a spoken-word intro dedicated to its stomping grounds. "East Point, College Park, Decatur and the S.W.A.T.S," a woman intones, the latter standing for "Southwest Atlanta Too Strong." In "Dun Dun," Shawty Lo side-eyes T.I. for claiming Bankhead as his ("N—- say he from the Westside / Well goddamn, must be two sides"). Gucci Mane calls himself the East Atlanta Santa, among other nicknames. Atlanta built its hip-hop reputation out of every part of town except for Gwinnett County.
Miraculously, Migos hasn't been fazed by such precedents. "Let's ride, yeah we're going Northside / Migo gang til I die / F*ck 12, the FBI," Quavo raps in 2013's "Pronto." In that Yung Rich Niggas track, along with "Nawfside" and "Highway 85" show, Migos takes what it knows of Spaghetti Junction to create a work of historical trap fiction that feels true to them. The group's Gwinnett County roots have also become a source of pride. One year after "Bad And Boujee," on Culture II's "Culture National Anthem," Offset still wants you to know that he is a "Nawfside native."
Migos is the first rap success story out of Gwinnett County. The group won't allow people to forget that. But Migos has even become an unwitting testament to a changing Atlanta. In 2010, Gwinnett became a majority-minority county. By 2040, Gwinnett is predicted to have more Hispanic than white residents, and in general, more people than in any other Georgia county, including Fulton, which contains most of Atlanta proper. Experts and residents point to the 1996 Olympics, along with the steadily growing immigrant population off the nearby Buford Highway, as potential reasons why.
"Northside nigga, but we brought the A back," Offset raps in "Cocoon," off 2016's No Label III. But if that Atlanta Regional Convention forecast is any indication, Migos might not even need to make that distinction between their home turf and the heart of the city.
These days, Migos seems more concerned with its place within the mainstream. Last year, Calvin Harris featured Quavo and Takeoff alongside Frank Ocean in "Slide." Months later, the entire group appeared on Katy Perry's "Bon Appetit." Migos performed "Bad And Boujee" on The Ellen DeGeneres Show, for Quavo to name-check her in December's label compilation Quality Control: Control the Streets Volume 1. And, as delightfully weird as it can be sometimes, Culture II with its 105-minute runtime mostly feels engineered to game a system that counts individual song streams toward overall album sales.
Yet Culture II continues winding down with penultimate track "Top Down on Da NAWF." The tone is notably bittersweet, from when Quavo remembers his grandma, "watching in the sky," onward. Yet these blood relatives can't help but take comfort in what feels familiar. For Migos, and now for us, "Da NAWF" is home.