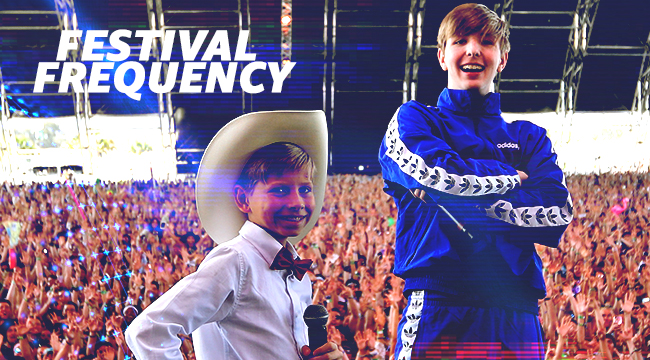 Festival Frequency is a monthly look at music festival-related topics that step beyond the shadow of the Ferris wheel, discussing everything from the performances to the inner workings that make this a global phenomenon.
The first time I witnessed Kanye West popping up unannounced as a special guest was the 2013 edition of Tyler, The Creator's Camp Flog Gnaw Carnival. Tyler was running through his set near the end of the evening and I was off buying a slice of pizza when I heard the beat to "New Slaves" drop from afar. Almost immediately, a frenzy occurred, where anyone that wasn't within direct sight of the stage began sprinting across the yard at Exposition Park, wondering if what they were imagining was actually happening. It was. It was Kanye, at that moment the ultimate special guest, more than content to deliver a couple of his own songs during Tyler's set and then just hang out on stage with a big grin on his face. On a night that would also feature a performance from Frank Ocean, the show had been completely stolen.
Over the year, big moments like these stand out. There's the first time you witness someone bringing out Drake (an ASAP Mob show at the Palladium for me) or Kendrick Lamar (Miguel at Hollywood Forever Cemetery was the first that was impactful, though Dr. Dre put him on stage at Coachella years before while he was still a rising protege). These moments could make it feel like a particular concert is the only place in the world that matters, that the universe had suddenly shrunk to the confines of a single venue.
Some of the most memorable music festival sets of all-time have hinged on these "you had to be there" events. For that aforementioned 2012 Coachella headline performance, Dre and his co-headliner Snoop Dogg brought out a parade of guests, including Eminem, 50 Cent, and a Tupac hologram in addition to Kendrick. The next year, when Phoenix took the coveted headline duties on Saturday night, Daft Punk guest rumors were quickly debunked with R. Kelly appearing instead — a move that has aged particularly poorly. There's Madonna and Drake's kiss, Beychella's Destiny Child reunion, Jay-Z popping up with Pearl Jam at his first Made In America festival, and Beyonce and Solange dancing around during the latter's small stage Coachella appearance in 2014. A couple of Chella's all-time performances, Pharrell Williams in 2014 and Disclosure in 2016, took guests to the next level and just made the sets a steady stream of unannounced appearances, aware that the primary artist is known for collaboration and giving fans a rare chance to witness their favorite songs as they were intended.
Coachella has always felt like the epicenter for surprise appearances, but music festivals, in general, provide ample opportunity for one-off collabs. It might be as simple as Paul McCartney inviting Alabama Shakes leader Brittany Howard to sing with him on "Get Back" because the band went on directly before his at Lollapalooza in Chicago, or a co-headlining tour from David Bowie and Nine Inch Nails that found each frequently sitting in with the other. At the annual biggest music performance of the year, the Super Bowl, it's become expected for unannounced appearances to occur, even if they often leak out before the big day. This phenomenon could be performing a song that's already a recorded collaboration, it could mean an artist ceding the stage to another to perform their own current hit, or it could be a never-before-played cover to assure the music media will be talking the next day. Surprise guests have become a way to maintain relevance in a world where so much of a concert follows the same script as the previous tour stop, as a way to make one night stand out above the others.
But being on the grounds at Coachella this year, something felt different. During an early afternoon Murda Beatz set in the Sahara tent, young fans on the rail asked the festival photographers if they heard about any guests coming out, and it struck me that the grounds that is usually a hotbed for guest rumors and speculation had been much more hushed about the potential this year. It's not that there weren't plenty of surprise appearances, ranging from N'Sync, Diddy, and Katy Perry on the first weekend to Kanye West, Justin Bieber, and ASAP Rocky on the second weekend, it's just that even these major stars felt like they were barely moving the needle in 2019. An attempt by Billie Eilish to offer up Vince Staples proved memorable because of a microphone malfunction, and Ariana Grande sharing her stage with Nicki Minaj suffered a similar fate. These kinds of moments are expected at this point, to the level that a Murda Beatz set that featured Rich The Kid and ASAP Ferg could still feel disappointing because of the scale of it all.
Part of the loss in luster from the surprise guest phenomenon is purely the saturation level. Guests are not a festival exclusive at this point, they are a regular occurrence at even standard tour stops on the coasts and in other major cities. Earlier this year, Meek Mill's show in Los Angeles found Drake, Quavo, YG, and the now-deceased Nipsey Hussle all taking the stage unexpectedly, which isn't even as telling as the fact that this barely a major news story the next day. Many have noted that the rise in streaming has led to an increase in artist collaborations, and hip-hop, pop, and dance music all are particularly conducive to this. Add social media's ability to ensure that none of these moments slip through the cracks to the equation, and suddenly it takes a lot more for a concert moment to feel important.
Maybe the beginning of the end was Arcade Fire's trolling of the audience at Coachella in 2014, when they pretended to bring Daft Punk out, feasting on that era's proliferation of guest rumors. Maybe it was a couple of years later, when during a set from Jack U, Skrillex and Diplo welcomed Kanye West to the stage to not even perform a song. Maybe it was when artists began having press releases sent out to announce their guests, trying to lure in fans with an afternoon guest spot from someone like Kenny G (as happened this year). Maybe it was 2017 when Migos appeared at Coachella with as many people that would have them, making the most of their unscheduled appearance on the festival grounds. Or maybe it was in 2018 when that yodeling kid Mason Ramsey came out in the Sahara tent during Whethan, feeling the like the ultimate attention grab that had very little to do with what was actually going on during that timeslot.
Regardless, the embarrassment of riches and the oversaturation of the surprise guest trend has certainly led to fatigue, but it doesn't mean that surprise guests will stop being a regular occurrence. To move the needle now, it depends more on providing something profoundly rare (which is why Ariana's N'Sync reunion felt like the newsiest item to come out of Coachella's first weekend, even with the absence of Justin Timberlake) or profoundly inspired (think of the Nirvana reunion that occurred last year at Dave Grohl's Cal Jam). Or, maybe the key is in erasing the surprise element from the equation entirely.
This weekend, Pharrell Williams unveils the first installment of his very own music festival, Something In The Water. The event is scheduled to take place over three days in Virginia Beach, with Williams headlining two of the three nights. What Williams is expecting to do in his sets is not a secret or a surprise: he's put it right on the poster. Gwen Stefani, Missy Elliott, N.E.R.D, Diddy, Snoop Dogg, and others are all billed as his special guests for his sets, which for me only adds to the anticipation for the event. When people know that something special is going to occur, it becomes appointment viewing, where the competition for attention is won without the need for speculating or guessing.
Indeed Grande teased her N'Sync moment the week ahead of its big reveal, and that might be the next evolution with special guests at Coachella and other major music festivals, where much of the scope of the performance is disclosed ahead of time. For some, that might remove some of the organic nature of these surprises, but for most, that has already long left the equation. Because when the need to bring out guests becomes an obligation and anything less is viewed as a disappointment, the focus on how good a performance actually was or how it made the audience feel loses its value. There are many ways to move the needle in live performance, and it's time for festivals to evolve and discover the next one.