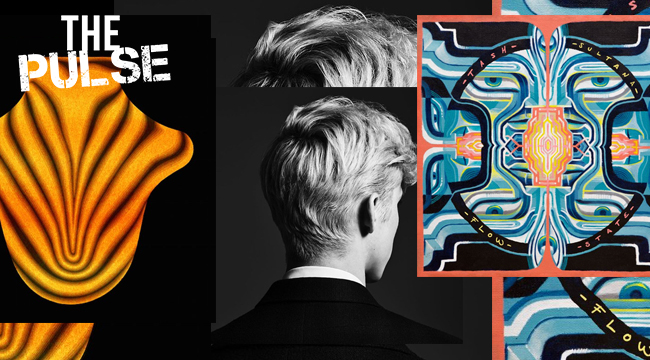 The Pulse is the Uproxx Music guide to the best new albums, mixtapes, and other music releases that matter this week. Find our complete list of the records coming out in August here.
It's always fun to hear of an exciting new collaboration: If two people you like get together to make something, the result will probably be something you really enjoy, right? The most interesting collab of late (at least when it comes to indie music) is Bon Iver's Justin Vernon and The National's Aaron Dessner, who have joined forces as Big Red Machine for a new record. The result is an adventurous and soulful indie record that sounds like a natural Bon Iver progression.
In other news, Troye Sivan is making his case for being the next bona fide pop star on his latest record, Tash Sultana shows she's one of the most diverse and fascinating talents to emerge in a long time, and indie mainstays Wild Nothing and Iron & Wine are back with more of what they do best.
Big Red Machine — Big Red Machine
Vernon and Dessner have formed a sort of indie rock supergroup with their Big Red Machine project, and now the first record from the collective is available. They previously shared four tracks from the album, all of which have an experimental air that still lives in the realm of Bon Iver-style indie.
Troye Sivan — Bloom
There's no mistaking that Sivan is a young pop singer on a meteoric rise: Getting Ariana Grande on a single is huge ("Dance To This"). He's more than capable of going about it on his own, though: "My My My!" is a sexy dance-ready single with the surging chorus and dance-ready energy that pop hits are made of (and we thought it was one of the best of 2018's first half).
Eminem — Kamikaze
Eminem made a surprise return with Kamikaze, perhaps hoping to clear away some of the bad vibes left over from Revival. He spits his fiercest, most razor-sharp flows, but reserves his most devastating attacks for SoundCloud rappers and the journalists who curved his last project. Kamikaze will definitely please his hardcore fans but probably won't do much to endear him to the next generation of listeners — and that's seemingly just how he likes it.
Tash Sultana — Flow State
The Australian multi-instrumentalist is a true talent, as her debut album sees her playing everything from saxophone to pan flute to grand piano. Actually, that's all just on "Free Mind," a smooth R&B-meets-indie-rock track that leads an album of similarly adventurous and genre-bending songs. The rest of her album is full of colorful, funky slow-burners that establish her as a bold new addition to the new indie scene, both here and abroad.
Read our interview with Tash about Flow State here.
Wild Nothing — Indigo
It's always a better summer when Wild Nothing puts out a new album, so this one came just in time. The Virginia group is back with more summery indie rock, although it's not all just happy beach pop: "Canyon On Fire" has some post-punk elements to it, and "Partners In Motion" is a fine slice of psychedelic synth pop.
Iron & Wine — Weed Garden
Sam Beam just released Beast Epic last year, but he's already back with the next Iron & Wine record. Expect plenty of the gentle folk you've come to love over the years here, such as the serene "Waves Of Galveston" and the more bombastic "What Hurts Worse."
Aaron Lee Tasjan — Karma For Cheap
Tasjan has been a unique voice in the indie folk community for the past decade or so now, and now he's back with another album filled with a throwback Americana sound, led by the jaunty "The Rest Is Yet To Come." He honors the sounds of the past while bringing them into the future; He's not re-using, but recycling vintage influences into something that feels like 2018.
Anna Calvi — Hunter
Calvi is a much more engaging rock songwriter than many of her contemporaries, and a hell of a guitarist to boot. She shows off both in singles like "Don't Beat The Girls Out Of My Boy," a dynamic alternative rock track that leaves you wondering where it's going to go next with every guitar lick and wailing scream.
Saintseneca — Pillar of Na
If you dig Yowler, then be sure to check out Saintseneca, of which she is a part. The Ohio indie group just dropped their third album, and they're an example of how to do indie rock/folk right. For proof, look no further than the alternative rocker "Frostbiter" and the Fleet Foxes-like "Beats In The Garden." Actually, do look further, because the rest of the album is comparably delightful.