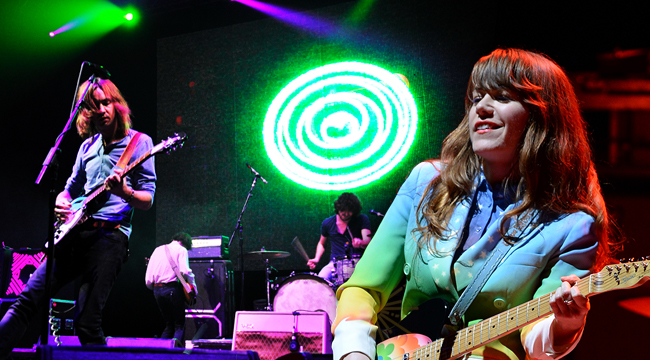 Indie music has grown to include so much. It's not just music that is released on independent labels, but speaks to an aesthetic that deviates from the norm and follows its own weirdo heart. It can come in the form of rock music, pop, or folk. In a sense, it says as much about the people that are drawn to it as it does about the people that make it.
Every week, Uproxx is rounding up the very best of the indie releases from the past seven days. This week saw Jenny Lewis further secure her place among rock and roll greats, a career-best effort from Strand Of Oaks, and Tame Impala turning their attention to the keys. Yeah, it was a pretty great week for new indie music.
Jenny Lewis — On The Line
Both in Rilo Kiley and as a solo artist, Jenny Lewis has had a remarkably consistent career that only now seems to be getting its fair shake. And her latest is among her best. Writing about the album, Uproxx's Steven Hyden notes, "Her songwriting style, metaphorically speaking, is to invite you over, line up a row of stiff drinks, get you feeling a nice buzz, and then lay on some tough truths. She does it over and over on her great new album."
Strand Of Oaks — Eraserland
On his sixth album as Strand Of Oaks, Timothy Showalter nearly lost everything after a deep depression put his career and life in jeopardy. But with the help of members of My Morning Jacket, he turned his low point into the best music of his career. Eraserland is an emotionally honest and stunningly grand record that feels destined to stand the test of time.
Nilüfer Yanya — Miss Universe
Rising London songwriter Nilüfer Yanya might have one of the best debut albums of the year. Writing about the songs released in advance of the album, Uproxx's Chloe Gilke called her "a genre chameleon," adding that "each of Yanya's songs showcases a different facet of her voice, embracing diverse and adventurous instrumentals."
Tamaryn — Dreaming The Dark
Los Angeles-based musician Tamaryn returns for her fourth career album. A solo artist with a name that sounds like a band, Tamaryn has long embraced the power and choices that dichotomy gives her. Writing about the record, Uproxx's Caitlin White called it "a stunning, layered song cycle that spotlights her molten voice like never before, and pushes Tamaryn to the forefront of a wave of modern artists repurposing the signifiers of '80s pop for their own ends."
La Dispute — Panorama
Michigan rockers La Dispute are difficult to pin down genre-wise, incorporating post-hardcore, jazz, and spoken-word disciplines into music that stands apart from the field. Their latest offering follows the amazing 2014 effort Rooms Of The House, and maintains every bit of ambition and creativity found in their previous work.
Tame Impala — "Patience"
The premier psych-rock project in the world isn't tied down to its past. Specifically, the band that was once known for big guitar riffs steps confidently behind the keys for a song that reinterprets yacht rock with its own singular bent. There are few contemporary musicians that have proved as influential as Tame Impala's Kevin Parker, and this feels like an assured next step into the unknown.
Mormor — "Outside"
When Mormor first started catching our attention last year, it was through laidback bedroom indie that felt like a new perspective on some well-worn aesthetics. "Outside" continues where he left off, sort of like if older Blood Orange had come out on Captured Tracks. It's further proof that this young songwriter is setting himself up to be an essential voice in the indie world.
Weyes Blood — "Movies"
Weyes Blood's singles ahead of her upcoming albums, Titanic Rising, have been impeccable. On "Movies," she's more cinematic and dramatic than ever, stretching out her Lynchian glory over arpeggios until the whole thing flips on its head. Weyes Blood has a way of making familiar emotions seem cosmic, but here they are pinned down to something we can all reach out and touch: the silver screen. Moving pictures never felt so alive.
Cheekface — Therapy Island
Take a little bit of Parquet Courts and a little bit of '70s punk vibes and you have LA's Cheekface. For an album that has very little ink written on it, the record is heavy on hooks and even heavier on wit, proving there is still a place for clever guitar music in the current indie climate.
Martha — "The Void"
Durham pop-punk outfit Martha knows their way around an infectious tune, and their latest, "The Void," shows that the band can accomplish this even when navigating serious topics. Don't let the bouncing rhythm and singalong chorus fool you, the band is offering a "sci-fi story, partly-inspired by playing table top RPGs, but informed by the pretty dreadful state of the world at the minute," they told NME.
Ryan Pollie — "Aim Slow"
Ryan Pollie's been making increasingly great music as Los Angeles Police Department for the last several years, and this first offering under his own name continues to up the ante. The video juxtaposes childhood footage with clips from his own cancer treatment, but the song's examination of love and spirituality is enough to raise the stakes on its own.
Some artists covered here are Warner Music artists. Uproxx is an independent subsidiary of Warner Music Group.
If you want even more indie music, sign up for our newsletter, Indie Mixtape, curated by Steven Hyden here.