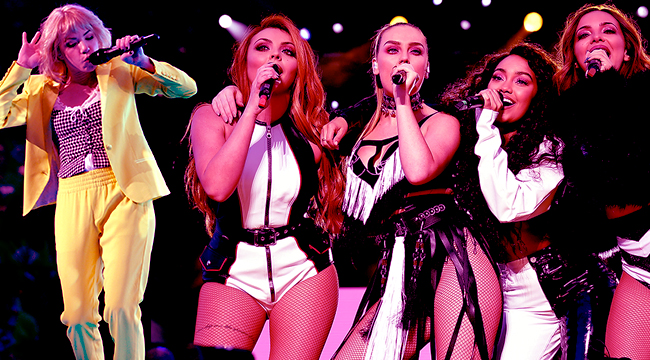 This was a great week for pop music self-love. Carly Rae Jepsen's "Party For One," the first single off her upcoming album, is a song about being alone, but there's a difference between being alone and being lonely. There's power and joy in being alone, in being confident and content with yourself. Ariana Grande surprise-dropped her self-love anthem "Thank U, Next" on Saturday. If Sweetener was about the happy infatuation new love brings, this new era sees her falling in love with her own poise and strength. Like Ariana says, "that sh*t's amazing."
We've also got the long-awaited return of Marina And The Diamonds, some surprise King Princess, and, yes, another song from the Bohemian Rhapsody soundtrack. The movie is out, but please let these covers never stop dropping. Every Monday, Uproxx rounds up the very best pop releases from the week. Love yourself, and love these songs.
King Princess, "P*ssy Is God"
Earlier this year, Ariana Grande said that God is a woman. On "P*ssy Is God," King Princess is saying a version of the same sentiment. Yes, women are amazing. Specifically, this woman is amazing. Mikaela Straus alternates between worshipful infatuation and chill irony. The object of her love is so incredible that she's a deity who deserves to be worshipped for hours, but Staus also describes her as a very down-to-earth "cute." Her love contains multitudes. Along with the single, King Princess also announced a US tour, if you wanna join in prayer alongside the goddess herself.
Carly Rae Jepsen, "Party For One"
No matter what Carly Rae Jepsen is singing about, she sounds like pure joy. In every song, whether she's longing for a boy to call her (maybe) or shattered heartbroken, Jepsen sounds like this is her first time being in love, and all the excitement and feeling have her ready to burst. The infectious happiness in Jepsen's voice is what makes "Party For One." She's thrilled to be on her own, thrilled to dance with herself. She's alone, but she's not lonely. A party for one is still a party, right?
Hailee Steinfeld, "Back To Life"
Hailee Steinfeld is a woman of many talents. She was an Academy Award nominee when she was still in elementary school. She starred in one of the best coming-of-age movies of the last decade (Edge Of Seventeen!). She's a pop star on the rise, with an ear for great hooks. Her newest movie, Bumblebee, is part of the Transformers franchise, so she might not be getting any Academy Awards for this one. But "Back To Life," which is on the movie's soundtrack, is a dance-pop bop with a catchy chorus. It might even be enough to get me to check out the movie.
Troye Sivan, "Somebody To Love"
Speaking of movie soundtracks, Bohemian Rhapsody was finally released on Friday, and I had resigned myself to the fact that we would probably not get any more amazing covers from its soundtrack. Over the past couple weeks, pop's biggest princes have been dropping amazing Queen covers — Shawn Mendes did an acoustic version of "Under Pressure," and 5 Seconds Of Summer went faithfully bombastic with "Killer Queen." Troye Sivan brought his understated angst and longing to a beautiful cover of "Somebody To Love." Sivan made the song his own, swapping Queen's choirs for some subtle piano, letting his own voice and artistry shine even in a cover. If this is the last cover we're getting from the Bohemian Rhapsody soundtrack, I'm glad we got to go out with such a great one.
Little Mix, "Joan Of Arc"
I can imagine "Joan Of Arc" absolutely killing in spin class. I mean that as the ultimate compliment — it's a self-love song, but in a different way than a song like "Party For One." It's the kind of song you can dance on a stationary bike to, losing yourself in the energetic vocals and tempo changes, feeling strong and powerful. Put it on when you're walking or doing laundry, and you automatically feel 100 times hotter and more successful.
Clean Bandit, Feat. Marina And The Diamonds and Luís Fonsi
After the release of her album Froot in 2015, English electro-pop princess and bubblegum b*tch Marina Diamandis took a few years off from the public eye. She's back, though, for a collaboration with two huge artists. Electronic band Clean Bandit have had some massive hits in their native UK, including songs with pop princesses Zara Larsson and Demi Lovato, while most people know Puerto-Rican singer-songwriter Luís Fonsi for being featured on "Despacito." Their collaboration, "Baby," is different from most of Marina's previous work, but the song shows the versatility of Diamandis' distinctive voice. She and Fonsi sound great together, and Clean Bandit know how to make a banger.
Benny Blanco, Feat. Calvin Harris, "I Found You"
Producer, songwriter, and multi-instrumentalist Benny Blanco has made a career writing and producing hits for some of the most iconic songs of the last decade, and I don't say that lightly. I mean the realest hard-hitters — "Teenage Dream," "TiK ToK," all of Ed Sheeran's biggest radio hits, half of Justin Bieber's discography. This year's smash "Eastside" was his first single as a credited artist, and "I Found You" is a great follow-up. Blanco and Calvin Harris have worked together before, and "I Found You" is an excellent reunion song. Most of Harris' biggest hits have been with other featured artists, and I almost forgot how evocative his voice can be. It's the ultimate flex to have one of the biggest producers in the game be the featured vocalist on your song, but Blanco pulls it off.
Ariana Grande, "Thank U, Next"
When Ariana Grande was teasing lyrics to "Thank U, Next" on Twitter before the song's release, I was preparing myself for it to be the ultimate petty banger. She was gearing to drop the song right before Saturday Night Live, maybe as a response to the episode promo where Pete Davidson proposed to Maggie Rogers as a gag. (The pop star said no.)
But we should've known. As hardworking as Grande is, seemingly writing and recording this song in a matter of weeks, she's equally gracious and humble. You kind of have to be when you've been through as much as she has. The "thank you"s in this song are incredibly sincere. She looks back on the songs she wrote about distant exes and laughs. She wishes she could tell Mac, that angel, how much he means to her. And yeah, "she almost got married," but she's so grateful for how much she's learned. She's ready to move on, but that doesn't mean trashing her exes. Her heart is full of love for them, and triple that love for herself. She's alone, but not lonely. She has the company of an amazing woman (her name is Ari) and the knowledge that she is growing stronger every day.