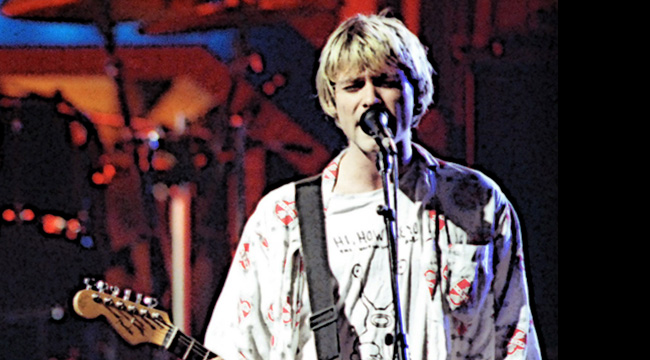 A rebellious reputation isn't going to damn you if you're a rock star, and one way to attain that badge of "dishonor" is to simply play the songs that they don't want you to. Look at Jim Morrison singing a censored line from "Light My Fire" when The Doors went on The Ed Sullivan Show in 1967, or Elvis Costello when he abruptly changed lanes on Saturday Night Live and launched into "Radio, Radio," allegedly causing Lorne Michaels to throw up a one-fingered response during the entire performance.
If you're a charitable sort, you could say that Nirvana halfway joined that select club during the 1992 MTV VMAs, but the reality is that they settled for a lesser act of defiance in the midst of a less than stellar night for a band in the middle of their climb toward eternal icon status.
It's such a cliche to say it, but gosh, you guys, it's hard to remember a time before Nirvana existed. In 1992, however, you could still see the pink fog and the high hair from the before times lined up in the audience at the VMAs. Nirvana's Nevermind had been sent to us to destroy that status quo, or at least push it off-balance, with Kurt Cobain, Krist Novoselic, and Dave Grohl riding the success that came from the somewhat surprising collective selection of "Smells Like Teen Spirit" as the flannel-shirt-clad angsty teenager's anthem of choice. Nevermind, which had debuted at No. 144 on the Billboard 200 chart in September 1991, held a place on those charts for a little more than five years, usurping Michael Jackson's Dangerous on Jan. 11, 1992.
To say that Nirvana's success wasn't directly tied to their presence on MTV would be lunacy, but it was an uneasy alliance at times, with MTV refusing to air "Smells Like Teen Spirit" before finally relenting and giving it a test run on 120 Minutes, their alt-rock show.
By the summer of 1992, though, the network had long-since seen the benefit of being in the Nirvana business. and eagerly gave the band a performance slot on the VMAs, though there were still concerns about the content the band wanted to put on MTV's airwaves.
Krist Novoselic, Seattle Weekly:
"Kurt wanted to play the tune 'Rape Me' and was adamant about it. The MTV people were upset. We were being asked from all corners not to. I thought we should play something off Nevermind, do the gig, and leave. Easy, right? No. Kurt was very stubborn and refused to play another tune. There was quite a swirl around this issue.
I went back to the trailer and had a still-warm beer. Yuk, but I drank it anyway. To resolve the song controversy, we said we were going to do "Lithium," but we decided among the band to pull a prank and play a few chords of "Rape Me" at the beginning. Even though the issue was resolved, the back and forth between their people, our people, us and them, or whoever—it was draining."
Despite the fact that it was sung through gritted teeth, the "Lithium" performance went pretty well after the "Rape Me" prank, with all but the band likely thrilled with the result and blissfully unaware that Nirvana had felt stifled. Information that now helps make some sense of the band's odd behavior at the end of the song, as Cobain tipped over and climbed amplifiers and drum kits like he was doing a poor Godzilla impersonation, Dave Grohl took to the mic to rile Axl Rose of Guns N' Roses, and Novoselic botched a heave of his bass guitar, resulting in a small head wound (which led to a shared drink with Queen's Brian May) and the most infamous part of the performance.

The most puzzling moment, however, had to be Grohl's repeated taunts of, "His Axl!" Though, we know now that the reason for that likely added to the band's overall frustration on that night.
"I remember that when Nevermind first came out, Axl Rose was a really big fan of us. Guns N' Roses was about to do this massive stadium tour with Metallica, and they wanted us to open. So Axl had been calling Kurt nonstop. One day we're walking through an airport and Kurt says, "F*ck. Axl Rose won't stop calling me." I think it represented something bigger. Nirvana didn't want to turn into Guns N' Roses. So Kurt started talking sh*t in interviews, and then Axl started talking back. It went back and forth like tenth-grade bullsh*t. Then we got to the awards and our trailers were all in the same one hundred yards. And Courtney was there, which never makes anything easier. So it didn't take much to blow up into a full-fledged showdown. Kurt and Courtney were screaming at Axl. Axl screamed back. It was all just soap-opera bullsh*t. Krist, our bass player, almost got in a fistfight. I was just the drummer, so I shouted some loud, funny sh*t and hit the bar."
In an audio clip that is supposedly Cobain and Novoselic on the day following the VMAs, it's clear that the anger against Guns N' Roses had yet to subside, as the two railed about their run-ins with Rose and GNR bassist Duff McKagan (who Novoselic identified as a friend in the Seattle Weekly column years later), while tossing out accusations, and mocking "establishment rock" and "packaged rebellion."
The clip is an interesting and seemingly unguarded moment with Nirvana and what seems like a smallish group of fans, but be aware that there is offensive language.
https://www.youtube.com/watch?v=6Bh55xA2KSs 6109675246

There's another element to this rivalry that doesn't get discussed as much, because it lives more as an urban legend, and it loops Elton John into the proceedings.
Former Nirvana guitar tech Earnie Bailey, NirvanaClub:
"At the 1992 MTV Video Music Awards, Kurt had this well-publicized encounter with Axl Rose [of Guns N' Roses]. After Nirvana played "Lithium," Kurt went below the stage, where Axl and Elton John's two pianos were mounted on a hydraulic lift awaiting their duet. Kurt spit up some pretty nasty stuff upon the keys of what he thought was Axl's piano, but when the pianos arose for the duet's intro to "November Rain," Elton was seated at the piano who's keys Kurt had spat upon. I'm not sure which was funnier, Kurt's horror at what he had done, or the sight of Elton John hammering away on that piano."
Poor Sir Elton. Poor Kurt.
A creative sacrifice, a pair of fights, a head wound, and the embarrassment of essentially spitting on Elton John without cause — the 1992 MTV VMAs don't stand out as one of Nirvana's finest nights. And that's to say nothing of the fact that, despite winning Moonmen for Best New Artists and Best Alternative Video, Nirvana and "Smells Like Teen Spirit" lost Video of the Year to Van Halen and "Right Now," something that, in hindsight, seems unfathomable, and which must have felt like a swipe to the face from the '80s rock establishment.
In the all-too-brief time between the 1992 VMAs and Cobain's death in April 1994 — a tragedy that glumly stands out with painful clarity, partly due to MTV's sterling coverage of the loss and the aftermath — Nirvana made plenty of appearances on MTV as a part of a mutually beneficial relationship, but Cobain proved during the band's 1993 MTV Unplugged appearance that he hadn't completely forgotten about being told what he could and couldn't sing.
In December 1993, though, Nirvana went home to Seattle and bailed out the network when Cobain stepped up and offered to have Nirvana play a longer set than they had planned to cover for Eddie Vedder, who got sick and had to pull out of MTV's pre-recorded Live and Loud New Year's Eve Special. The fifth song in the set list? You guessed it, "Rape Me."
Why the change of heart? Maybe MTV was simply grateful that Cobain had saved their asses, or maybe time (and a performance on NBC's broadcast airwaves during the season premiere of Saturday Night Live) had ceased all worries about those not-so-TV-friendly lyrics. Either way, Live and Loud became a seminal moment for Nirvana, thanks to the band's energized and wild performance on Pier 48; an unanticipated curtain call of sorts, and a chance for Nirvana to do things their own way on MTV.