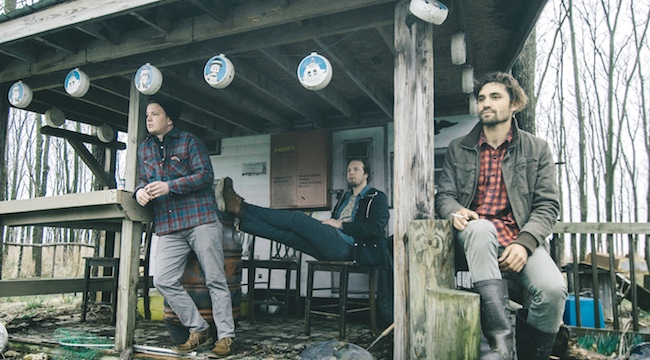 Sometimes, it might feel like the world is falling apart around you and nothing is going right, although it doesn't seem like the members of Oliver Hazard can really relate to that, at least in terms of the band's formation. Actually, everything came together pretty perfectly: Three childhood friends — now a maintenance worker, a salesman, and an adventure guide — reconnected in their hometown of Waterville, Ohio. They met up, wrote some songs, happened to win some studio time in a Facebook contest, and used that session to record ten tracks, live and on the spot.
The whole process happened in just three weeks, and what resulted is a lovely indie folk album that's set to come out this year. They wowed with the single "Caesar Knows," and now Uproxx is happy to premiere another new song, a light and thumping slice of folk-pop called "Hey Louise."

The band describes the song as being about the painful steps of an ill-fated relationship, from the initial high expectations to the regret or self-doubt that comes years down the road:
"Everyone has that one relationship that comes in and out of their life. 'Hey Louise' is a song about that young kind of relationship and the pain that goes along with it; the pain of fading enamorment, getting older, and the questions you ask yourself down the line. Do people just change and all that's left is the memory of a person who no longer exists? Or the scary realization that your feelings at the time were as much about you and the pedestal you put that person on. That they could have just been a projection… the person you wanted them to be."
Listen to "Hey Louise" above, and check out the band's upcoming tour dates below, which include stops at the Bonnaroo and Mountain Jam festivals.
02/02 — Cleveland, OH @ Grog Shop
06/07-10 — Manchester, TN @ Bonnaroo
06/15-17 — Hunter Mountain, NY @ Mountain Jam