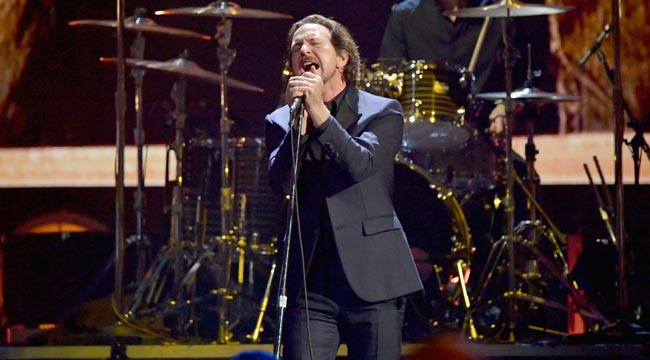 Eddie Vedder has been an activist on the front lines since Pearl Jam became a household name, and in the age of Donald Trump, the godfathers of grunge are continuing the fight. As a reward for their Ten Club fan organization, they released 'Can't Deny Me' while simultaneously debuting the track on Sirius XM's Pearl Jam Radio.
The song, which clearly has lyrics that aim at the White House's current administration, alludes to the grassroots movements we've seen pop up as a resistance to the damaging policies enacted by those currently in power.
With a chunky guitar riff sounding like change marching on pavement, Vedder sings: "The higher, the farther, the faster you fly / You may be rich but you can't deny me / Got nothing, got nothing but the will to survive / You can't control and you can't deny me."
#CantDenyMe. #PearlJam pic.twitter.com/BeEtn8Flr2

— Pearl Jam (@PearlJam) March 10, 2018
Pearl Jam is set for a world tour in 2018, playing "home shows" in Seattle and "away shows" at Boston's Fenway Park and Vedder's home away from home, Wrigley Field for two nights in August. The Seattle shows will be the first concerts they've held in Seattle in over five years, and will raise over $1 million to fight homelessness.
(Via RollingStone)