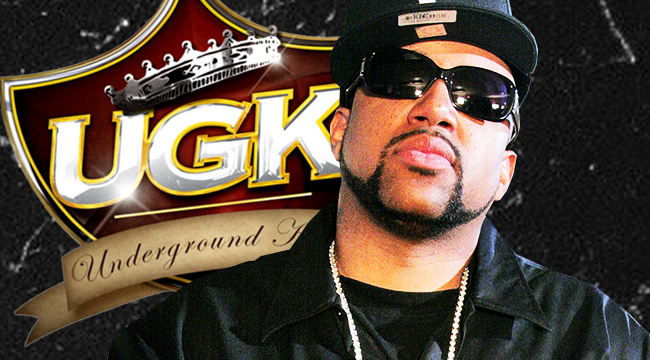 "Glitter and gleam ain't all what it look like / So I keep swangin', out here clangin' tryna live my life." — Chad L. Butler, 1996
Everyone who knew Pimp C knew many things about him. That he was a gifted member of the band UGK, who dove as deep into traditional classical music as he did the two man routine of Run DMC. His peers also picked up on Pimp's habit of continually saying whatever was on his mind and his heart. The music he crafted, a syrupy, rap version of the blues, stood out from coast to coast and made him a legend. His opinions, especially those given in interviews, eventually made him feel larger than life.
Many of the murals erected in his native Port Arthur, Texas have either been painted over or lost in Hurricane Harvey. The Gulf Coast Museum, which housed a large quantity of UGK material lost those artifacts during the August storm. His mother's house, long a symbol of what UGK represented, undertook massive damage as well. Only his widow, Chinara Butler happens to have a collection of his things now. All of the physical homages to the Pimp are fading away.
"This is a dangerous industry," he wrote in his Ozone Magazine column. "It's foul." He was referring to how the world immediately came down on T.I. during the weapons case that kept him in jail for most of 2009. Pimp referred to the rap industry as a haven for "devils, vultures, hogs and wicked people." It was a signifier that regardless of how you felt about something, Pimp C would tell you how he felt about the situation, with little backdown in him. It's an ethos that stood with him until his last days.
To many, he is the last authentic, old-school hip-hop hero. For a generation of rap fans, Pimp is a last pillar of the past. For those particular to southern hip-hop, Pimp represented two generations. One generation was a sect where being underappreciated yet murmured as great became the norm. The second, this current generation, of a flashy, sincere producer and rapper who through simple delivery and emotion helped create timeless music. '70s soul sampled from Stax Records, Chaka Khan, and Willie Hutch were his weapons of choice. He was imperfect, the kind of flawed hero that Denzel Washington routinely plays in any of his movies. It's why people loved him and revere his very name.
Both of those generations have mourned Pimp C for ten years on now. His death still feels surreal; in December of 2007 his body was found in a Los Angeles hotel room, unresponsive. The speculation of how he died doesn't matter anymore. People remember where they were when he died. In some areas of Port Arthur, they let kids out of school early to attend the funeral.
Pimp C didn't live his life to be politically correct. He lived his life to be as loyal and accurate as he could be to himself and his family — and that's it. "Pimp wouldn't stand for this," a common refrain goes on social media and in daily rap conversations in the south. He more than likely wouldn't, even if an added decade of living would have made him partial to the idea of change.
"When I get off the plane in Atlanta, what time is it?"
Atlanta's V107 had no idea what Pimp would say when he called the station in the summer of 2007. He had previously made comments about the city in Ozone Magazine. When Pimp referred to Atlanta not exactly being part of the south due to a time zone difference from the rest of the perceived "Third Coast," it started a 17-minute odyssey that ripped into everything from the sexuality of Ne-Yo and Russell Simmons to his beef with Jeezy. It has become over time, the most famous Pimp C interview of all.
"Everybody on these records lying," he told the V107 crew. "Everybody this big D-boy, everybody these hardcore gangsters and truth be told, don't nobody wanna fight nobody," He was so sure of himself that it sounded like a prophecy.
"At the end of the day, at the end of these records we listen to, we don't get nothin' out of them no more, mayne," he continued on. "We don't get no social commentary, no kind of knowledge out these records. Everybody talkin' bout how many chains they got on and how much dope they sold. But the truth of the matter is, I don't believe you! Cause I know these dudes, I know they ain't sell no dope!"
To him, there was far too much kayfabe in music, too many theatrics for the sake of them. He felt Atlanta needed to pay proper tribute to Three 6 Mafia for giving them the blueprint to the sound of trap music. Like his soul champion Willie Hutch, Pimp wanted proper attribution for what came before him and what influenced him.
"I just remember him being so genuine, man," Rico Wade, a member of the legendary Atlanta production trio Organized Noize said in a 2016 documentary, Long Live The Pimp. "It was like, he respected us so much. It was more than, 'Oh, ya'll got a single out.' It was like, 'Oh man, ya'll getting these people to listen.'"
Wade's words echo a sentiment many share when thinking about Pimp C's rapping and production ability. He may not have been the most technically proficient, but similar to Tupac Shakur; he made you feel something whenever he said anything. Flagrant or not, you understood where Pimp stood. He stated plainly as day why he and Bun hustled night and day to get their rap career going.
He was a modern-day bluesman, the B.B. King of his era. In the decade that his body has been absent from this world, his words have become a testament to many. The robust sounds of somber records like "One Day," "Diamonds & Wood," and "International Players Anthem" have become part of the procession of life.
The world has rapidly moved along in Pimp's absence. Most of the current hitmakers were in middle school or just entering high school when he passed away in 2007. Most of the tall tales about him, from the alleged incident in which he was pistol-whipped and almost killed by Master P to wanting nothing to do with "Big Pimpin" add to the mythmaking.
What is most tragic about Pimp's passing is that he never got to see what he would have done after the most prolific year of UGK's career. 2007 alone netted the group a BET Award for Best Video, their first No. 1 album for Underground Kingz and of course, "International Players Anthem." We didn't get a chance to see him watch his three children grow up and two of them, Chad Jr. and Corey Butler, attempt music in their right. He, Juicy J and DJ Paul, perhaps the South's other most tried and true lover of Hutch, wouldn't have another earth-shattering collaboration.
In thirty-three years, Chad Butler found a way to become immortal. Had he lasted any longer, we may have called him problematic. He would have more than likely been "canceled" a hundred times over and still be standing, proud to be who he was.
What isn't fading is his legacy and his importance to music as a whole. He was the South's staunchest defender. He attempted to bridge all of Houston's rap beefs when he came home following a prison stint for probation violation and when someone won, he was there to give them props. Many believe they lost a safety net when he died, the hard-hitting, sh*t-talking safety net who was always good for a classic sound bite. He said plenty: And the world understood all of it. RIP Pimp C, this year, and every year after.