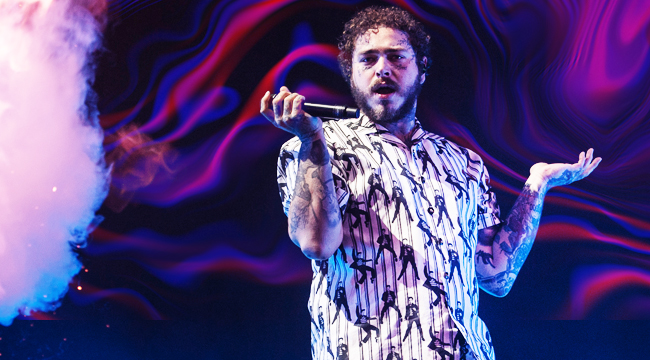 Arriving as he did at the height of the debate surrounding cultural appropriation in hip-hop, it's no surprise that Post Malone has become one of music's most polarizing figures. What is surprising is how popular he's become in spite of the controversy. With omnivorous musical influences and an affable personality, he quickly became one of rap's rising stars, so much so that his upcoming album, Hollywood's Bleeding, is one of the genre's most anticipated projects of 2019 despite featuring some decidedly non-hip-hop guest appearances from names like Ozzy Osbourne.
It's especially surprising in light of the controversy Post sparked himself when he made disparaging comments about rap music a few months before the release of his sophomore album, Beerbongs & Bentleys. In an interview with Polish outlet NewOnce, Post was recorded saying: "If you're looking for lyrics, if you're looking to cry, if you're looking to think about life, don't listen to hip-hop. There are great hip-hop songs where they talk about life and they spit that real sh*t, but right now, there's not a lot of people talking about real sh*t. Whenever I want to cry, whenever I want to sit down and have a nice cry, I'll listen to some Bob Dylan."
While much of Post's success can be attributed to his stylistic variety — Post doesn't give a damn about genres and neither do most of his fans — his comment was ironic because of the way he made his debut in the spotlight. His first big hit was "White Iverson," a song that name-checked the NBA player most often credited with bringing hip-hop to the professional basketball league. Post took his share of criticism for the song and its video as well, drawing accusations of cultural appropriation for his cornrowed hair and gold grill. While his Texas upbringing likely helped ensure his fondness for the styles, many felt that Post aped Black culture on his way to pop culture ubiquity.
So when he said "there's not a lot of people talking about real sh*t" in hip-hop, the irony was that he could have very well been talking about himself. He was excoriated in pieces all over the internet for exploiting hip-hop when convenient — similar accusations had been lobbied at Miley Cyrus and Iggy Azalea by then, so he was in good company, at least — even on this very site. However, by the time Beerbongs & Bentleys actually rolled out, it seemed much, if not all, had been forgiven. The features list was packed with rappers from 21 Savage — who helped Post secure his first-ever Hot 100 No. 1 with "Rockstar" — to Nicki Minaj and YG, all of whom helped offset the infusion of varying styles like country and alt-rock to his broadly appealing formula.
On Post's upcoming album, the features listed include both established stars like Future, Meek Mill, and Young Thug and emerging ones like DaBaby and Lil Baby. Lead single "Wow." received a remix with newcomer Roddy Ricch and the recently resurgent Tyga, while its follow-up "Goodbyes" features an all-time standout verse from Young Thug as Post croons his way through a wrenching breakup ballad that seems to contradict those earlier statements about looking to cry. While it's not exactly the most heartfelt song, it is relatable and popular, peaking at No. 3 on the Hot 100.
It seems that Post is going to be inextricably tied to hip-hop for the rest of his career, despite his best efforts to distance himself from being categorized as just a rapper. if you can't beat them, you join them and that's exactly what he's done. Whether or not he was really drunk during that interview with NewOnce, it appears he's reshaped his views about rap after making his apologies. For what it's worth, he's not even the first to try to dodge being pigeonholed into one style. Breakout sensation Juice WRLD and Post's own frequent collaboration partner Swae Lee have worked hard to break the mold, while pioneering superstar Lizzo wondered whether singing and rapping were all that different.
Post's acceptance in hip-hop despite his comments may be reflective of a larger trend within the genre, as well. Even Iggy Azalea experienced something of a bounce-back 2019 using a back-to-basics approach on her long-awaited sophomore album, In My Defense. Doja Cat proved that no one is ever really "canceled" with the viral success of her songs "Tia Tamera" with Rico Nasty and "Juicy" with Tyga. Every backlash is just an opportunity for a comeback, even when the transgressions in question were much worse overall than Post's foot-in-mouth moment from late 2017. Although his critics may not like it, the hip-hop community seems to have enough space for even an artist who once rejected the genre — and even more to allow him to grow.
Hollywood's Bleeding is out everywhere September 6 via Republic. Preorder it here.