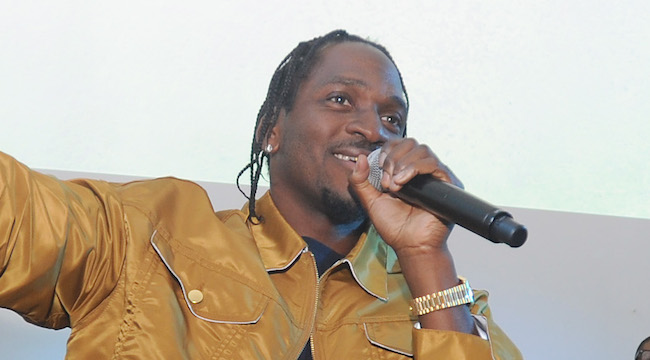 There's "petty" and then there's "petty petty" — and then there's Pusha T. The younger Thornton brother's beef with Drake is well-known, but after Pusha's approving tweet of Saturday night's wild UFC 229 outcome, scholars may have to just start using his name as a direct synonym for spitefulness.
Not only did the match end with Drake's apparent new favorite, Conor McGregor, submitting to his opponent after weeks of trash talk, but chaos also broke out after the match when one of Khabib Nurmagomedov's supporters leaped over the octagon barricade and began pummeling the defeated competitor with punches. Eventually, the brawl grew in size and spilled out of the octagon and into the stands, with punches thrown on both sides. After all was said and done, Pusha T — no stranger to conflict himself after his "surgical summer" campaign terrorizing Drake — tweeted, "Great win @TeamKhabib sometimes u have to burn the whole house down… I understand."
Of course, it was no secret what Pusha T was referring to. During his lyrical bout with Drake over the summer, Pusha unleashed a devastating assault, eventually revealing that Drake had a son after his Toronto foe egged him on a little too much. Apparently, this escalated their feud so much that Houston rap icon J. Prince had to get involved to keep things from escalating between Pusha and Drake's camps. Clearly, Pusha's animosity extended to even supporting McGregor's opponent, using the scorched-earth victory to throw another subtle dig at his rival. It looks like Pusha will do — and tweet — whatever it takes to send a message.