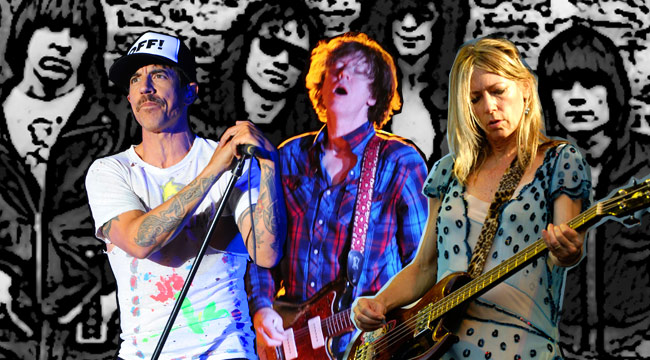 It's been 40 years since the Ramones released their legendary self-titled debut. With it, they kicked the doors right off the hinge to grab their seat at the table as a must hear punk rock act with a loud, yet sometimes incoherent swagger. Inexplicably, the Ramones only just earned Gold status two years ago despite the firm placement that the album's tracks have in our heads. But it's not just fans who can't shake Blitzkrieg Bop, it's also other musicians who were raised on The Ramones and who were desperate to pay tribute by covering some of the album's best tracks. So, in honor of Saturday's 40th anniversary, we pulled together a quick list of some of the best Ramones covers from a diverse array of musicians.
The Beautiful South – Blitzkrieg Bop
When Tommy Ramone wrote "Blitzkrieg Bop" and came up with the chant "Hey, Ho, Let's Go!" the last thing he probably envisioned the song as is a folksy, Jangle Pop ditty, underscored by a tambourine. That's exactly what The Beautiful South turned it into on their 2004 album: Golddiggas, Headnodders and Pholk Songs. An album comprised almost entirely of covers. The elaborate instrumentation and the paradoxical nature of the music with the lyrics are what makes this reconceptualization worth a listen.

Sonic Youth – Beat On The Brat
One wildly influential band covering another. Sonic Youth is routinely cited as a pioneer of the Alternative genre just as the Ramones were one of the leading lights in the creation of punk rock. Often classified as noise rock, Sonic Youth is also having an influence on "The Second Summer of Hate" in the year 2016 as this recent Quiteus article talks about. Here they are being less "experimental" than their music is normally characterized as being as they offer a very straight up, albeit good version of "Beat on the Brat."
Joan Jett – Judy Is A Punk
It's fitting that Joan Jett would choose this Ramones song to cover because Jett was definitely a punk as demonstrated by her being one of the founding members of The Runaways. When she branched out on her own, Jett's first solo album, "Bad Reputation," was, according to Steve Huey at AllMusic:
"an infectious romp through her influences, ranging from classic '50s and '60s rock & roll through glam rock, three-chord loud'n'fast Ramones punk, and poppier new wave guitar rock."
In this version of "Judy is a Punk," from the 2006 documentary, Too Tough To Die: A Tribute to Johnny Ramone, Jett shows her affinity for the Ramones and layers in a little extra guitar for emphasis.

Saint Etienne – I Wanna Be Your Boyfriend
St. Etienne is, in many ways, an inverse of the Ramones musically as they are primarily known as an indie dance band that was formed in the early '90s. One thing the two bands do have in common is they were both influenced heavily by the pop of the '60s. In the above video, Sarah Cracknell's voice fuses perfectly with one of the Ramones' sweetest songs and most obvious odes to early '60s pop.
If you like this, check out another fantastic cover from St. Etienne of Neil Young's "Only Love Can Break Your Heart."
Whale – Now I Wanna Sniff Some Glue
Arguably, the Ramones most recognizable song is "I Wanna Be Sedated" off their fourth album, Road to Ruin which asserted:
Just get me to the airport, put me on a plane
Hurry hurry hurry, before I go insane
The precursor to "I Wanna Be Sedated" was "Now I Wanna Sniff Some Glue," the sixth track off of their debut. A minimalist effort with the entirety of the lyrics being:
Now I wanna sniff some glue
Now I wanna have somethin' to do
All the kids wanna sniff some glue
All the kids want somethin' to do
Despite the lyrics, the Ramones weren't really pushing for people to sniff glue, this according to an interview with Tommy Ramone in the Ramones anthology.
"I have a feeling Dee Dee was talking about his childhood, how he actually thought it was some kind of release when he was a kid. I thought of it as a parody."
This version of the song by the Swedish trio Whale is so noise pop imbued one might wonder if they were sniffing glue or otherwise chemically impaired when they composed it.
Red Hot Chili Peppers – Havana Affair
One would think that the early funk based Red Hot Chili Peppers with guitarist's Hillel Slovak's improvisational manic style would be very well suited to cover the Ramones. Although, it should be noted that it was Slovak's influence and the Riff from "Behind the Sun" that was the impetus for the later more melodic RHCP. After Slovak's heroin overdose John Frusciante was the main catalyst in furthering this melodic legacy which can be heard on this more pensive interpretation of "Havana Affair."