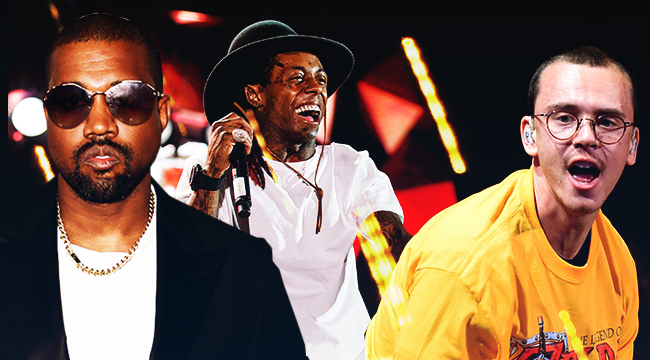 "The original was better."
It's one of the internet's favorite aphorisms, a sentiment birthed perhaps ages ago by cranky critics long tired of endless sequels, remakes, reboots, and extended universes. It's been borne out by decades of the same forever failing to meet the lofty expectations set by culture-shifting movies, books, and entertaining diversions like Alien, Ghostbusters, Predator, and Star Wars, all of which have seen at least one sequel or other extension within the last few years. It haunts the makers of any spin-off or homage or parody within minutes of its announcement on today's media-obsessed content mills and social networks.
So, why, then, do artists continually return to the same creative wells of inspiration when they need to turn around their public perception in a hurry? Just look at today's album release schedule; there are numbered return projects from Lil Wayne (Tha Carter V), Logic (YSIV) , and Kevin Gates (Luca Brasi 3), while Kanye West's Yandhi is at least a spiritual successor to 2013's Yeezus and was rumored to be titeld Yeezus 2 at one point. Kanye has spent the better part of the month teasing fans with the possibility of a sequel to 2011's collaborative album with Jay-Z, Watch The Throne, and even announced the conclusion of his early-career tetralogy of albums with the long-awaited Good Ass Job, now bequeathed to the musical catalog of his fellow Chicagoan and quasi-protege Chance The Rapper.
That's to say nothing of the sheer number of "sequel" projects that have released within just the past few years alone. Since 2010, any number of rappers including Curren$y (Pilot Talk II), Eminem (Marshall Mathers LP 2, The Game (The Documentary 2), Jay-Z (2009's The Blueprint 3), Jeezy (Thug Motivation 4), Lupe Fiasco (Food & Liquor II), Method Man & Redman (Blackout 2, Muddy Waters, Too), Prodigy (HNIC 2), Raekwon (Only Built 4 Cuban Linx 2), and Wiz Khalifa (Rolling Papers 2) have crafted or announced updates on prior, groundbreaking albums, even if many of them had little in common with those original works other than their titles.
For instance, Jay-Z's insular and soulful The Blueprint was written and recorded in the space of a week in 2001, featuring input from few producers outside of Jay's immediate camp (only "Renegade," produced by Eminem, "Jigga That N—-a," produced by Poke and Tone, and "Hola Hovito," produced by Timbaland, featured beats from producers outside of Roc-A-Fella Records stable of producers) and only one guest verse (from Eminem on the aforementioned "Renegade"). Its post-millennial successor was an odd jumble of pop reaches and awkward collaborations built by a slew of external producers and featuring a who's-who of "blog rap" up-and-comers in an effort to, I guess, make the elder rapper seem "hip" to "the kids."
Technically, I already gave away the answer to the question in asking it. Many of the above listed albums were dropped (or announced) at a time when the rappers in question had fallen out of public favor (Eminem, Jay-Z, Lupe, Wiz) or had simply aged out of the limelight (The Game, Jeezy, Redman, Raekwon), feeling like they needed an unquestionable commercial and critical success to stave off the withered hand of Father Time and preserve their fifteen minutes — or double decades, in some cases — of fame. Where Eminem and Jay-Z were coming off critical "misses" — 2010's Recovery and 2007's American Gangster, respectively — others had reached the "end" of their public support after recent releases weren't as well-received as the rappers had hoped. Lupe Fiasco had just received a disastrous backlash from Lasers when the much-delayed album released in 2011 after a fervent fan campaign that left his strongest supporters feeling burned, while Wiz had gone four years since his previous studio album, Blacc Hollywood, "only" managed a Gold RIAA certification after his prior efforts had all achieved platinum.
Of course, all of those albums, Recovery, American Gangster, Lasers, and Blacc Hollywood, were still successful by most modern criteria. But in the years since each of their artists had released them and begun to work on new material, a critical new technology had surfaced that amplified the voices of some of their most crucial critics: Twitter, the great digital soapbox. Twitter gave pretty much any average Joes off the street — i.e., the actual consumers — platforms to share their opinions, and subsequently, detractors often became the loudest voices in the room when it came to musical reception and analysis. Now, rather than simply bypassing the newsstand on their way to their latest private jet flights to tours in exotic locations around the world, rappers could see in real time what their fans truly thought of their work, and often times, the most negative of those newly-minted critics were the most outspoken.
However, if there's anything we've learned as a society in the digital era, it's that nostalgia sells. In fact, nostalgia does gangbusters, raking in dollars for any media savvy enough to tap into the deep-seated need millennial users have to escape modern problems like terrorism, political polarization, and trash worldwide economies (not to mention that pesky Sallie Mae) in favor of the simple days of Disney animated features and Saturday morning cartoon shows. Just check out Buzzfeed, the time-killing news-and-entertainment/quiz-and-poll site which saw its valuation hit $1.7 billion in 2017 after nearly a decade of telling loyal readers which Harry Potter house they belong in and how they know they're a '90s kid, or the box office take of the Transformers franchise based on a series of toy robots from the '80s which has now totaled over $4.3 billion worldwide; trading on fond memories of days long past isn't just big business, it's pretty much one of the few truly safe bets left.
That's why, with their professional reputations and lasting musical legacies seemingly on the line thanks to the most outspoken sector of Rap Twitter, rappers like Logic and Lil Wayne seem so desperate to trade on the goodwill of the projects that earned them that goodwill in the first place. Logic first rose to prominence on the strength of his Young Sinatra mixtapes, which proved that his rapid-fire rap delivery and natural ability to balance modern-sounding, booming trap beats with classic-leaning, old-school boom-bap sensibilities were not only commercially viable but wildly popular among a certain set of rap fans.
After the lukewarm critical reception of his official Def Jam releases, including last year's Everybody, though, it'd be natural for the rapper born Bobby Hall to feel a little raw on seeing the running gags riffing on his repeated references to his biracial heritage and the "mixtape Logic is better" trope. Of course he'd want to go back to the formula that endeared him to fans originally — or at least lead them to believe that he would.
Likewise, Wayne has been away from the game for so long, he may feel that the only project he could release that would get the internet buzzing about him again — or rather, tweeting — is a continuation of the series that made Wayne not just a household name, but a respected figure in rap. Prior to the original Tha Carter, Wayne was perceived as a gimmick, or just one cog in the Cash Money machine as a member of Hot Boyz and the catchy bridge from Juvenile's "Back That Azz Up."
Back then, Juvie was considered Cash Money's breakout star, the frontman of the group, the hitmaker. Wayne was all catchphrases: "Tha Block Is Hot," "Bling Bling," and "#1 Stunna" all coined or popularized slang that has entered common parlance (not to mention, of course, "drop it like it's hot" from "Back That Azz Up"), but Wayne was never really respected as a rapper rapper. That all changed with the release of Tha Carter, after which he went from "sidekick" to "best rapper alive since the best rapper retired." The title alone is a calling card to any rap fan of a certain age that they should sit up and pay attention, which is exactly what he needs now.
And Kanye West? Well, I shouldn't even have to recount the shenanigans he's been up to over the past nine months, but ever since he reactivated his Twitter account earlier this year, many of his longtime fans — myself included — have prayed that Kris Jenner or Chance The Rapper or Rhymefest or North or someone would just take his damn phone away. It wouldn't have helped; he continued to make outlandish comments about slavery and the Sunken Place on television and in interviews while using his Instagram to make showy displays of support for accused sexual abusers like ASAP Bari even while promoting the album that was ostensibly meant to be his mea culpa for the supremely mediocre Ye.
Yet, by constantly promising the return to hailed projects like Watch The Throne, which united his hipster and hood fan bases in praise of him and Jay-Z subverting elitist Euro-culture, and Yeezus, which was divisive, but magnified as a genre-defying work of genius by many, it seems he still wants to court those longtime supporters, even as he alienates them with his insistence on standing by the purveyor of the "Make America Great Again" hat — still, despite Kanye's "best" efforts at a "redesign," as much a coded symbol of xenophobia, bigotry, and outright hatred as a Confederate flag.
Nostalgia in itself isn't really a bad thing. Every human being on earth engages in a good, old-fashioned "remember when" from time to time. For most of us, things were simpler "back then," because most of us were kids and our biggest worry was probably the feeling that growing up takes too long. That's why so many of us hail the music we listened to years ago as the pinnacle of our listening experience, and will gladly support any artist who purports to bring back those feelings. Unfortunately, the past is the past; as Jay somewhat ironically sneered on The Blueprint 3, "n—-as want my old sh*t, buy my old albums." Rap is a forward-facing genre, always reaching for the next, the new, and the original. Older artists, or artists on the verge, should embrace that spirit of innovation, not continually run to relive past success. The greater the risk, the greater the reward; to paraphrase that age-old aphorism I mentioned earlier, "originality is always better."
Tha Carter V and YSIV are out now via Young Money and Def Jam Recordings, respectively. Yandhi is due September 29.