As the festival space gets more and more crowded — there are at least a half dozen major festivals remaining in 2019 just within a 5-hour drive of Los Angeles — music fans are faced with more and more vital decisions about which ones to spend their hard-earned money on.
And while the Coachellas and Lollapaloozas and Made In Americas are still the go-to festivals for name recognition, I'd like to gently recommend forgoing the big-money events for local ones thrown by artists and radio stations directly, like Real Street Fest, the brand-new festival started by LA station Real 92.3.
The inaugural Real Street Fest took place this past weekend at the Honda Center in Anaheim, California. Because of the relatively small venue, the festival had few of the logistical hiccups you see sometimes at the bigger-name fests. Yet, because of recognition of the radio brand — and its towering property, Big Boy's Neighborhood — the fest was able to secure huge names in hip-hop, from Big Sean to Cardi B to Future, as well as showcase many of the talented up-and-coming artists of the incoming freshman class, providing a prime example of why, sometimes, less is more when it comes to festivals.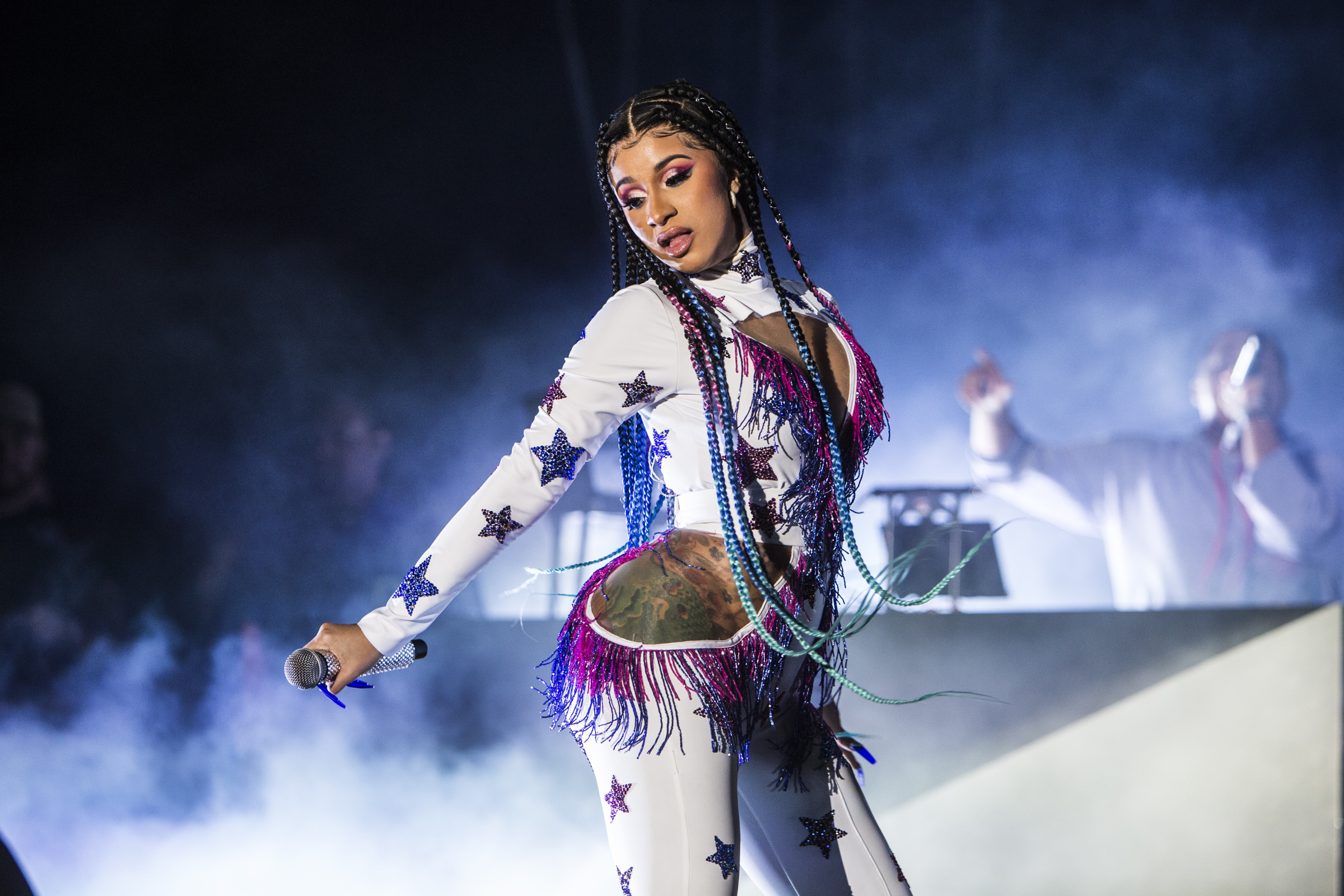 For one thing, having only two stages side-by-side and only 32 billed artist slots allowed for all the performers to receive ample stage time. Alternating set times prevented overlap, which meant guests could see all of the music without having to make time-crunching decisions and possibly miss favorite songs. The proximity of the stages made getting from one to the other easy, while VIP access guests barely had to move around at all.
However, one thing that absolutely set apart Real Street Fest from its competitors was the real-life Big Boy's Neighborhood inside the arena itself, which added both another dimension to the festivities and a refuge from the summer sun inside the air-conditioned arena floor. Indoor plumbing is a luxury few festivals are able to manage, but having it makes the experience so much more pleasant — as a weird, added bonus, even the port-a-potties were cleaner because they were being used more sparingly.
The screen inside the arena broadcast the performances as well, and since no performances overlapped, a guest who was sensitive to heat or crowds could conceivably catch the whole show in relative comfort. I'd love to see more festival venues offer this, especially since so many take place in proximity to arenas as it is. The Neighborhood also provided some neat distractions between sets, with a virtual graffiti wall, a barbershop, a tattoo shop, and a nail salon. Alas, I couldn't convince my coworkers to go in on an Uproxx tattoo with me, but maybe next year, we'll set something up.
The performances were, as expected with this lineup, all excellent. Particular standouts among newcomers included XXL Freshmen Megan Thee Stallion, Roddy Ricch, and YBN Cordae, all of whom showed the polish of 10-year veterans with their sets, despite their relative freshness and lack of recognizable hits. I wanted to like Blueface's set more — he's exceedingly entertaining, but his charm wears thin — and I felt that for a local fest, a few more local artists could have been booked, while the ones who were could have been better highlighted. That said, there weren't any glaring omissions and the TDE set was perfectly placed — maybe more slots could be granted to groups or labels to allow for more artists.
Given how many of these artists I've seen over the years, some as recently as last year's Rolling Loud or Complexcon, I was also interested in seeing the tweaks and changes they made in their setlists and stages. Lil Baby, for one, added a small squad of backup dancers — a change that was more distracting than electrifying. ASAP Rocky's stripped-down Testing stage revealed the drawbacks of having such an elaborate setup, but Cardi B's stage and blocking were immaculate. If anything, she's grown even more confident as an artist, exuding charisma.
But the winner of the weekend, if ever there could be such a thing, was almost certainly Big Sean, whose set ran through so many hits that I legitimately wondered at one point why he wasn't the headliner for Sunday. His professionalism, charisma, and confidence levels would have been through the roof if we weren't outside and his sincerity as a person shone through both his mid-performance monologue and his willingness to pause his set twice to ensure the safety of injured revelers who had been having a little too much fun and needed medical assistance.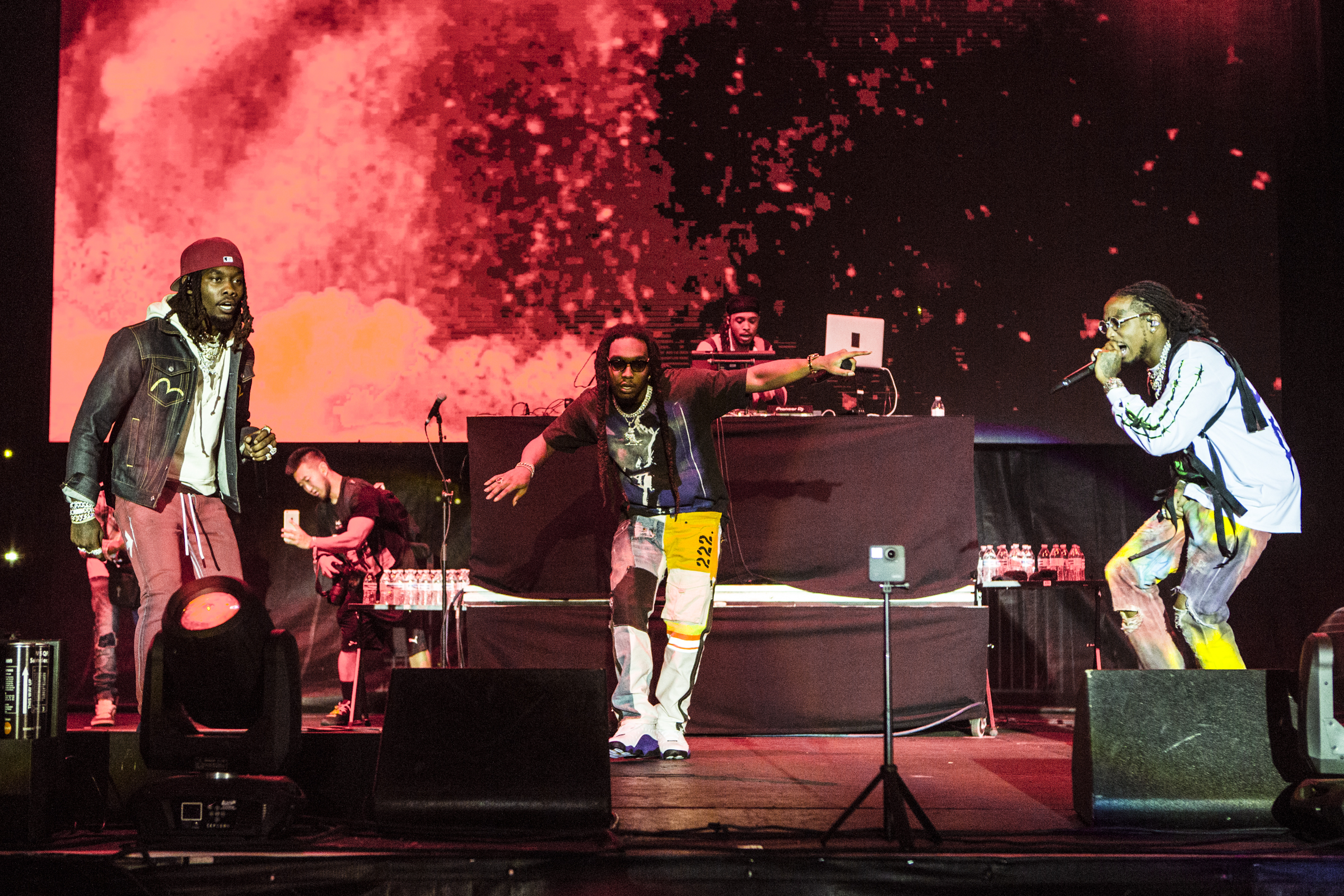 Probably because of the scale of the festival, surprise appearances were minimal. Tyler The Creator and ASAP Ferg popped up at ASAP Rocky's set to perform their hits alongside him, but they were likely last-minute additions due to Rocky's ongoing Swedish assault case. Still, it's always fun when Tyler and Rocky get together because not only do they feed off of each others' spasmodic energy onstage, but it's also just genuinely enjoyable to watch their friendship play out, like watching an episode of your favorite hangout sitcom that just happens to feature foulmouthed rappers as best buds.
With the set representing Rocky's first since his detainment in Sweden and possibly his last before a potential six-month stretch in a Swedish jail for assault, the energy from the crowd was heightened for his performance. Impressively, he was able to work the uncertainty of his July trip into his set: For his first song, he only appeared in silhouette, while for the next two songs after that, he wore his crash test dummy ski mask, lending a trippy feel to his early performance. It reminded me a little of when MF Doom would send out imposters to perform in his place — it seemed no one could quite believe it was really Rocky until the mask came off, eliciting a huge pop from the crowd and a surge of energy that wouldn't die down until long after the drive home.
For a first run, Real Street's weekend went relatively smooth apart from the usual technical difficulties that come along with putting on a sizeable production. The festival certainly found some intriguing ways to innovate and its smaller scale also meant proportionately less stress for attendees, making it easier to enjoy all they had to offer. While I won't tell you to give up on big festivals altogether, I would say don't worry about missing out on them; your local radio station is probably putting together something that will still satisfy — and maybe even give you more bang for your buck.
Some of the artists mentioned above are Warner Music artists. Uproxx is an independent subsidiary of Warner Music Group. Check out more photos from Real Street 2019 below.