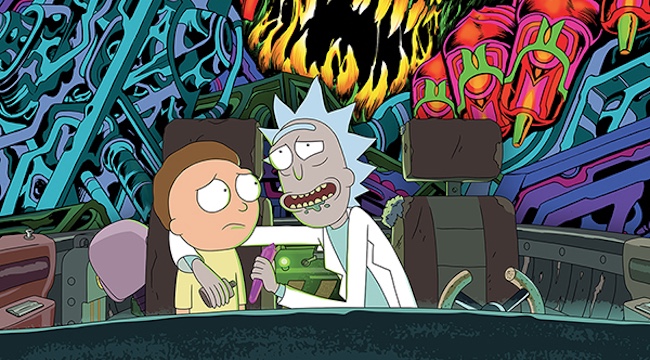 Rick And Morty is perhaps the most beloved animated show of the past few years, and the program has also resonated with the music world. For instance, the show's titular characters helped Deadmau5 count down to midnight on New Year's Eve, and just last month, a soundtrack album was released via legitimate label Sub Pop. The record has been out in the world for a bit now, and it turns out that it's actually tearing up the charts.
For the week ending October 5, the album debuted at the top of the Billboard Vinyl chart. It had success beyond that, too: It also debuted at No. 2 on the Soundtrack chart, at No. 4 on the Indie Album chart, at No. 19 on the Top Internet chart, at No. 22 on the Top Albums chart, and at No. 27 on the Top Digital chart.
This isn't the first chart success the show has experienced, either. Around this time last year, "Terryfold" — by Chaos Chaos featuring Rick And Morty creator and voice actor Justin Roiland — found its way onto the Billboard Hot Rock Songs chart, debuting at No. 33 after earning 1.1 million US streams and selling a thousand downloads for the week ending on September 7. There's other talent on the soundtrack too, as Blonde Redhead, Mazzy Star, Clipping, Chad VanGaalen, and Belly are also on the record.
The Rick And Morty soundtrack album is out now via Sub Pop. Get it here.