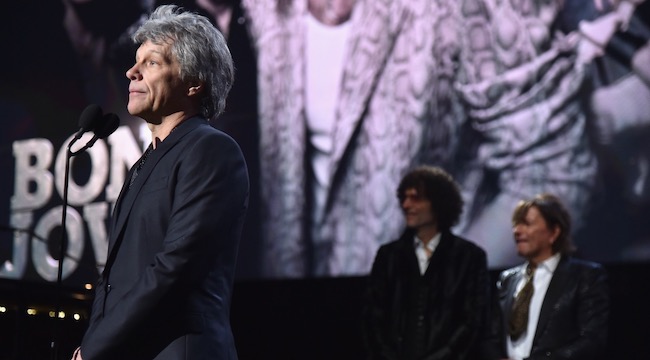 Just a couple of weeks ago, the Rock And Roll Hall Of Fame staged their annual induction ceremony, this year in Cleveland, Ohio, where they ushered in the likes of Bon Jovi, Nina Simone, Sister Rosetta Tharpe, The Moody Blues, The Cars, and Dire Straits into their hallowed institution. It was an action-packed evening to say the least, and if you weren't there in person, you can relieve the festivities in the comfort of your own home on by tuning into HBO this Saturday, May 5. To give you a bit of a taste of what you might expect, today the Hall unveiled a trailer, brimming with some of the highlights.
Whether you are a fan of the acts inducted or not, the Rock Hall ceremony is always entertaining to witness, and this year some of the biggest fireworks came from shock jock DJ Howard Stern who was tasked with inducting '80s pop-metal band Bon Jovi. There was also a bevy of incredible performances, coming from the likes of Lauryn Hill who paid homage to one of her idols Nina Simone, and a reunion performance from The Cars. There was also a solemn tribute to Soundgarden frontman Chris Cornell from Heart singer Ann Wilson — Cornell inducted Heart into the Hall years ago — and Alice in Chains guitarist Jerry Cantrell.
You can check out the trailer for this year's Rock And Roll Hall Of Fame induction ceremony above, and make sure to tune in and catch the full event this Saturday, May 5, on HBO.