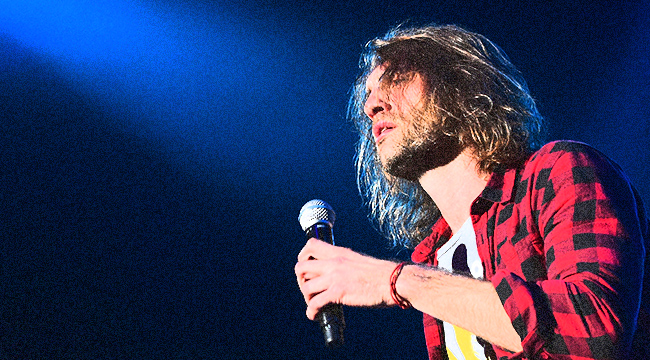 Let's get this out of the way first: Ryan Hurd is engaged to country music's currently reigning queen, Maren Morris. After her 2016 album Hero, Morris won the CMA for New Artist of the Year, along with the Grammy for Best New Artist and her breakout hit, "My Church," won Best Solo Country performance.
But really, that personal connection to another of the genre's recent stars is only one small thing you need to know about Hurd, who himself is one of Nashville's most promising new artists. The fact that he's in a romantic relationship with Morris is really just icing on the cake for a songwriter who has already proven himself time and again as an emerging force in country music.
Back in April of this year, Ryan Hurd released his first-ever EP as a solo artist, and the lead off single "Love In A Bar" is an autobiographical account of the couple's romance. Two of the EP's other tracks, "City Girl" and "We Do Us" (the latter is another clear autobiographical track, natch) have already landed on Billboard's Spotify Viral 50 chart, and the remaining song, "Hold You Back," might be the best ode to tender unraveling of an old love I've heard out of the genre in years. Oh and yes, those female backup vocals you hear might sound a little familiar.
The entire EP is worth multiple listens for country fans who want more than brackish bro-country, but have no problem with an earworm that splits the difference between country's old classics and current arena-packing greats. Ryan Hurd is picking up steam by the minute, and is currently sitting at the No. 8 slot on Billboard's Heatseeker chart — even though it came out almost three months ago. There's nothing like staying power when it comes to a brand new artist, especially in a genre as fickle as this one.
Already an old hand at crafting chart-topping Nashville hits that mesh the kind of searing, golden lyrics and simple country-flecked melodies that turn songwriters into headliners, but Hurd only recently made the transition to solo artist after several years writing hits for other people. If you've heard Blake Shelton's duet with Ashley Monroe, "Lonely Tonight" off his 2014 album Bringing Back The Sunshine, then you're already familiar with his vulnerable, playful style — that song became his first No. 1 when it was released to radio in 2015. Shelton is just one of many artists Hurd has written for, those packed ranks include artists like Dierks Bentley, Jake Owen, Tim McGraw, FGL, and yes, Maren Morris, along with many more.
A couple weeks before the big news of their engagement, I spoke with Hurd over the phone from a couch in Nashville, where he paused a bout of binge-watching with Maren to talk about balancing a relationship with another musician, how he made his way into the world of songwriting, and what it means to sing and perform his own hits, and finally embrace the stage as a solo artist. Read our conversation below — this is one of those artists you're going to want to gloat about being early on.
So, I'm sure a lot of people coming into this are already fans or interested because they're fascinated by your relationship with Maren. You see this with Beyonce and Jay-Z, and plenty of other celebrity couples — people love to see couples who work within the same industry. But also, I've been listening to your EP for weeks, and you're an extremely talented artist in your own right. So, I kind of wanted to get your take on what it's like to be part of a couple in that way that's also within your workspace.
Well, we're at the house right now and we just paused The Handmaid's Tale, so it's kind of just what other people would do on what their Saturday is. It's really cool to be with somebody who totally understands what it takes to try to be in country music. The time commitment for both of is so obnoxious that having a partner who was not really understanding of that would really be difficult. But, I do her career with her and she does mine with me; it's really fun to have somebody that with. We got together because we're songwriters and we had a creative partnership that turned into something more. There was so much respect coming from her my way, and I feel like I'm just the same way with her. I've always been her biggest fan both musically and as a person.
I saw a caption that she posted on Instagram a while back that said: 'We take trade off being groupies.' I thought that sounded like the best kind of perspective on it.
Yeah, it really kind of is. I take more photos of Maren than anybody else. I always laugh when I see photos of Beyonce that Jay-Z has taken. It's like he's literally just the dude holding her phone sometimes. That's fun. Also, I love going on the road with her. We do a really good job and our teams do a really good job of making weekends work. If we're playing the same festival on different days we can usually go to bed early or late. It takes a lot of people to make it work, and I'm really thankful for those people.
I was reading that you guys met during a songwriting session, but I'm wondering. How did you get to that songwriting session? What was your journey to that moment?
Well, we both kind of came to Nashville to be writers for other people. Just songwriters in Nashville, which is sort of how this whole thing works: Your publishers pairs you up with new writers who are kind of at your same level, or that they think they would make a great co-writing partner. I had already started finding some success, and I was kind of at the beginning of that. Maren was kind of brand new to Nashville, and so we wrote a handful of things and had some songs cut by other artists. It all started as just a creative partnership, and we became friends, and then about a year and a half ago, we started dating. It really feels like it's happened really fast, but it's been a little bit, a handful of years that our relationship developed.
Tell me a little bit more about your musical background, where did you grew up and what got you into music? What led to the decision of moving to Nashville?
I'm from Kalamazoo, Michigan. I was in some bands and stuff growing up, but really started focusing on writing when I was out of school and didn't have much to do. It was tough to get work in 2008, that's not quite when I graduated, but I remember 2008 was when all the recession stuff happened and I kind of got caught up in a lot of that. I started writing songs because I didn't have much else to do, and we wanted to give it a go on music row. Got publishing deal, and my first cut was with Jake Owen, and then had a handful of singles go to the radio. That's kind of been my foundation, my story has been writing songs and all the artists that have cut songs that I've written.
I came to Nashville to go to college at Belmont. I didn't do any music, really, I got a sociology degree. Which gave me some unique perspective, I guess, that way. I got out of school and I was going to go to graduate school. I had some opportunities and just couldn't really pull the trigger. So I started writing country songs with some guys in town that were at my same level, they were writing songs. I've always been around music. I was in a couple bands and stuff like that, but I didn't take it seriously until later.
Who is your favorite artist that you've written a song for so far?
Man, I've had a bunch of artists record my songs and they're all special. Anytime anyone records your song in Nashville it's such a huge honor because they could potentially sing that song for the rest of their career. I had a really good cut with Dierks that Maren sang on called "I'll Be The Moon," and I'm really proud of that. I have a No. 1 song with Blake Shelton, and I have a handful of singles with other artists. I'm really proud of the song I have on the radio right now, "You Look Good," by Lady Antebellum. It's a top ten hit. It really is different and it really pushes the envelope sonically. They're such an iconic band, so I could really talk about any artist that's recorded my songs in a really cool way just because it always is such an honor.
How different does it feel though, between hearing someone else cut your song and hearing your own song being played?
It's totally different because with your own music you kind of live inside of that song. You live inside the writing of it and the recording of it, and it's such a long sort of process. It's a little bit more personalized I think, and I think just having your name on it, honestly, your own name. You can't hide behind another artist's name or voice. It's just you out there and if they dig it then they dig you, and if they don't then they don't dig you. That's just a little bit more on the line, but it's really been a really exciting year just to have my own songs out there, and to have people respond to them, and to get to tour this much. I don't know. I still see myself as a writer first, which, my record label will probably hate to hear me say, but being the artist and having your own name on it and stuff like that, there's so much more to it. It is a lot more exciting when it's your own stuff.
"Love In A Bar" was described as autobiographical, did you draw some of that inspiration from your current relationship or is it from something in the past?
No, that's our story. When Maren and I were becoming more than just friends and more than just writers it was like we would hang out in bars after work. Not every song on my album is a true story, but I think they're all real stories, right? They're real emotions that people can see themselves in. "Love In A Bar" is a cool one because it is true. It's pretty spot on as far as what happened, and I look at the people every day reaching out on Twitter and say, "I found love in a bar," or, "This is my story," and the setting is different. It's really just a song about putting yourself out there, right? I think it connects emotionally with listeners in a huge way, and I'm really proud of that I think more than anything else.
Do you guys still often write and make music together? I know you perform together, but are you creating new work together?
Not as much as we used to just because our schedules are crazy and when we're in town we'd rather just hang out, but we're still very much writing together. I don't know if I'll have anything on the next album or anything like that, but we still love to be in the same room together and make music. It's something I really cherish and love.
Following up your first EP, from this April, do you have any other plans for other releases this year or for the rest of the year?
Yeah, I just finished my album. It's done. It's mastered and sequenced, so I really hope it comes this year. You have wait on your singles, to see if you'll get on radio and get that marketing push before you can drop an album. My hope is that "Love In A Bar," this is the song that breaks and we can release an album in the fall, but we're still a little ways away from there.
A lot of mainstream publications are just beginning to take country music seriously, and have been a lot changes going on in the conversation. There's the backlash to bro-country and the emphasis on female artists, and then there's sort of the shift towards artists like Sturgill Simpson, and Jason Isbell, and Christ Stapleton who are a little more alt country, so people see them as more authentic. Isbell's new record is kind of heartland rock even. But, in terms of those different spectrums or points on that map, how do you see yourself fitting into that?
All of those artist sound different than somebody like Luke Bryan, or Sam Hunt, who I think is honestly the new biggest star in the country music planet. It all sounds different, but the thing that we come back to in Nashville all the time is the lyrics. The lyric is always written in a similar way, in a way that we've always written it, so the content might be a little bit different, but it's really cool to still have that to hang onto — and it kind of ties us to classic country and country music that's on a little bit more of the periphery.
I think it's a really cool time to be in country music, and I think that you're seeing everybody in pop music want their own little piece of a country song. And it that makes sense, they all want to have their toe in Nashville, and I think it's because there's a lot of really great stuff happening here, and a lot of really great music being made. It's a really cool time to be a part of this.
As far as where I stand, I'm a little bit more rock and roll. I'm on that side a little bit of the country spectrum I think, but it's just about sounding different and not really trying to sound like anybody else that's on the radio, so you can separate yourself. I think any artist who's consciously doing this and who's really focused on making music that impacts and that matters is always looking to push it in their own direction.
Who are some country artists that you like listening to?
You listed off Jason [Isbell], and Chris Stapleton, and I love Hayes Carll. Those are just Americana whatever, but then on the other side, those are some really iconic country music stars. They exist in a couple different sub-genres of ours, but I love what Sam Hunt does and I love what Kacey Musgraves does. I love what Maren does, and Eric Church, and Dierks Bentley, and big people who kind of drive new sounds, those who don't sound anything alike, but they all are very specifically themselves. They all have created their own lane that they can drive down. I think that's what I respect the most, is people who can kind of create their own lane. That's everybody's goal, I think, who really cares about and cares about making great music.
Ryan Hurd is out now, stream it below and look for his forthcoming debut album, which will hopefully be out later this year.
[protected-iframe id="28d4b77e1e37ebc797327fd298ee640c-60970621-76566046″ info="https://open.spotify.com/embed?uri=spotify:album:6wVnoDiRPI8RDgQT2RH3PO" width="650″ height="380″ frameborder="0″]