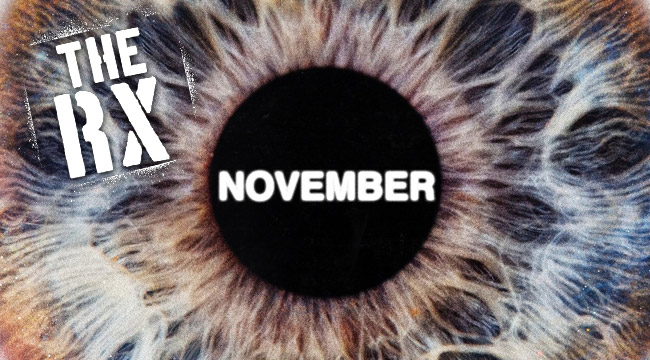 The RX is Uproxx Music's stamp of approval for the best albums, songs, and music stories throughout the year. Inclusion in this category is the highest distinction we can bestow, and signals the most important music being released throughout the year. The RX is the music you need, right now.
The very first voice you hear on November isn't that of the album's originator, Inglewood singer SiR. It's an artificial intelligence named Kay, who gives the singer a coy, "Good morning, sir," as part of a sci-fi-inspired intro that sets up the core concept of the album's interludes. SiR is a space traveler, guiding his ship on a journey to a distant, unknown destination with Kay's help. It's a setup right out of some of 2017's biggest science fiction films, like Blade Runner 2049 or Travelers, as if SiR spent the year crafting his debut LP for Top Dawg Entertainment in darkened movie theaters, borrowing ideas direct from screen to page, subtly transforming them in the process to create something more personal and all his own.
In much the same way, the one-time gospel singer and recording engineer who honed his skills under Tyrese Gibson and Dre and Vidal, writing material for Ginuwine, Jill Scott, and Stevie Wonder, seems to pull inspiration from any and every place musically as well. Given his degree in recording arts and his family roots (his mother, brothers, and cousin were all gospel singers as well, though he resisted entering the "family business"). From the eerie, syncopated G-Funk of the album's opener, "That's Alright" to the soft-rock, quiet storm vibes of its airy finale, "Summer In November," November is the result of an astute musical mind paired with an observational spirit.
SiR, who signed to TDE in late 2016 and has since released two EPs, HER and HER Too, has clearly adopted some of the sonic tricks of his coworkers like Isaiah Rashad, Jay Rock, and Schoolboy Q. However, rather than simply rehashing the "TDE sound," he blends it with influences from his days singing in the church choir, and even those sci-fi movies, to form an R&B mashup that isn't afraid to go as dark as the space outside his spaceship window, but somehow remains as warm as the Southern California streets from which he hails.
Case in point, the lurking menace of "I Know" and "D'Evils" wouldn't be out-of-place on Jay Rock's underappreciated 2015 sophomore release 90059, which was a pitch black set of ruminations on the violence and desperation that permeated his upbringing in Watts, California. However, that menace is balanced by an off-kilter sense of humor — the same sort of skewed observations that buoy the best of Kendrick Lamar and Isaiah Rashad's catalogs appears here in the hook for "I Know."
"She got bad ass kids, she got bad ass kids," he taunts, "I know who your baby mama really is." It's a prime example of SiR's ability to process well-worn hip-hop and R&B tropes — in this case, the classic "I f*cked your b*tch" anthem — through his own filter, transforming them into a fluid genre mashup that sounds fresh and futuristic, just like the concept of a spaceship flown by an AI autopilot appearing on an R&B album.
While the first half of the project adopts some of the repurposed, avant-garde gangsta rap of SiR's TDE peers, the back slope of November easily stands alongside 2017's most soulful releases, from PJ Morton's Gumbo to SiR fellow Top Dawg R&B star SZA and her groundbreaking CTRL. "Dreaming Of Me" samples the Soul Mann & The Brothers guitar riff that formed the foundation of Erykah Badu's classic single "Bag Lady," but again, SiR is unsatisfied simply borrowing. The reference is more subtle than outright pastiche, yet clearly recognized as one of the song's building blocks. He wants you to hear his influences, but he also wants you to hear how he twists them, rearranging their atoms to create something new.
With its title, November seems as though it could have run the risk of just compiling a series of cold weather slow jams, but instead, SiR toys with expectations throughout — from the high-concept framing device to the unconventional execution of conventional R&B subject matter. You know the drill: Love, betrayal, relationships, the player life. It's all here, but SiR puts his own undisputable, inimitable spin on it. It's how he makes the sci-fi interludes work without ever revealing his destination. You only need to be willing to ride with him as he goes on his musical journey. With SiR providing the in-flight entertainment, the best part is getting there.
November is out now via TDE. Get it here.