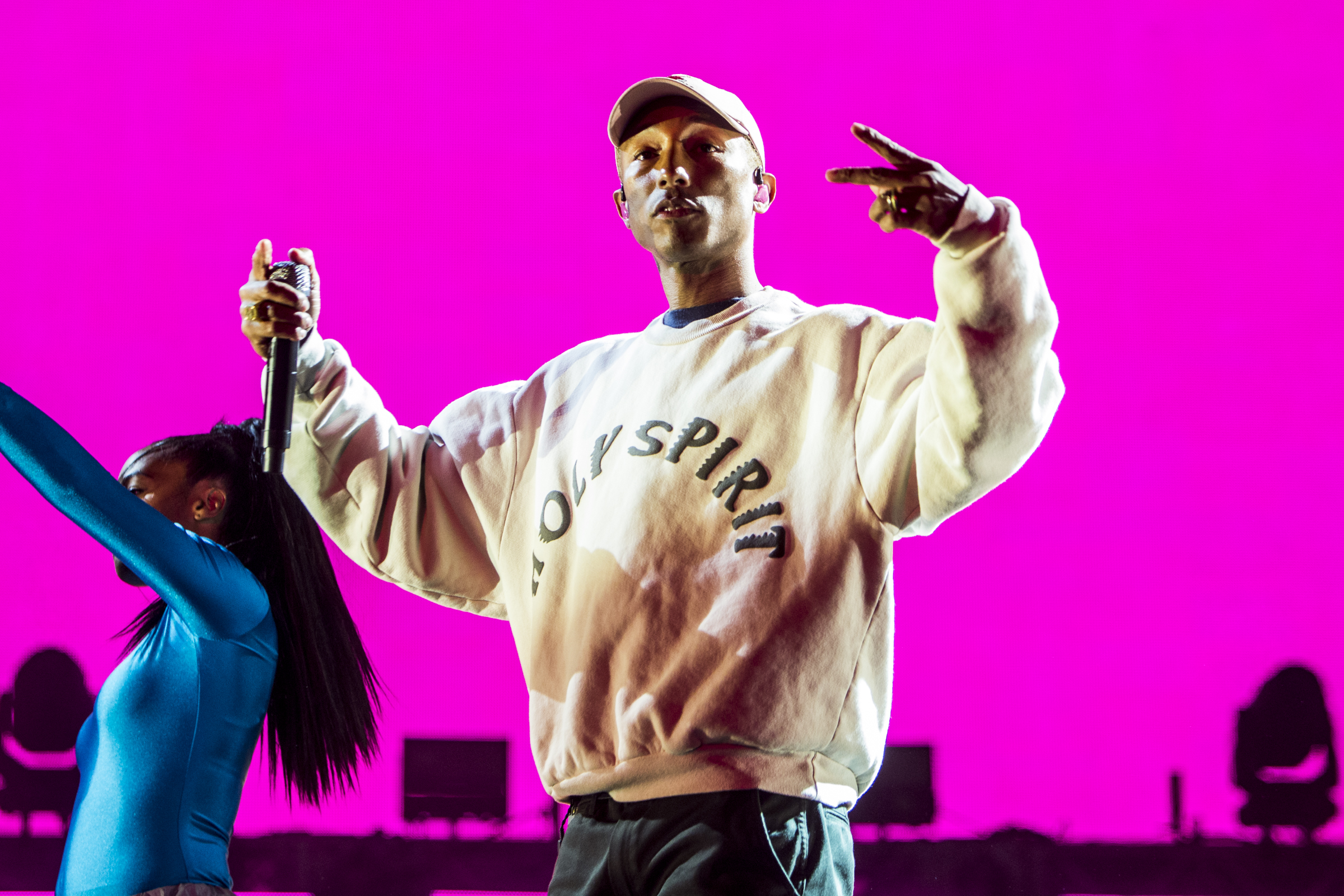 To categorize Something In The Water as just another music festival would be selling it short. Last weekend's Virginia Beach event is the brainchild of musical legend Pharrell Williams, held during what is the region's annual "College Beach Weekend," when young students from the area take to the sand and party it up. According to some locals I spoke with, the tradition has some negative side effects for the region, including vandalism, which made a more organized activity at the beach all the more appealing (though there is something to be said about the reality of this reputation). If young people were already going to come to Virginia Beach to party, why not organize a festival and try to change some of the narratives surrounding the annual escapade?
Enter Pharrell and an entire community. Pharrell is from the region, as are a ton of other successful musicians, and Something In The Water aimed to honor that, right down to the naming of the festival. Something In The Water implies that something special comes from what is called "the seven cities," referring to the greater metro of Norfolk, Virginia Beach, Chesapeake, Portsmouth, Newport News, Hampton, and Suffolk. And it's a hard point to argue when you consider artists like Pusha T, Dram, Dave Matthews Band, Chris Brown, Timbaland, and others that would feature into the event were all born or raised relatively near the festival's site. Hometown pride could be felt in the festival's creation and its execution, wanting to put Virginia Beach's best foot forward to those traveling in, sure, but mostly honoring the hard-working, dedicated locals who'd never had an event of this scale take place in their home city.
And the city responded with both resilience and enthusiasm. The former could be seen in the festival's opening day, which was scheduled to feature Matthews, Lil Uzi Vert, Migos, Maggie Rogers, and Janelle Monae among others, but found a weather delay turn into a full-scale cancelation. With intense winds, lightning, and hail, the festival did the right thing by putting their attendees' safety at the forefront and not creating an unnecessarily dangerous situation, even if it hurt that so many great artists wouldn't get the chance to appear. Partial refunds were granted for the scrapped day, and most importantly, the festival pulled up their bootstraps and focused on making the final two days as memorable as possible. If there was any concern whether fans had ill will, that was alleviated by the massive lines that formed well before the gates opened on Saturday, with festival goers sprinting to get prime viewing locations, clearly ready to make the most out of the great weather that the rest of the weekend held.
Festival weather concerns are nothing new and something that will only be more common due to increasingly unpredictable weather around the globe thanks to climate change. Lollapalooza evacuates at some point almost every year, and New York's Governors Ball has often seen weather halt their festivities. At the same time as Something In The Water was happening, New Orleans Jazz Fest was dealing with their own rain-related woes. It remains to be seen whether Something In The Water will turn into a yearly event or if the Friday cancelation affects its long-term viability, but regardless, this is something that happens at many music festivals, and should not be held against them.
By Saturday afternoon, the rain felt like a distant memory as artists like Rosalia, Kaytranada, and J Balvin impressed. Rosalia, like many on the bill, shouted out Pharrell for inviting her, and nearly broke down crying recalling how he was the first American artist to take notice of her and ask her to collaborate. Pharrell's generosity to young musicians would become a theme of the event. Maggie Rogers shares a similar story, though her set cancelation didn't allow her to tell it, while a surprise appearance by Tyler, The Creator during Pharrell Williams' headlining set found the rapper telling his idol, "You changed my life." The gratitude to Pharrell was found far and wide, with almost everyone who took to stage thanking him not just for putting on the event or for career support, but for his mammoth contributions to the culture, and his legacy will surely be felt for a long time to come.
The festival's centerpiece was Pharrell's set. Originally slotted to perform on both the festival's first and second days, the schedules were adjusted to give Pharrell a longer set on Saturday to accommodate the grandeur of his vision. It was something that Pharrell had previously unveiled at Coachella in 2014, where a parade of guests appeared to showcase the breadth of his output as a producer, as a primary artist, and as a collaborator. It's easy to forget that the same man who has struck ubiquitous hits with songs like the kid-friendly "Happy" and disco homage "Get Lucky" with Daft Punk has also done production for the likes of Kendrick Lamar on "Alright" and dropped a verse on Future's "Move That Dope." But this set was a celebration of everything Pharrell has managed in his storied career, and the sheer amount of guests felt like an embarrassment of riches.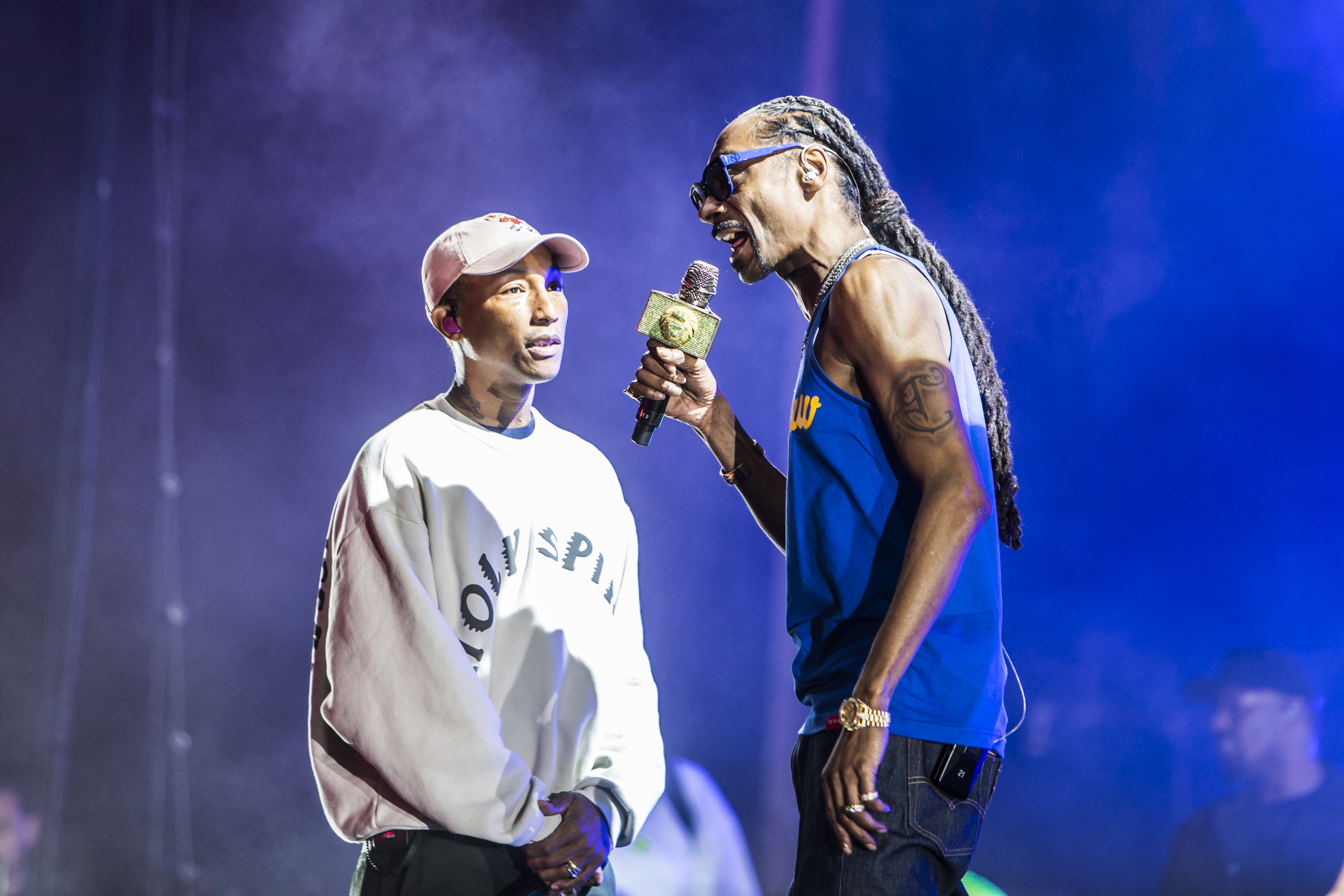 By far the biggest of these was Jay-Z, with Beyonce spotted watching from the pit, who was sure to let the audience know just how much he admired "Skateboard P." They plowed their way through "Frontin'," "Public Service Announcement," and "Izzo (H.O.V.A.)" in a five-song mini-set, and the audience reached a fever pitch during this surprise appearance. The fact that it was immediately followed with multi-song appearances from Snoop Dogg and Tyler, The Creator made his set feel like an elevator ride to the penthouse, and despite playing the trump card so early, Pharrell still managed to break through the ceiling in full Willy Wonka style during the second half of the set. N.E.R.D., Missy Elliott, Busta Rhymes, Diddy, and Usher would all make appearances, turning the sandy grounds into an all-out party as the night wound down. There are few ringleaders who can put on a circus quite like Pharrell, and Something In The Water resulted in a big top like no other.
With a set like that, it's wild to think that performances from Travis Scott and SZA on that same day didn't even serve as headliners. And it wasn't like either held anything back. Travis took his nickname to heart with a performance that shot fire into the sky frequently, balancing aggression and joy on a razor's edge. It was such a feverish appearance that it hardly made a difference it was remarkably brief, clocking in at under 30 minutes. Travis Scott is at the point where he doesn't need much time to work up a frenzy.
SZA, for her part, was much more about taking her time to craft a mood for her sunset slot. She immediately noticed a familiar fan crying as she took the stage, saying it was gonna make her cry watching the fan break down. And as she deftly mixed songs from her landmark Ctrl album for the performance, it was obvious how comfortable and joyful she seemed, as if the stage was the only place she truly felt at home. Even performing much earlier on a bill than she is used to of late, SZA's set was an argument for why she has become such a star over the last couple years, standing out brightly even among the most impressive company.
At an event with such well-curated music programming, all the other aspects that go into a festival could easily fade into the background. But the interesting thing about Something In The Water is how it literally divided its primary grounds from a wealth of other activities, both permanent to the area and special just for the weekend. In the main footprint, there was standard festival food, plenty of bars, and inflatable balloons for atmosphere. But attendees were given in and out privileges so they could experience a host of other activities held within the immediate vicinity. An eight-hour Sunday service event took place on Sunday afternoon about a mile up the beach that was free to all locals, receiving a massive turnout for a religious celebration full of music, food, and ministry. Elsewhere, Sony took over an entire Virginia Beach block, complete with live performances, displays of 360 audio technology, PlayStation gaming stations, and a Men In Black: International selfie set-up. Just up the road, Timberland footwear's activation included a program to plant trees in Haiti in exchange for people pledging to live a greener lifestyle. And that's all in addition to the already festive Virginia Beach local businesses, who all relished the opportunity to have tens of thousands of young people patronizing their restaurants and shops for the weekend.
The biggest hiccup for Something In The Water's first year was transportation issues. The region is already difficult to access, but road closures and a failure to officially partner with rideshare services meant many of the festival attendees waited hours to leave the grounds. By all accounts, the festival came together very quickly, and this was the one area that felt like it lacked the proper planning. But it also seemed like an easily amendable one, as getting official Uber or Lyft routes and better offsite shuttle services and parking options could easily remedy the situation. But it says something about how much fun the festival was that the inconvenience of leaving quickly became an afterthought.
Much has been said about the rise of artist-curated festivals, and with Pharrell Williams, it meant an expertly curated lineup and performances that reflected how happy — no pun intended — the artists were to be a part of the event. It's not surprising that musicians would be more at ease playing at their friend's party than, say, Live Nation's, but Something In The Water went well beyond that. The event was the perfect concoction of celebrating a region and celebrating Pharrell's influence, simultaneously feeling like a once-in-a-lifetime moment, and a festival that deserves its chance to grow.
Uproxx was hosted for this story by Sony Xperia, and granted use of their Xperia 10 Plus phone for the purpose of capturing the festival action. Sony did not review or approve this story. You can learn more about the Uproxx Press Trip policy here.