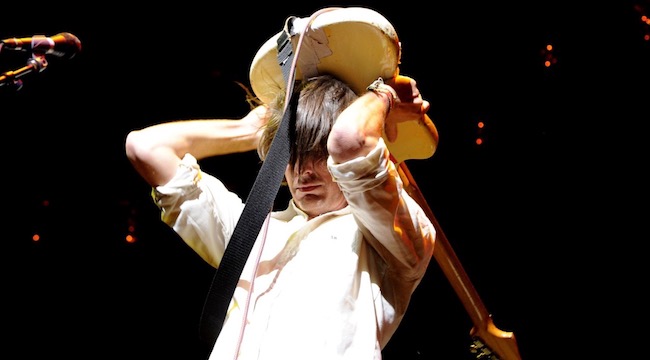 Based on the pair of singles we've already gotten to hear thus far, Stephen Malkmus's latest album Sparkle Hard has the potential to be his best, post-Pavement project yet. Though it hasn't entered the public space yet, one of the more interesting offerings on the record is a song called "Refute," which features a guest spot from the Sonic Youth bassist/singer Kim Gordon. The way Malkmus tells it to Pitchfork, the meeting of the legendary indie-rock minds happened a quite off the cuff.
"Kim is a friend and she just said, 'I think the lyrics are funny, I'll do it," he said. 'She's really inspirational. She's always doing stuff."
As it turns out however, Malkmus always pictured the song as a duet, and in his mind, had Gordon not stepped up, he was considering calling in a favor to one of the biggest pop stars on the planet to help him round out the track. "I thought if Kim couldn't do it, I was gonna ask Lorde to do it, 'cause I thought Lorde owed me a favor," he said.
When asked what, exactly, he'd done for Lorde, Malkmus decided to keep it to himself. "It wasn't a big deal. It's not very exciting. It obviously wasn't big enough to get her to potentially sing on a tune. Maybe her parents are Pavement fans or something, so I'm still hoping."
Stephen Malkmus & The Jicks album Sparkle Hard is set to drop on on May 18th via Matador. You can pre-order the record here.