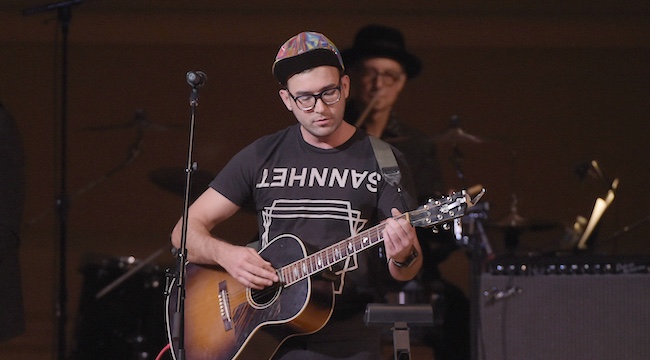 Multi-genre artist Sufjan Stevens is unafraid to share his platform. The 42 year old folk and electronic veteran has announced that he will use his considerable music industry clout to help spotlight some of 2017's most prominent artists.
It may be his Call Me By Your Name single "Mystery Of Love" nominated for an Oscar, but he will share the stage during his performance with St. Vincent and Moses Sumney, as well as Chris Thile of Punch Brothers.
St. Vincent, otherwise known as Annie Clark, broke rock boundaries last year with creative and experimental Masseduction, her fifth album, while Sumney made his debut with the haunting and evocative Aromanticism. Both flew in the face of gender and racial stereotypes to create groundbreaking works that redefined their respective genres.
Sumney opened for Stevens on tour, while St. Vincent was a member of Stevens' touring band before forming her own band in 2006. Now, both have come full circle to perform his soundtrack standout on one of the biggest entertainment stages in show business. "Mystery Of Love" has garnered a lot of attention as the "internal monologue" of Call Me By Your Name, which is a win for him, since his song about ex-figure skater Tonya Harding wasn't picked up for I, Tonya — and didn't go over great with the song's subject, either.