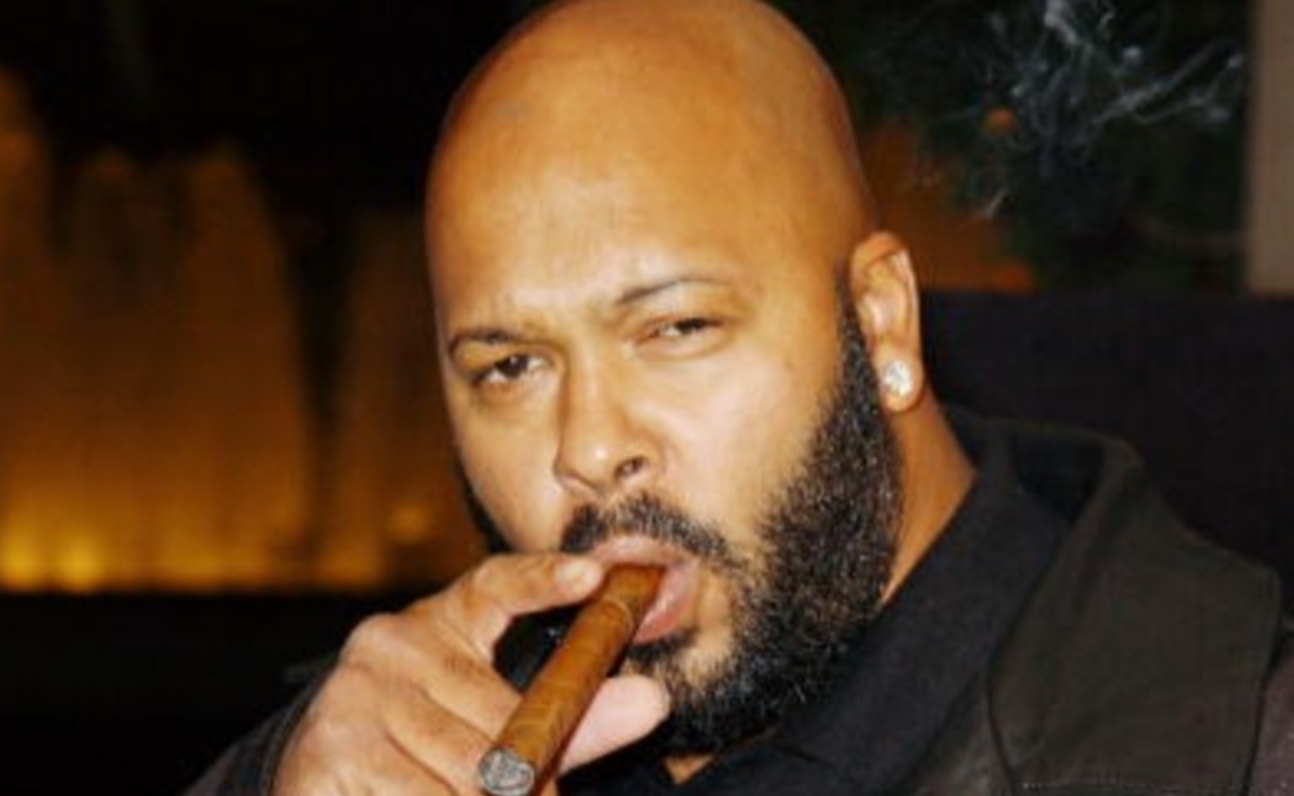 From young football star to threatening music executive, Suge Knight's life has taken a lengthy, turbulent road. Here's a complete history of his criminal activities.
1986: Before he was known for hanging Vanilla Ice off of a balcony (more on that later), Knight was actually a very talented college football player. In 1983, he received a football scholarship out of high school, and in 1985, he transferred to UNLV to continue his balling career, even scoring a Rookie of the Year title. It was in his senior year, though, that he began to exhibit the kind of criminal mindset that would characterize his life. In the book Labyrinth, Knight's college years are defined by a drug-dealing side gig.
1987: This is where the lengthy rap sheet begins. In October, Suge's future wife, Sharitha Golden, placed a restraining order against him. Knight violated the order by grabbing Golden by the hair and cutting off her ponytail, resulting in his first arrest. Just two weeks later, Suge is arrested again, this time for shooting a man in the leg and wrist as he attempted to steal his Nissan Maxima. Knight's decorated football career helped him out of the jam, and his charges were miraculously lowered to misdemeanors, carrying a $1,000 fine and three years probation. Yes, you read that right: He shot a man twice, stole his vehicle, and only got a $1,000 fine in return.
"It went to a misdemeanor," he told the Washington Post in 2007. "I shot him with his own gun."
1988: Suge is arrested for assaulting a man at L.A. International Airport.
1990: This was a busy year for the soon-to-be Death Row record executive. In Las Vegas, Suge uses a loaded pistol to break some poor guy's jaw, resulting in another slap on the wrist of $9,000, and a two-year suspended sentence. He also pleads guilty to two cases of battery — in Hollywood and Beverly Hills, respectively — and pleads guilty to a disturbing the peace charge in Van Nuys. The result of these charges? More probation.

1991: Suge is consolidating power into Death Row Records, a tactic that includes strong-arming away the contracts of Dr. Dre and D.O.C. from Eazy-E. Knight is given another suspended sentence, this time for giving a false name when he was caught with a deadly weapon in Beverly Hills. It was also during this time that Vanilla Ice supposedly got hung over a balcony by Suge — that never happened. Ice and Suge's party went to court over royalties for "Ice, Ice, Baby" instead. Still, it's likely that Suge did show him the edge of the infamous balcony.
1992: If convictions and arrests were an Olympic sport, Suge would have taken home the gold in 1992. Besides facing two convictions for assault with a deadly weapon — both resulted in suspended sentences, of course — he was convicted of carrying a concealed weapon in West Covina, convicted of disturbing the peace in Van Nuys, and if that wasn't enough, he beat and shot at two budding rap artists for using the Death Row office phones without permission. That incident ended with Suge getting arrested for armed assault. The two rappers, George and Lynwood Stanley, then went on to say that shady dealings with the prosecutor — his daughter was supposed to appear on a Death Row records release — resulted in the brothers taking a plea deal and Suge getting off the hook.