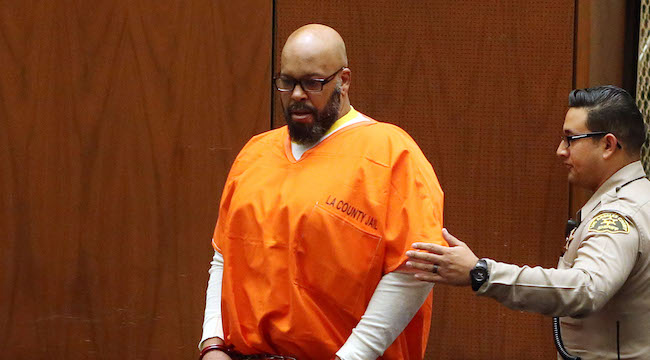 Former Death Row Records boss Marion "Suge" Knight was admitted to a Los Angeles hospital Tuesday (April 2) while awaiting his murder trial, according to TMZ.
TMZ reports that the onetime rap mogul was moved from LA County jail on Tuesday at about 11:00 AM and was admitted to a local hospital. While there is no further information on why we was moved or has been in the hospital for two days since, the report does mention a number of health problems that Knight has faced since his 2015 arrest for hitting two men with his car, which killed one. He passed out in court in 2015, and has been treated for blood clots repeatedly, most recently in 2017.
Knight reportedly conspired to bribe witnesses in his murder case last year, prompting the district attorney to ask the court to conduct a separate investigation into the integrity of Knight's lawyer, Matthew Fletcher. The investigation led to an arrest, as well as indictments for two of Suge's attorneys on charges of conspiracy.
Meanwhile, even Suge Knight's most famous impersonator has been in trouble with the law recently. Richard Marcos Taylor, who portrayed Suge in the 2016 biopic Straight Outta Compton, was also arrested after an altercation with a security guard at a Florida resort. He was eventually released on $1,500 bail and charged with battery.