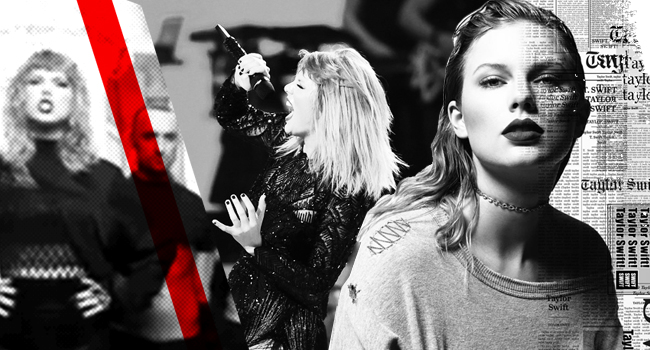 A lot has happened in the world of Taylor Swift of late, so it's time to take a bit of a breather and catch up. The gist of it is, Taylor Swift's new single is out now, the video will drop sometime during the VMAs on Sunday, and Taylor is definitely entering a revenge/noir era. Let's go through what has happened.
"Look What You Made Me Do" finally drops
[protected-iframe id="8ef3b502b19bcb14c38223616a661812-60970621-76566046″ info="https://open.spotify.com/embed?uri=spotify:track:2VjtYe7gpfUi2OkGxR2O2z" width="650″ height="380″ frameborder="0″]
First things first, her brand new single is called "Look What You Made Me Do," and it dropped last night as all those snake teasers eventually promised it would. (For her part, Kim already has her guard up against snake emojis.) Oddly enough, the song includes a co-write/interpolation of Right Said Fred's "I'm Too Sexy," a move that has Jack Antonoff written all over it. Listen above in case you somehow haven't heard it yet.
The revenge fantasy unfolds…
Immediately, the song was met with a huge reaction, as it declares the "old Taylor" dead, and plays up the revenge fantasy storyline that most people are assuming is directed toward Kim and Kanye over that "Famous" controversy.
Wait, she can't be dragging Kanye's mom into this, right?
As one enterprising Twitter user pointed out last night, the release date for Taylor Swift's Reputation is November 10, a date that also happens to be the tenth anniversary of the death of Kanye's mother Donda. Now, even in petty celebrity beefs, a situation like a parent's death — and the profound impact it had on Ye — is entirely too far and off limits.
This coincidence made a lot of people very upset, but truthfully, it was probably just that, a coincidence. Every other fall since 2006 (except last year) Taylor has been releasing an album around this timeframe: Taylor Swift on 10/24/06, Fearless on 11/24/08, Speak Now on 10/25/10, Red on 10/22/12, and 1989 on 10/27/14.
With only so many Fridays within that fourth quarter, her label confirmed that the selected date is strictly a business decision and not another revenge plot point. That is, unless Kanye is involved too and this album serves as some sort of massive epilogue for both of their VMAs storylines.
But damn, this video teaser looks straight out of Lemonade…
Friday morning, Good Morning America exclusively premiered a teaser clip of the video that accompanies "Look What You Made Me Do," and it immediately evoked Beyonce's "Formation" and Lemonade visuals, prompting a host of comparisons between the two. Not only that, but the merch that Taylor unveiled and her two Reputation magazines both use a font that screams Pablo Tour merch. Can this too be coincidence?
Then, there's this (oof)
Brands on brands pile on to support the release of Reputation
In the wake of the drop, a lot of brands have signaled their involvement with Taylor's new album and ensuing tour/merch etc. For one, UPS, above, is going to be delivering physical copies — a great way to tap back into that physical album sales market that Adele cornered late in 2015. Taylor and Ticketmaster also set up an exclusive, elaborate campaign that helps protect fans from scalpers. Her fans were into it:
And other brands weighed in with their own clever tie-ins:
There's really not a show more fitting to co-sign, given the lyrics to Taylor's new single. Will the video reveal a deadly narrative like Shonda's show has?
The "Look What You Made Me Do" video will drop at the VMAs… so where does that leave Katy and Taylor?
Earlier this week, Katy herself stirred some speculation that there might be a reconciliation in the works by tweeting a reference to Taylor's character in the "Bad Blood" video as part of the promo for her own "Swish Swish" diss track. Unfortunately, that video was absolutely absurd, and had no reference to Taylor in it.
But maybe the VMAs themselves is where Katy and Taylor will finally kiss and makeup? Given the fact that Katy is hosting, and taylor already used that stage to mend fences with Nicki Minaj in the past it might happen. Plus if she's really planning to go to battle with the KimYe compound, she should probably close down other conflicts. Oh, and she might want to publicly note that she doesn't support Nazism in the meantime.
Tune into the VMAs at 5 PM PST / 8 PM EST on Sunday, 8/27 to watch it all unfold for yourself. Clearly, this is all just the start of Taylor's Reputation era.