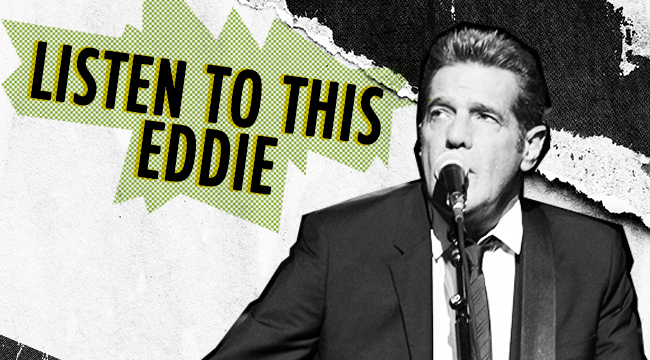 Listen To This Eddie is a weekly column that examines the important people and events in the classic rock canon and how they continue to impact the world of popular music.
"They will never forget you 'til somebody new comes along." — The Eagles, "New Kid in Town"
Back around November 2016, Don Henley confirmed what everyone already assumed was true about his world-famous band. The Eagles, lords of 1970's FM rock, who rode that "Peaceful Easy Feeling" to massive amounts of fame and fortune, were no more. "I don't see how we could go out and play without the guy who started the band," he told the Washington Post. "It would just seem like greed or something… It would seem like a desperate thing."
Glenn Frey, the "guy who started the band," had been dead for 11 months already when Henley publicly stated the obvious. The Detroit-born singer had been battling a stomach illness for a while just after the end of the band's massive History Of The Eagles tour in 2015. He went into the hospital for treatment after a holiday in Hawaii, contracted pneumonia, was put into a medically induced coma, and never regained consciousness. He was 67 years old.
About a couple of months after Frey's death, Henley, guitarists Bernie Leadon and Joe Walsh, and bassist Timothy B. Schmit were joined by Jackson Browne onstage at the Grammy's to give a tender salute to their friend, performing his signature song "Take It Easy." It was a tasteful tribute and seemed like an appropriate way to close the book on the Eagles. Then, last year, Henley decided to take another peek under the covers.

In May 2017, Irving Azoff, the Eagles manager, unveiled plans for a massive bi-coastal stadium rock festival called The Classic East and The Classic West. Fleetwood Mac would headline one night, while, the Eagles would headline the other. It was a surprising decision to many of us who took Henley at his word, but the singer was unapologetic in his decision to carry on with the band. "While I was still in shock during some interviews after Glenn passed away, I did say that I thought that was the end of the band," he told Rolling Stone. "But I reserved the right to change my mind. Ralph Waldo Emerson said, 'A foolish consistency is the hobgoblin of little minds.'" Yeah, okay.
I personally didn't feel great about this sudden about-face. It didn't seem necessary. I'd seen the Eagles on their final tour, and if there was ever a way to go out, what better way than a massive two-year live run specifically designed to pay homage to your legacy? The whole thing had the stink of a cash grab. The Classic concerts went down. Then more concerts happened. The reviews were all good, but I still had my reservations. When they announced a full-blown run, I decided I needed to see what this band looked and sounded like for myself. Were they still the Eagles without Glenn Frey?
I'll say this upfront, they certainly sounded like The Eagles of old. Shortly after 8:15 pm or so, the lights went out in the United Center in Chicago, and a whole host of figures waded out from the wings, standing stark still in front of six different microphones arrayed at the lip of the stage. A few notes of an acoustic guitar cut through the whistles and screams of the crowd, and then a blast of vocal harmonies came hurtling out of the speakers. The hairs on my arms immediately stood on end. "Theeeeeeeere…are staaaaaars…in the soooooooouthern sky/ Soooooouth…ward aaaaaas…you goooooooo" they crooned. It was the first line of the 1969 Steve Young song "Seven Bridges Road," the same track that the Eagles made famous on their 1980 live album. The Eagles have always had a reputation for being able to meticulously re-create their recorded selves in a live environment, but this was uncanny. I was hooked.
Here's something else I should probably mention at this point: my wife is a tremendous Eagles fan. While she wouldn't call them her favorite rock band — she's not too keen on Don Henley, the person — she is quick to note that they are responsible for creating her favorite rock music. As I mentioned earlier, I'd seen them in a professional capacity in 2013 by myself, and the fact that she missed that gig was a sore point in our marriage. I knew I couldn't make that mistake again, so this time we went together.
For the second song of the night, Joe Walsh ambled forward and in his charming, synthetically-buffoonish manner asked, "How you doin'?" before introducing the newest, and youngest member of the band, Glenn's son, Deacon Frey. This was the real test of the night; how well could Deacon fill his old man's shoes. He certainly got off to a good start, adopting his dad's long-hair and mustache look circa 1977, while playing to the hockey-loving hearts of the Chicago crowd by wearing a Blackhawks jersey, but looks alone do not a frontman make.
As Deacon strummed those iconic chords and opened up his throat, I have to admit I was impressed. He wasn't Glenn, but he wasn't bad, either. Then I looked over at my wife and she was wiping big wet drops from her eyes with her shirt sleeve. I put my arm around her and in my ear she said, "It's just such a gift," I was puzzled and asked what she meant. "I mean, just being able to honor your dad like that? Think about how he feels right now?"

I guess the thought hadn't occurred to me before, and now that I was confronted with it, it gave me pause. Whatever reasons Azoff, Henley, Walsh, or Schmit had for pressing on, this certainly had to give the 24-year-old kid who'd lost his dad some measure of catharsis. I'd lost my own dad just a couple of years earlier to a weird and unexpected medical episode, and while I wouldn't measure my own pain against someone else's, I certainly can empathize with the pull to whatever it takes just to feel close to him again. As the tears splashed from my wife's eyes on to the concrete floor below, my cynicism drained away.
While I refuse to go as far as to say that the Eagles sound better without Glenn Frey — that would be pure sacrilege — they certainly went out of their way to compensate for his absence. The number of musicians onstage was enough at one point to make the E Street Band look like a power trio. There were six different people playing guitar, a full horn section, a full string section, and on some songs, two different drummers. While the stage looked a little cluttered for some numbers, you couldn't argue with the sound that was coming off of it. Lush, thick, ebullient and most of all, precise.
The other new guy in the band, country rocker Vince Gill, was tasked with taking care of some of Glenn's other songs that either weren't in Deacon's wheelhouse or benefitted from an extra bit of twang. "Take It To The Limit," "Lyin' Eyes," "Tequila Sunrise," and "Heartache Tonight," lacked for some of Frey's original grit and tenderness, but came off pretty well. Timothy B. Schmit ably performed his signature tune, "I Can't Tell You Why," from a stool, having fallen in the shower the previous evening, and Don Henley hasn't missed a step in nearly 45 years on tracks like "Victim Of Love," "Those Shoes," "Witchy Woman," and the immortal, totally unfuckwitable "Hotel California."

The star of the night, however, was Walsh, a slide guitar hero nearly without peer, and one of the most loveably goofy characters to ever make it out of the 1970s intact. It's actually staggering the chasm that exists in the charisma-quotient between Walsh and Henley. On one hand with Walsh, you have a guy who makes an arena feel like a club, talking to the crowd like it's just you and me, willing them to participate in "Life's Been Good." On the other hand, you have someone dryly rattling off logistical statistics; noting the amount of trucks and crew members it took to get the show off the ground before playing "One Of These Nights."
In one of their more incisive moves, the band decided to stack the end of the show with some of Walsh's most beloved songs. The guitarist got to bust out the six-string acrobatics and involuntarily hilarious orgasmic-life faces over two solo cuts "Life's Been Good" and "Funk #49" back-to-back, before ending the main set with "Life In The Fast Lane." More guitar wizardry was enjoyed during the first encore, an electrifying performance of "Hotel California" — in my opinion, the band left a lot of goodwill on the table by not inviting Don "Fingers" Felder back into the fold for this outing — before reemerging for another Walsh song "Rocky Mountain Way." The night ended, however, with the spotlight on the dour, golden-throated drummer, crooning his heart out in a solitary spotlight over the pleading "Desperado."
So, the question remains: Are the Eagles still the Eagles without Glenn Frey? From my personal experience, I think that the answer is yes. Henley, and more importantly Walsh, do a lot to cover up for their departed frontman's absence. Gill and Deacon handle their parts capably, and the extra musicians provide that added bit of oomph to realize the recorded material to a stunningly clear degree. While no one really knows how Frey himself would feel about this endeavor, his son seems to be enjoying it and that's good enough for me. "It's been really great," Deacon told Rolling Stone. "It's another family we would have been missing ."