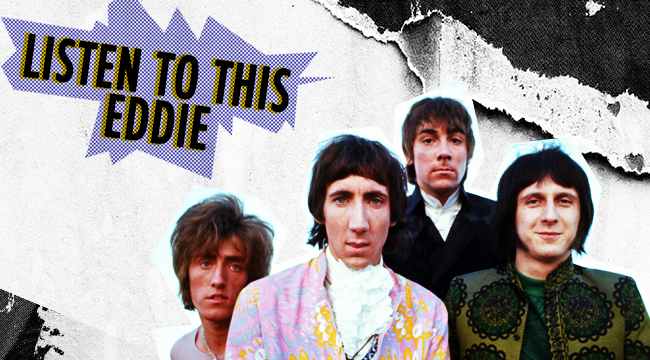 Listen To This Eddie is a weekly column that examines the important people and events in the classic rock canon and how they continue to impact the world of popular music.
The Fillmore East. The name itself evokes an aura of unmitigated rock excellence. Though the New York City venue only operated under this legendary moniker for about three years in that critical period between 1968 and 1971 — the building itself currently serves as a branch of the Emigrant Savings Bank — it played host to some of the biggest names in rock history, all of whom breezed through its fine wooden doors at the peak of their performative powers, staging one, two, three, sometimes even four-hour long spectacles of unbelievably intense and emotive musicianship.
The memories are almost too numerous to fully recount. Janis Joplin's torrential, venue-opening gig with her band Big Brother And The Holding Company in 1968. Jimmy Page captivating the crowd with his violin bow during Led Zeppelin's performance of "How Many More Times." Crosby, Stills, Nash & Young selling out six nights in a row in 1970. The Grateful Dead dosing everyone backstage with LSD before blowing the audience's minds. A young Patti Smith in the crowd watching her future flash before her eyes as Jim Morrison writhed around onstage with the rest of The Doors. The Allman Brothers Band sending the building off for good with an hours-long rendition of "Mountain Jam" that finally ended sometime around dawn.
"It was a great old building," The Who's longtime soundman Bob Pridden told me recently over the phone. "It had boxes on the side that people could be in like a proper old-fashioned theatre. It was a bit grubby inside, but it was fine. The stage was fine, and of course [promoter] Bill Graham was very thorough and very good. He always had a decent PA in his theaters."

Fortunately, Graham's thoroughness meant he kept an eye toward posterity and he recorded many, if not all, the bands that performed at The Fillmore East during its heyday. His foresight has allowed us to enjoy an incredible catalog of live albums, some of which, like the Allman Brothers' At Fillmore East and Jimi Hendrix's Band Of Gypsys, continue to be held up by many rock fans as amongst the greatest of all time. The latest product to come from that hallowed hall is a new set called The Who Live At The Fillmore East 1968 that is an amalgamation of two shows that the group performed in the venue on Friday, April 5 and Saturday, April 6, 1968.
1968 was a time of significant change inside The Who. Having spent most of their creative life up to this point as a singles act, guitarist Pete Townshend had just come under the spell of Indian spiritual mentor Meher Baba, and was already thinking bigger and going deeper within himself to figure out where he wanted to take the band's music next. The next year would reveal what, exactly, was going through his mind during this fraught moment once the world-at-large finally got to wrap their ears around The Who's towering rock opera Tommy, a concept record that relates the story of the titular teenager, a "deaf, dumb, and blind" boy who sure plays a mean pinball. But at this moment, the members of the band and the public were still left to consider what was next.
"I think they were progressing and finding their feet," Pridden said. "They had already developed into a great live band before we went to America, but they started to step out with the music a lot more. In fact, they became known for it. The playing was really dynamic. They were moving to the pinnacle."

The Who had performed at The Fillmore East once before in 1967 when it was still called The Village Theatre. This was also before Graham renovated the venue, installing the state-of-the-art 35,000-watt, 26-speaker sound system and psychedelic light show. The Who would be the first British rock group to play the new Fillmore, in what was only its fourth week post-grand opening. Townshend himself noted the significant upgrade just before launching into the song "Relax" on the Fillmore East 1968 album. "The last time we played this theater it was known as the Village Theatre and I think I prefer its present name and organization," he told the crowd. "Though some people might dig it as it was, we called that kind of place a pisshole."
These particular shows came during the back-end of a grueling world tour that began all the way back in January. "We'd already been to Australia and done a few more gigs in England then flew out to San Jose, California and did some gigs in America," Pridden remembered. Long nights crisscrossing the country on a converted Greyhound bus without only wooden bunk beds to sleep on while living off a diet consisting of Kentucky Fried Chicken would be enough to crack anybody, but despite the grueling conditions, the band kept a cheery demeanor that only comes from a certain kind of youthful enthusiasm. "When you're in your twenties and it's the first time you've been out in America, which it was for us, it was just eye-opening so that sort of things wasn't a hardship at all," Pridden said.
Practical jokes, mostly springing from the demented mind of the group's drummer Keith Moon, helped to keep the mood light. In fact, shortly after the group had checked into their favorite hotel in New York City, they were forced to relocate to Waldorf-Astoria. It turns out, Moon had detonated a couple of cherry bombs in the hotel's elevator with the manager still inside.
April 1968 was also a fraught time in American history, which the Who experienced firsthand. Just the day before the band was scheduled to proceed with these Fillmore shows, Martin Luther King Jr.'s life was brought to a tragic and violent end by an assassin's bullet in Memphis, Tennessee. All across the country, riots broke out as African Americans took to the streets to vent their anger, pain, frustration, and sadness. As America burned, it was put to The Who to see whether they would go on or not.
John Morris, a stagehand at The Fillmore East, and later one of the producers at Woodstock, recalled in Graham's memoir My Life Inside Rock And Out, that guitarist Pete Townshend "was sitting in the office, talking about violence and how he hated it. How he didn't understand what was going on in the world. I mean, we literally talked for two or three hours… we decided to go ahead and do it. A lot of people were against it. But we did it."
It's easy with the benefit of hindsight to register the power of macro forces dictating and guiding micro events, but The Who's performances during their two-night run at The Fillmore East, rage with an intensity that is patently breathtaking. Nowhere is that more clear than in their encore rendition of their biggest hit up to that point, "My Generation." While the song clocks in at a measly three-and-a-half minutes on record, at The Fillmore East, the band stretches the song out to ten-times that length, turning it into a half-hour long, psychedelic behemoth.
There are whole sections of the, let's call it a jam, that defy any sort of musicality whatsoever, and seem to presage the arrival of Lou Reed's maligned, guitar-instrumental album Metal Machine Music by a good eight years. Townshend's guitar squeals and grates with furious feedback, as Moon furiously bashes away at whatever drum enters his field of vision at that exact moment, his floor kick lending just the slightest bit of order to the maelstrom of sound. Daltrey remains mostly invisible from the proceedings, sticking around only long enough to usher in the festivities before f-f-f-fading into the background.

Beyond that dynamic soundgasm, The Fillmore gigs were also notable for a variety of firsts for The Who. "One reason this [gig] was special is that it was the first time we played 'Fortune Teller' onstage," Pridden noted. "We also played 'Little Billy' for the first time during those two nights, and 'Relax,' that was the first time we'd done that onstage, and the version they did was unbelievable!"
While more casual Who fans will get a kick out of hearing raw and raucous renditions of familiar hits like "A Quick One" and "Happy Jack," it is indeed the 1967 The Who Sell Out deep cut "Relax" that steals the show. The title of the song is a hilarious misnomer, marked as it is by one of the most potent, far-out guitar solos Pete Townshend has unleashed in his 50-plus years of tearing down stages. For eight-full-minutes, Townshend rips away at his guitar with a passion and fury that surely would've brought a smile to his good buddy Jimi Hendrix's face, establishing once again his role as one of the more underrated six-string wizards of his mighty class of players. Townshend always lacked the technical brilliance of an Eric Clapton or a Jeff Beck, but what he lacks in precision he more than makes up for in sheer attitude.
Having been witness to quite literally thousands of Who concerts in his decades on the road with them, Pridden hesitates to call this their peak moment as a live band, but he continues to hold it in high esteem. "I wouldn't say it was the best show of their career, but it's bloody well up there!"