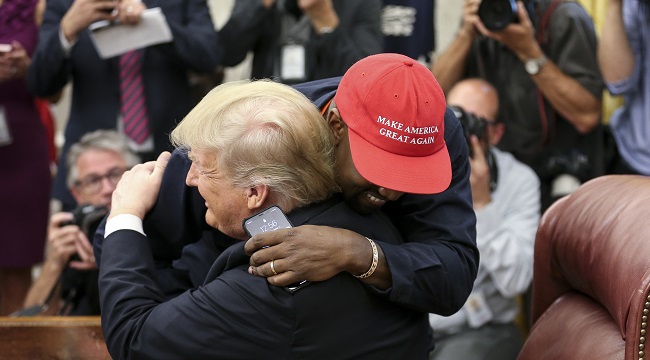 There are a range of opinions of Kanye West's controversial visit to the White House, but few were as calculated and impassioned as T.I.'s. The Atlanta rapper, who just dropped his tenth album, had been one of Mr. West's few figures of support in the wake of his MAGA turn.
The two collaborated on "Ye Vs. The People" this April — and apparently, T.I. is one of the people. Kanye's chummy meeting with President Trump, which was in part to celebrate a music modernization initiative, was too much for T.I., who unloaded on Kanye on Instagram. He noted that he was "trying to be patient" with his friend and frequent collaborator's pro-Trump rhetoric "and made it a point to not jump to any premature conclusions about Ye & his antics," but watching Kanye hug Trump was some "next level, futuristic Sambo, Hopping Bob, Stephen off Django ass sh*t" that he couldn't stand.
He divulged that Kanye invited him to come along to the White House, but T.I. said no to what he believes turned into one of the most "embarrassing acts of desperation & auctioning off of one's soul to gain power" he's seen. Kanye has been extolling Trump and saying his MAGA hat makes him feel like a superhero for months, but apparently today's visual of them together – a stark contrast from his stoic, post-mental breakdown appearance at the Trump Tower in January 2017 – was too jarring for many like T.I. Who knows if the lines of communication will remain open between Troubleman and Kanye West, but Kanye can't say he doesn't know exactly how T.I. feels about him.