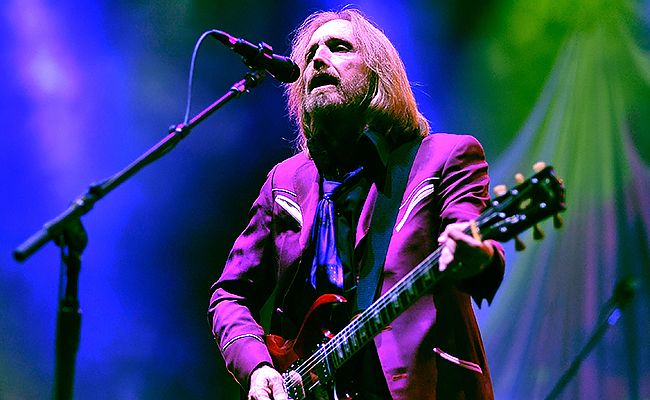 Tom Petty turned 65 on Tuesday. Whether with the Heartbreakers or without them, Tom Petty has, for decades, been one of the iconic voices of American rock and roll music. (Also, one time he lost his toe on an episode of The Simpsons, and he's always been very cool about musicians being "influenced" by his sound. None of that makes him a better musician, but we think it makes him cooler.) He's had a bunch of hits over the years, many of them classics by this point. In honor of his birthday, here are the 15 best of the bunch.
15. "Wildflowers"
"Wildflowers," the title song from Petty's second solo album, is the song that played as Ann and Chris drove away to Michigan on Parks and Recreation. It's the kind of song that gets played in moments going for sweeping emotion like that. It's not necessarily the type of music that is in Petty's wheelhouse, but it is a testament to his skill as a songwriter that he can pull off the occasional ballad.
14. "Don't Come Around Here No More"
"Don't Come Around Here No More" has a weird music video. It maybe overshadows the song, which has a weirder, more avant-garde vibe than the rollicking rockers that made Petty famous. It's still a really good song, though. The music video where a girl gets sliced up like a cake? Less good.
13. "You Got Lucky"
The music video for this song is also weird. Watching it is not recommended. This song also has some synth-tastic stuff going on, but it's pretty interesting. More pressingly, it has a tinge of the unctuousness a lot of spurned lovers songs do, but the chorus is still real catchy, and it belongs on the list somewhere.
12. "You Don't Know How It Feels"
This song mentions rolling a joint, which seems relevant to point out, because marijuana is another thing frequently tied to Petty. He did sing "Mary Jane's Last Dance" after all. Anyway, it doesn't have a lot to do with the song, which is a very good song that's a bit of a stomper.
11. "Refugee"
"Refugee" kicks off the album that really broke Tom Petty and the Heartbreakers, Damn the Torpedoes. It was co-written by Mike Campbell, who co-wrote several Heartbreakers songs, and played a fine guitar to boot. While Petty is great, and the primary driving force in his music, let us not overlook the value guys like Campbell had in songs such as "Refugee."
10. "Zombie Zoo"
"Zombie Zoo" is a goofy song. It's the final song on Full Moon Fever, Petty's solo debut, and a truly great record. There are so many songs people think of on that album before "Zombie Zoo," including Petty's cover of "I'll Feel a Whole Lot Better," which is also top-notch. "Zombie Zoo" is super good, though. It's as catchy as anything on the album. "Zombie Zoo" is also a great phrase that's fun to say! You can't deny it.
9. "Even the Losers"
While it wasn't a single off Damn the Torpedoes, "Even the Losers" is still one of the top tracks on the album, and, obviously since it's on this list, one of Petty's best songs. It also has a quintessential Tom Petty chorus — as in, when you think of Petty's voice, it sounds like it does in the chorus of "Even the Losers."
8. "Learning to Fly"
"Learning to Fly" is one of the poppier, prettier Tom Petty and the Heartbreakers songs. It was also apparently used in the Chicago Bulls' 1991 championship video. Which is weird, because it includes the line "But coming down / is the hardest thing."
7. "The Waiting"
"The waiting is the hardest part…" is a sentiment that most can relate to, but you don't make good music just by saying relatable things. You make good music by, well, making music that sounds this good, and by singing your lyrics with a wail just short of anguished, the way it should be done.
6. "Stop Dragging My Heart Around"
This is, technically, a collaboration between Petty and Stevie Nicks, but the song belongs equally to the both of them. Nicks is a bit stronger vocally than Petty, but Petty holds his own, and the he-said/she-said vibe is potent in this song.
5. "Free Fallin' "
This is probably Petty's most famous song. Maybe people find it relatable or whatever. Or maybe they just realize how nice and crisp it sounds. At times, it can almost feel a little silly or simplistic lyrically, but Petty has the ability to toe the line and deliver something almost like Americana rock.
4. "Don't Do Me Like That"
"Free Fallin'" may be Petty's most famous song, but "Don't Do Me Like That" was his first big hit, reaching the top 10 in America (it was also No. 17 in New Zealand!). It has a bit of an odd tempo and pacing to it, compared to the many strum-heavy songs from Petty and company, but they pull it off by making it exceedingly catchy.
3. "Runnin' Down a Dream"
What a propulsive song. It's a perfect song for driving, although it's still plenty good when sitting as well. It's got great energy and great guitar work, and a shoutout to Del Shannon's "Runaway," which is a positive.
2. "I Won't Back Down"
It'd be sort of weird to think of Petty as a "defiant" musician. He's not, like, Kathleen Hanna. He's a laid back guy. However, in terms of songs of defiance, few, if any, are better than "I Won't Back Down."
1. "American Girl"
When "American Girl" was released as the second single off Tom Petty and the Heartbreaker's self-titled debut album, it didn't even chart in the United States. It has since become one of his most recognized songs, and also, in the opinion of this list, his best. Just listen to that opening guitar lick and try and argue otherwise. Petty has never made anything else this catchy, or this good, but only because it attains a level of excellence hard to replicate.