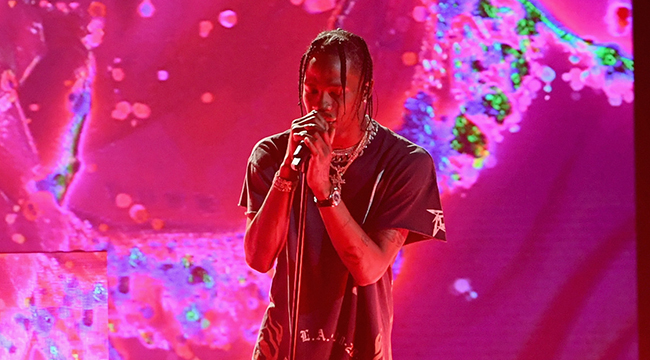 With Travis Scott releasing his long-awaited third solo album, Astroworld, this past Friday, there is no better time to take a look back at his prior work for a reminder of just why his fans have clamored for it for so long. The Houston native is perhaps best known for his ability to create a very specific "vibe" for his music and tours — despite his fondness for calling his fans "Ragers," his prior work is best suited for hazy, dimly lit rooms and mellow, probably substance-enhanced kickbacks.
Despite originally setting out to find success as a producer, it was his vocal stylings — uniquely catchy ad-libs ("It's lit!"), a wailing,crooning delivery that both evokes his emotional state and lends further infectiousness to the spooky soundscapes he rocks over, and a genuinely engaging, double-time flow that wavers somewhere between ASAP Rocky punchy cadence and Kid Cudi's sing-song warbling — that made him a staple of Kanye West's recording sessions. Travis' influence is all over many of Kanye's latter-day works, and Travis' fans are among some of the most enthusiastic in hip-hop. Scott was hit with charges of inciting a riot when one fan either jumped or was pushed from a balcony at show in New York.
Below is an entirely subjective ranking of all of Travis Scott's songs.
70. "Piss On Your Grave"
For as much as Kanye cribs from Travis' playbook, this disjointed piece of music just doesn't come together as well as you'd hope.
69. "Meadow Creek"
The first song anyone ever heard from Travis — the opener from mixtape Owl Pharaoh, was a disgruntled, grungy song that established his penchant for weird, raging songs.
68. "Flying High"
Yikes. Pharrell production is always a gamble, but just doesn't pay off here. It's too jangly to really fit in with the rest of Travis trap opera, spoiling Toro Y Moi's appearance and pushing Travis too far out of his comfort zone.
67. "Pornography"
"Pornography" is an awkward way to start off a debut, with a monologue from label boss T.I. and an abrasive, overwhelming manifesto that pulls one too many unexpected changes to really establish the album's direction.
66. "Dance On The Moon"
https://soundcloud.com/travisscott-2/09-dance-on-the-moon
"Dance On The Moon" has a wacky, out-of-place EDM vibe that throws Owl Pharaoh into near disarray halfway through. Fortunately, Paul Wall saves the day.
65. "Chaz Interlude"
I'm not sure why Travis' joints with Toro Y Moi never seem to come together. Maybe their styles are just too different; Travis is angsty and dark, while Chaz is sunny and upbeat. Their opposing sounds just mesh poorly, especially here.
64."Bad Mood Sh*t On You"
Travis never really explains why he's so aggrieved on this split track. It'd probably be better if he had.
63. "Sweet Sweet"
Travis is at his best when he's growling emotively over menacing monster music, so "Sweet Sweet" is an upbeat song that could have expanded his musical possibilities. Its repetitive beat just won't let the overall song be great.
62. "Apple Pie"
"Apple Pie" isn't a bad song, but it doesn't particularly stand out, and it has the bad luck to land right at the portion of Rodeo where the similar-sounding songs have begun to blend together.
61. "Guidance"
Another time where Travis plays too far outside of his sandbox, "Guidance" is a weird, pseudo-dancehall cut that causes just a little sonic whiplash sandwiched between two songs that play to Travis' strengths.
60. "First Take"
One of the few moments when Travis' malleability gets in the way, the syrupy "First Take" is a double distillation of the Drake formula, courtesy of collaborator Bryson Tiller.
59. "SDP Interlude"
Although ostensibly an interlude, "SDP" displays some of Travis' best sampling prowess, putting his production skills at the fore, while he sparsely peppers the Cassie-featuring track with his signature singing.
58. "Sloppy Toppy"
Works better than it should, but not quite as well as it should. Maybe it's the played out subject matter, but even Migos and Peewee's guest verses don't really elevate this song.
57. "OK Alright"
Incidentally, "OK Alright" lives up to its title; this is sort of the cutoff point between the best songs on Travis' two albums and the uber-skippable ones. It's a fine example of what he does well, he just does it better elsewhere in his catalog.
56. "Carousel"
With its echoing sample of "Not A Stain On Me" from Houston legend Big Tuck (itself a sample of Beastie Boys' "The New Style") and Frank Ocean vying for your attention, it's hard to rate this track higher, although part of me really wants to.
55. "Lose"
With a bigger, burlier sound than his usual work, the synthesizer orchestra strays away from the haunted house vibes that define Travis' best songs, but for novelty's sake, "Lose" is a great showcase of the Houstonian's versatility and an example of when his willingness to experiment goes right.
54. "Impossible"
Allen Ritter's beat is undeniable, and Travis' circular, aspiration chorus sets off this track the right way, but Travis' weird, half-committed West Indian patois is a little more distracting than it needs to be.
53. "Quintana"
You can almost hear what Travis is going for here but it's covered up in his bad Kid Cudi impression. Wale comes through nicely, though.
52. "Never Catch Me"
The Rodeo closer is horror movie menacing with its buzzsaw crooning building anticipation for a breakdown that never comes through.
51. "Houstonfornication"
A fun turn-up joint, but could have used a guest or two to really take it to the stratosphere.
50. "Astrothunder"
Almost lullaby-like toward the end, this one is more of a bridge point between the rowdy front half of Astroworld and its more mellow back end.
49. "Quintana Pt. 2"
Better than "Quintana" based solely on T.I.'s verse.
48. "BACC"
A loud, hearty banger that may or may not stick to your ribs.
47. "Basement Freestyle"
Possibly Travis' best turn as a rapper on Days Before Rodeo.
46. "Yosemite" Feat. Gunna & Nav
All the jokes about Nav's strangely quiet bridge performance aside, this midtempo head nodder will introduce many listeners to up-and-coming Atlanta spitter Gunna, and for that alone, it deserves a place of honor in Travis' collection.
45. "Who? What!" Feat. Quavo & Takeoff
It's Migos and Travis. It shouldn't need selling. Turn up!
44. "Coordinate"
A prime example of Travis' chameleonic nature, this Birds In The Trap banger channels Future at his swaggering best. Flexing Travis is one of the best versions of Travis and the TM88/Cubeatz highlight his and Blac Youngsta's boasts to powerful effect.
43. "MIA"
Upbeat, but sterile production houses a strong vocal performance from Travis here.
42. "NC-17" Feat. 21 Savage
The 21 fan in me jumped out, but removed from Astroworld's similarly murky production, it reads a little like a standard trap record. Not bad, but Travis can and has done better.
41. "I Can Tell"
From its creeping intro, "I Can Tell" delivers all the hallmarks of a head-nodding, barrel-chested declaration song with endless replay value. If Rodeo had ended on this song, that repeat button wouldn't just be a given but a requirement.
40. "Wasted"
Travis' crooning anchors this rambunctious slice of confrontational rebellion, but it's the appearance of a vitalized Juicy J that makes it a Rodeo standout. It's a stunning reminder that Juicy has been doing this debauched drug rap thing longer than just about anyone and yet still remains one of the best at it.
39. "Grey"
"Grey" has an interesting sound, slouching and slumping along like a lowrider.
38. "Zombies"
An aptly-titled, tromping march that sounds like a cross between an 8-bit video game endlessly parallax scrolling to from left to right and a horror film just before the slasher sneaks up and dispatches his prey in as gruesome a fashion as possible.
37. "Way Back"
Way back hearkens right back to Kid Cudi's A Kid Named Cudi days, perfectly balancing energetic delivery, full-throated vocalizations, and stinging rhymes that walk the knife's edge between pointedly complex construction and sing-song simplicity. Then Swizz Beatz does what he's best at — playing hype man while threatening to overwhelm the principal artists with his shouted ad-libs. It's a good thing for Scott that no one does ad-libs better.
36. "Stargazing"
The beat switch in the middle is going to shut some of Travis' future shows all the way down.
35. "90210"
As cliche as a song lamenting the dangers of fame-hunting in the storied zip code of Beverly Hills can be, Travis Scott imbues his verses with a level of pathos that many rappers often miss. The beat switch makes this song feel as cinematic as a Hollywood blockbuster as Scott refocuses from the unfortunate paramour of the first half of the song to his own dealings with the fame monster.
34. "Can't Say"
Newcomer Don Toliver acquits himself well, with a slushy, vibrant verse that will almost certainly make him an instant "one to watch" in coming months.
33. "Blocka La Flame"
Young Chop delivers a trademark, gothic trap devastator, replete with echoing church bells and sinister synths that lends itself so well to Travis' emoting.
32. "5% Tint"
A rare gem of a solo record from Travis Scott, the Lil Keke and Big Pokey sample is the real draw. Travis' flow draws you in with its hypnotic quality.
31. "Bands"
The closer from Owl is so anthemic, it's easy to see why fans were left clamoring for more even from Travis' earliest days
30. "Nightcrawler"
Travis' best songs are often marked by star turns by guest stars acting as foils for his artistic proclivities and "Nightcrawler" is one of the best examples. While Travis' singing is often the centerpiece of his catchier tracks, Rae Sremmurd's Swae Lee comes through to highlight just how good Travis is by providing a comparison point for his crooning against one of the best in hip-hop (another great example is Swae's "Close" from his own album earlier this year). Scott's warbling stands up against Swae's, illustrating the polish on his well-rounded artistic versatility.
29. "Backyard"
For my money, one of the smartest, most relatable songs in Travis' catalog. The beat may get a little stale after a bit, but his storytelling draws you in and lets you live in his head a little — something I genuinely wish he would let you do a lot more often.
28. "Outside"
In what's probably one of the more straightforward hip-hop tracks in his growing library, Travis acquits himself as a lyricist on a slinky, stone-faced production from Murda Beatz that finds him and guest 21 Savage leaning so deep into the pocket, they come off as the lowest-key killers ever to grace an 808.
27. "Uptown"
You know how every so often a guest rapper will turn in such a ridiculously good verse that we'll say they "stole the show?" Ferg not only hijacks the show, he buys the building it's in, burns it down, and collects all the insurance money.
26. "Biebs In The Trap"
A fan favorite, "Biebs In The Trap" uses its spacey, digitized beat to make even Nav sound less robotic than usual while amplifying Travis with wildly mixed vocals that give his ad-libs a startling 3D effect.
25. "Butterfly Effect"
The time between this song's release and the debut of Astroworld was about a year. It didn't get old in all that time.
24. "Upper Echelon"
Whatever Travis fed T.I. to have him turn in one of his more wild-eyed, hat-cocked-to-an-impossible-angle, back-in-the-day T.I. verses, I would really, really like him to do it again on T.I.'s next album.
23. "3500"
Putting the two reigning kings of trap rap on a track and letting them run wild for a full seven minutes is nothing less or more than the recipe for a guaranteed hit.
22. "No Bystanders"
One of Travis' stronger raging joints thanks to its Three-Six Mafia sample, it doesn't capture the imagination the way some of his other raging tracks do — possibly because the features aren't established enough as artists to distinguish themselves just yet.
21. "Skyfall"
This is just pure Travis Scott rage music. Yeah, that's that loud sh*t.
20. "Oh My Dis Side"
See above, subtract 2 Chainz and Future, add Quavo, shake well, serve over several ounces of the finest pharmaceutical substances. Then add 1980s style vocoder. Zapp and Roger are somewhere extremely proud of this one.
19. "The Ends"
Where Rodeo starts off with the incredibly iffy "Pornography," Birds immediately shows off Travis' growth from the intervening two years by starting things off perfectly with this tremendous-feeling opener. While Travis' verse is one of the more engaging of his career, it's Andre 3000 who steals the show with a deeply confessional submission that finds him admitting to survivor's guilt and detailing some of the more harrowing aspects of his Atlanta upbringing.
18. "Skeletons"
The first time either of these two particular connections worked out in Travis' favor, "Skeletons" is the proof that a little goes a long way, as he ladles Pharrell and Abel's contributions over his own recipe, rather than steeping himself in their respective sounds.
17. "Drive"
https://soundcloud.com/travisscott-2/11-drive-ft-james-fauntleroy
Starting with a dose of classic Houston radio rap from Lil Flip's "I Can Do Dat" and Z-Ro's "I Can't Leave Drank Alone," "Drive" takes a minute to get going, but then it kicks in with its cyberpunk, Blade Runner synths and James freaking Fauntleroy and it's just undeniable from there.
16. "Naked"
Heavily influenced by 808s And Heartbreak, this trippy interlude from Owl Pharaoh sneaks up on you. Before you know it, you're hitting the repeat button.
15. "Wake Up" Feat. The Weeknd
Simple, catchy, effective.
14. "Through The Late Night"
If Travis is at his best with a stylistic foil to play off of, he is truly ascendent when that foil is one of his greatest inspirations in Kid Cudi. Forget crooning, the pair spends a sizable portion of this straight up harmonizing, and it's surreal, yet gorgeous. When Travis calls the duo "The new Krayzie Bone and Slim Bun B," it leaves a craving for a group project like Kids See Ghost to see what they can do with a full project to play to each other's strengths.
13. "Don't Play"
An early indicator of Travis' skill as a master coordinator — who else would think to put The 1975 on a track with Big Sean? — "Don't Play" is a straight-up banger.
12. "R.I.P. Screw"
Equal parts haunting and body-rocking, "R.I.P. Screw" redeems some of the complaints about Swae Lee's Swaecation while establishing that Travis' chemistry with the Rae Sremmurd crooner is perhaps the best of any of his repeat collaborators.
11. "Antidote"
This is all you need to know about the popularity and impact of "Antidote": It wasn't supposed to be on Rodeo in the first place. When Travis debuted the Wondagurl-produced track on his Soundcloud, it was with the caption "This is for the real fans; the real ragers! This is some vibes for the summer. This isn't on Rodeo… it's coming soon." Fan demand was so high, he added it to the album at the 11th hour.
10. "Stop Trying To Be God"
Travis' most ambitious banger attaches three names that almost no one would have expected to see together, demonstrating his genius in picking features. Stevie Wonder is on this. That fact could almost have elevated this song to the number one spot alone, but it's the vaguely introspective content that truly makes it transcendent.
9. "Mamacita"
Quan and Thug are about as potent a combination as you'll ever find. Rider music.
8. "Wonderful"
The Birds In The Trap closer ends the album on a distinctly more upbeat note than its predecessor. It's a celebratory anthem, recounting the success of the past few years and finding Travis in an optimistic place, as opposed to the sinister undertones of "Never Catch Me." It's a rare glimpse of "Happy Travis," but one calculated to leave you wanting more of that version of the Houston wunderkind.
7. "Sicko Mode"
The song possibly drew the majority of the attention from Astroworld (it's already a meme in its own right, owing mainly to Drake's "like a light" line), "Sicko Mode" is sure to soundtrack any number of late-night cruising sessions. Perfectly designed for slumping down and slouching your way through dimly lit streets, it also contains, perhaps, the most responsible drug use reference in hip-hop.
6. "Pick Up The Phone"
Sharing this single with Young Thug may have been one of the smartest stylistic decisions of Travis Scott's career. With its bright, almost tropical synths, the song is such a departure from his usual darker, eerier production styles that it could have derailed the musical direction of Birds. However, bringing a cheerful Young Thug along once again allows Travis to indulge in creative experimentation, bolstered by a bouncy appearance from Thugger that matches the vocal energy to the perkiness of the beat. Quavo, meanwhile, can do no wrong on a feature ever, so he's the cherry on top.
5. "Coffee Bean"
Travis' raps are — well, Travis' raps — but this is so different for him that there's something that draws you in. It's personal, it's a real risk for him, now that he's established his sound, to depart from it so thoroughly. To do so at the end of his best album to date is an even bigger risk, but it's one that pays off big for him. Also, I love when trap rappers set out to prove they can do boom-bap; it's like they're thumbing their noses at establishment rap snobs who insist that every new artist should be the 85th coming of Rakim. They could do it, but that's far less interesting than doing it at the end of a possible trap classic.
4. "Days Before Rodeo The Prayer"
Travis' strongest intro to date, it encapsulates all the paranoia, angst, pretense, and wild, experimental energy of Travis' best work.
3. "Hell Of A Night"
So, this is my "controversial" pick. I like the beat. Sue me.
2. "Drugs You Should Try It"
I'm certain this was the first Travis Scott song I ever heard and I'll admit, I didn't "get it." The weird, indie-rock musical premise, the washed-out, distorted vocals, his stutter-stepping, pump-faking verse, into the sing-songy hook — all of it felt too weird at the time. However, it's the song that best defines Travis' musical approach, the one you just have to go back to again and again. It's the Rosetta Stone for his sound and once it clicks, it clicks. I sort of "get it" now. It may not always be for me, but man, I wouldn't mind if it was.
1. "Goosebumps"
Sure, another song could go here for novelty's sake. After all, the near ubiquity of "Goosebumps" is such that it still makes regular appearances on radio, in the club, and blasting out of car stereos all over America — which is sort of the point. There's a reason "Goosebumps" is that omnipresent, that inescapable: It's a damn good anthem, made up of all the best parts of modern rap with a dash of Kendrick's high-velocity, stern-faced rap to make it palatable to purists and neophytes alike. Even Drake loves it. It was the song that Travis set a record for performing, with a truly ridiculous number of encores that matched each prior performance's energy level. It'd be easy to cop out and pretend that the record has been played to death, but it's more fun to cop in and just enjoy the vibes.