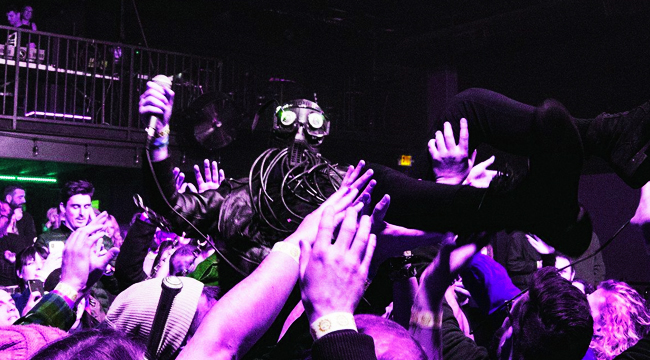 It's been a central tenet of hip-hop's philosophy since the culture and music first spread from the beaten-down blocks of '70s Bronx, New York to take over the rest of the nation (and the globe): "It ain't where you're from; it's where you're at." Rappers and their fans have long touted their regional loyalties, even from the very beginning. How could they not, with that trademark Big Apple territorialism baked in from the start?
Whether they were from the Bronx or Brooklyn, Harlem or Queens, rising artists proudly repped their borough. As hip-hop grew, rappers found pockets of the nation where people loudly proclaimed the cities and streets of their origins and declared lifelong fealty; New York, Los Angeles, Chicago, Detroit, Philadelphia, Miami, Oakland, Houston, and Atlanta became the hotbeds of hip-hop activity, which each launching its own, discrete take on the genre, identifiable by regional movements like G-Funk, Hyphy, Screw, Bass, Crunk, Snap, and Trap.
One place you wouldn't think to find hip-hop, though, is the city of Boise, Idaho. Until I was invited to attend the city's Treefort Festival for this assignment, I didn't even know what time zone it was in until I researched the area. While the Pacific Northwest does have its own rich history of hip-hop artists, from Portland, Oregon's Amine to Seattle, Washington's Macklemore, a hip-hop hotspot it is not — at least, that's what I thought.
And so, my visit to this college town, with its semi-arid continental climate and greater national reputation for potatoes than famous musicians, came with a pretty clearly defined mission. I was going to find out if there really is hip-hop in Idaho, and if so, why it hasn't quite garnered the same level of attention as its PNW neighbors — or even produced a single rap star of note since the genre's officially recorded inception in 1979.
On my arrival, it was pretty clear that there was at least one, super-obvious reason why there might not be a huge rap presence in the city, despite the music's popularity and the proximity of a pretty prominent state university with a student population that could at least provide an audience. Rap has long been associated with crime and hardscrabble living at the bottom of society's proverbial totem pole. Boise, with an annual average of around 600 violent crimes total, is a pretty, almost alarmingly clean town overlooked by picturesque mountains to the north and a downtown you can traverse in pretty much ten minutes. "The hood" it is not.
Even so, a rough upbringing was never so much a requirement as a suggestion in hip-hop, as proven by pioneers like De La Soul, A Tribe Called Quest, Kanye West, and Drake. The demographics of rap performers and fans have begun to reflect that even though Boise is very white, so now is much of hip-hop's sizeable audience — and stars. So the question remained: Where is all the Idaho hip-hop?
Fortunately, the organizers of Treefort Festival had the same question and set up a discussion panel to ask just that of some local rap talent — who make up a surprisingly vibrant underground scene. The collected rappers — Madisun Proof, Zero, and Eleven — and producer John Weighn answered questions from the local college radio station's hip-hop show hosts ranging from observations on the state of Boise's rap scene to what exactly sets Idaho rap apart from other regions' takes on the increasingly diverse stylings of the genre.
What I was able to glean from the discussion was equal parts illuminating and disappointing. As John Weighn — who goes mostly by Weighn Beats these days — pointed out, "Boise rap" is just like rap anywhere else: There are a multitude of different artists creating and promoting a range of different sounds and styles. It was interesting to find out that there were rappers here that embraced the new wave of melodic, wavy hip-hop as much as the more traditional, lyrically-focused fare inspired by Rawkus Records and Rhymesayers, like Proof, Zero, and Eleven.
However, there wasn't really an answer for why Idaho hip-hop isn't taken seriously outside the region. There was an air of disappointment that hip-hop by itself seemed like an afterthought within it. Eleven noted that when he moved to Boise from San Diego a decade ago, there was a strong local presence in the press that supported the local scene. However, with local press dying out in recent years (thanks, Facebook!), there haven't been any outlets to even highlight the local acts for the local fans. Clearly, a closer investigation was warranted, which for a traditionalist like me meant going to the showcases themselves to actually get a glimpse of Boise's underground scene.
Treefort, despite some of my earlier misgivings, certainly served up plenty hip-hop-oriented showcases throughout the week — enough that I found myself having to choose between local acts who shared set times at various venues scattered throughout downtown. There was Zero at Fatty's, who performed a rhythmic set from a stage blazing with multicolored panels. Sstrawberry delivered an energetic, futuristic set on a makeshift stage in an underground arcade full of retro gems like Joust and the original Mario Bros.
There was also a Radio Boise stage in the main festival area, just outside the main stage, where local rap showcase attracted a tiny crowd of curious onlookers. The MCs who took the stage there seemed almost anachronistic, even though they sprinkled in recognizable beats from stars like 2 Chainz, and their presentation very starkly reminded me of the kind of sample-driven, lyrically-obsessed underground rap that dominated the independent scene in the early 2000s. They contrasted sharply with the packed-house showcase from progressive acts like Jpegmafia and Vince Staples, whose presence proved that Treefort's organizers understood what kind of hip-hop crowds in Boise might actually be looking for.
The Saturday night showcase at The Linen Building, though, was the most instructive and intriguing, because it placed members of the local scene in direct contrast with out-of-town performers. I was utterly blown away by performances from Canadian Haviah Mighty and Georgian City Commissioner Linqua Franqa, who attracted two of the biggest crowds of the week. Haviah Mighty especially struck a chord, rocking the full room with cool professionalism and electric energy despite proclaiming this was her first show in the States.
Meanwhile, the two acts who rocked alongside them, tuct. and Ric Wilson, were both fascinating as opposing approaches to the live band style of hip-hop. While Ric Wilson glowed with the sort of familial warmth that made you want to get to know him as a person, grinning and joking his way through a set for an audience that clearly adored him, tuct. performed a fine medley of soul and jazz-influenced songs for a room that had just emptied out after Haviah Mighty's euphoric set. There were even murmurs of confusion from non-locals, since tuct. wasn't the rapper's name but the name of the band's drummer, who was the face from Treefort's listing for the set.
The moment highlighted some of the rookie mistakes Idaho's hip-hop scene seemed to make collectively. Aside from Sstrawberry, who makes incredibly modern music, Boise's rappers seem to exist in a time warp. There's a scene and it's strong, but it seemed mostly composed of entertainers who performed mainly for each other. Personally, I really wanted to see someone from the scene "make it," and it seemed Ssrawberry had the best chance. But oddly, it felt like they would need to trade aspects of their styles with Chicago's Ric Wilson; while I loved Ric's soulful vibe, it came across very "adult urban contemporary," which really limits the appeal in a city like Boise and doesn't connect with younger audiences.
Sstrawberry made the sort of vibey, new wave, sing-rap that often connects with younger audiences, but seemed a little like he didn't want to connect with anyone. If anything, he was a little too casual with his presentation — especially compared to the ferocious energy of out-of-towners like Linqua Franca, or even Mega Ran, the video game-loving traditionalist who filled out the exact same venue and was far more interested in engaging the audience than just performing and catching a vibe.
Treefort could actually help these artists more as well. While I understand the risks involved in crafting a specifical rap or hip-hop-focused showcase and/or confining these artists to one or two venues in town, giving locals a chance to play for the interested out-of-towners' crowds could provide exposure and create new fans. One of the hardest sights was watching local duo Dedicated Servers take to Spacebar's makeshift stage immediately after Mega Ran's set — after all Ran's fans had departed, leaving them scarcely a few dozen, halfhearted listeners.
Promoting shows back in the day, I learned that you can book a local favorite ahead of the out-of-town headliner without hurting anyone's feelings. No one likes performing for an empty room, and the bigger artists' fans won't mind waiting an extra thirty minutes to catch their fave, even showing early to get a better view or even, yes, a glimpse at the openers. A few hip-hop-centric showcases to keep folks from having to cross downtown would give hip-hop fans somewhere central to congregate during the festival — even if the walk is only ten minutes.
In the end, I did find hip-hop in Boise and I really liked a lot of it. If there was any advice I could give to those artists about how to grow beyond their city, I'd say that I hope they took notes of the polish of the visiting artists and remember that if those artists could build a fanbase in Boise, a Boise artist could maybe build a fan base in Oakland or Athens or Brampton or Philly. Every artist has a niche and rather than pushing an idea of "Idaho hip-hop," each individual act could find a way to be successful in their own lane, so long as they remember that no matter where they are, to rep where they come from and prove that Idaho definitely has hip-hop — and plenty of it.
Correction: Ric Wilson was incorrectly listed as a local Boise act. The text has been updated to reflect Ric is from Chicago.
Uproxx was hosted for this trip by Treefort Festival. You can learn more about our press trip policy here.