As we've mentioned before, disses used to carry way more weight. Yet, in the course of hip-hop history, no diss record has sent shockwaves quite like Tupac's "Hit 'Em Up." Aimed directly at Notorious B.I.G. and Puff Daddy in the middle of their national feud, Pac's scathing slight toward his perceived foes held no punches and attempted to decimate his Brooklyn contemporary with low blows galore. As a result, the landscape was forever shaken up, and the bar was officially raised for rebuttals in an industry built on competition. With that said, here are a handful of things most fans don't know about one of the most aggressive rap tracks ever recorded.
1. Goodie Mob were first to hear the song.
Most would assume a fellow Death Row rapper like Snoop or Tha Dogg Pound would've been first to take in "Hit 'Em Up." According to E.D.I. Mean of the Outlawz, however, Goodie Mob was actually in the studio when the fiery classic was recorded, and were some of the first people to hear the song. His impression of their reaction is priceless.
2. It was the birth of The Outlawz.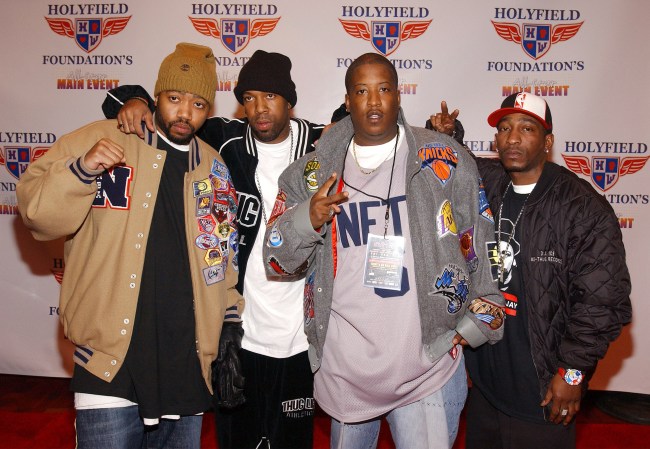 Speaking of The Outlawz, they didn't technically exist until "Hit 'Em Up." Although they were a group beforehand, and Tupac had recorded with them on Me Against the World and All Eyez On Me, he came out of jail and immediately recruited his crew of loyal disciples to Death Row, where everything changed for the New Jersey rappers. They were originally called Dramacydal, changing their name to Outlaw Immortalz once they moved forward with Tupac, first being credited on this infamous diss track. When Pac and Kadafi passed, the group removed Immortalz from their title.
3. The original single cover was intense.
When Death Row released "Hit 'Em Up," it was originally a B-side to "How Do You Want It." When demand justified a specific single release, the cover above was used. However, for VIBE's Legends of the Fall special edition release on the murders of Pac and Big from 1999, Spice 1 specifically said, "The original cover for the single had Puffy's head on a snake's body, and Biggie's head on a pig's."
Despite being in bad taste two decades later, we still really want to see that. Is that wrong?
4. Faith Evans allegedly appears on the song.
In an in-depth report from Chuck Phillips — the former lead L.A. detective on the open murder cases for Tupac and Biggie — numerous sources told Phillips that Faith Evans actually laid vocals on "Hit 'Em Up."
They said the R&B chanteuse also recorded at least one version of the "Take Money" background vocals that later appeared on Pac's most inflammatory single, "Hit 'Em Up" – a caustic anti-East coast jihad in which the rapper threatens to eliminate Biggie, Puff and a slew of Bad Boy artists and other New York acts.
We'll assume Faith laid her vocals before Pac laid his verses. Otherwise, she's straight scandalous if this is indeed true.
5. Biggie still denied Pac's accusations about Faith.
In a notable VIBE cover story from 1995, Puff and B.I.G. were asked about the East Coast-West Coast feud, which they were right in the thick of. During the interview, Biggie was asked specifically about Tupac's scathing claims that he had slept Biggie's estranged wife, Faith Evans.
When talk turns to his estranged wife, Biggie shrugs his shoulders and pulls on a blunt. "If the muthaf*cka really did f*ck Fay, that's foul how he's just blowin' her like that," he says. "Never once did he say that Fay did some foul sh*t to him. If honey was to give you that p*ssy, why would you disrespect her like that? If you had beef with me, you're like, 'Boom, I'ma f*ck his wife,' would you be so harsh on her? Like you got beef with her? That sh*t doesn't make sense. That's why I don't believe it."
Um… sure. That's one way to look at it, Big.
For her part, Faith still contends nothing happened between her and the West Coast rapper.
6. Prodigy was caught off guard by the diss.
As most recall, Tupac's fury didn't stop with Biggie and Bad Boy, using "Hit 'Em Up" to throw haymakers at other acts like Lil' Kim, Chino XL, and Mobb Deep, going as far to call out Prodigy for having sickle cell anemia. Unfortunately, P never saw the slight coming, telling VIBE how Pac's wrath caught him by surprise.
Prodigy of Mobb Deep says he couldn't believe what he heard. "I was, like, Oh Sh*t. Them n****s is sh*ttin' on me. He's talking about my health. Yo, he doesn't even know me, to be talking about sh*t like that. I never had any beef with Tupac. I never said his name. So that sh*t just hurt. I'm, like, 'Yeah, all right, whatever. I just gotta handle that sh*t.' Asked what he means by 'handling' it, Prodigy replies, "I don't know, son. We gonna see that n**** somewhere and—whatever. I don't know what it's gonna be." In the meantime, the infamous ones plan to include an answer to "Hit 'Em Up" on the B-side of an upcoming single.
The single obviously turned out to be "Drop A Gem On 'Em," a strong diss record in hindsight, but not nearly as forthcoming as "Hit 'Em Up."
7. There were spooky mic shortages during the recording.
In the same DJ Vlad interview with E.D.I. Mean of The Outlawz, the New Jersey MC spoke on how the studio mic was acting particularly strange during the "Hit 'Em Up" recording session. Apparently, the mic was continually shorting out as Pac tried to lay his vocals, baffling the engineers. Was something spooky going on, warning the crew? Who knows. We do know, though, that Pac would've found a way to record that damn song, no matter whose ghost was telling him fall back.
For safe measure, here's Tupac and The Outlawz in classic video for "Hit 'Em Up."