Four years ago, U2 was lined up to perform at the Forum in Los Angeles as part of KROQ's Almost Acoustic Christmas. It was a pretty spectacular bit of booking for the charity event, getting one of the biggest bands in the radio station's history to support their recently released album, Songs Of Innocence. But the performance would never happen, as U2's leather jacket-loving frontman Bono suffered a catastrophic bike accident, resulting in broken bones in his face, shoulder, arm, and hand, requiring five hours of emergency surgery and months of rehab.
Two months before the accident, U2 offered up Songs Of Innocence in a manner that made them the ire of millennials everywhere, but the crash seemed to put things in more perspective for both critics and the band. Though he would appear to make light of the incident on Fallon some months later, it wasn't until last year that some of the fallout really was made known. Bono admitted that he'll likely never be able to play guitar again, and, either related or unrelated to the accident, he suffered a near-death experience that he refuses to discuss.
When you consider how omnipresent the band has felt in the four years that have followed the beginning of these health woes — releasing another new set, Songs Of Experience, last year, touring extensively in support of both recent albums, and a stadium tour celebrating the anniversary of The Joshua Tree — U2 feels like a band on a mission to soak up every opportunity they have to perform, while their bodies still let them. "Home is where the hurt is," Bono sings on the song "Walk On." The road, it seems, is where the hurt gets left in the dust.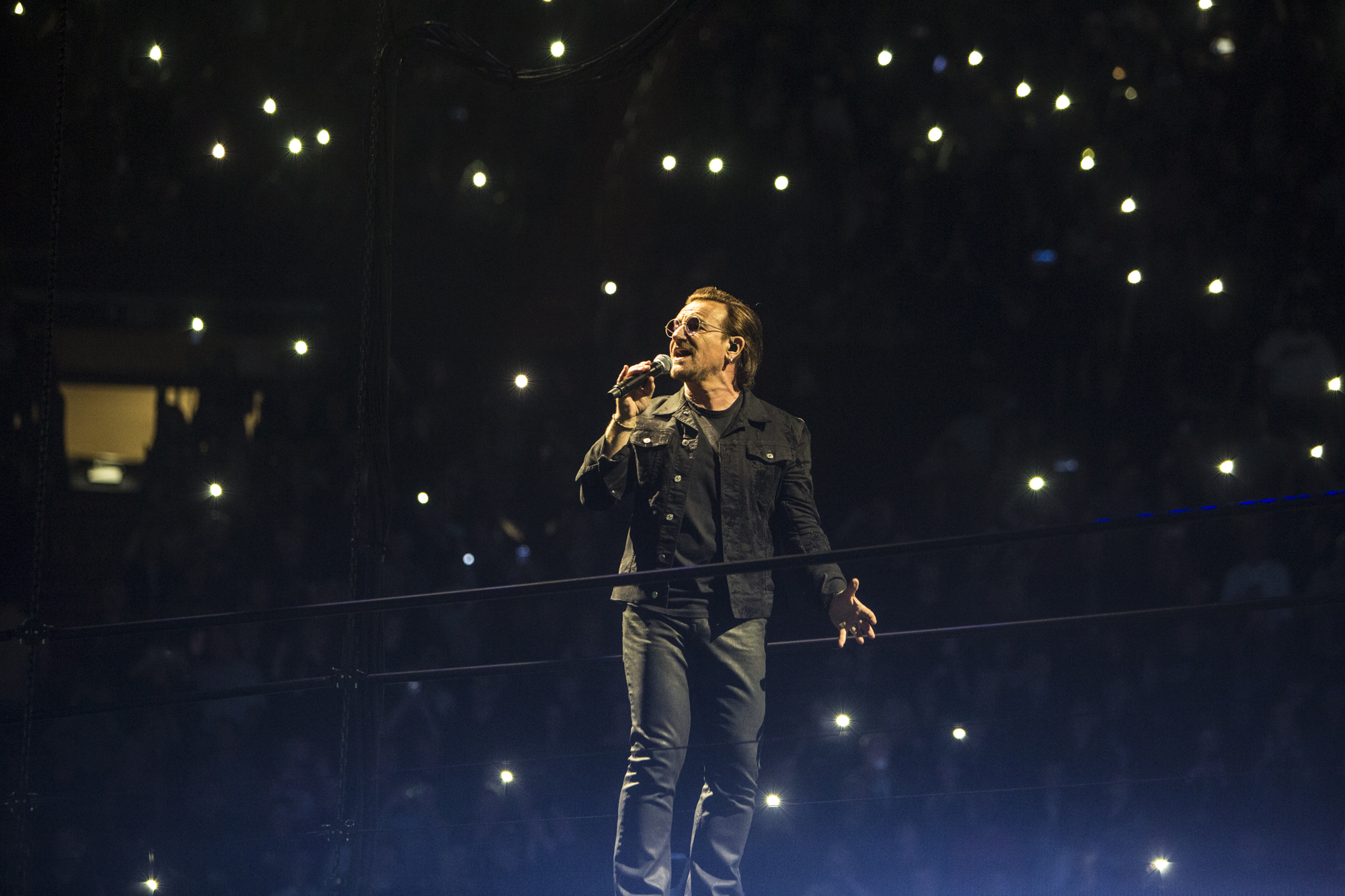 You could argue that though U2 would usually wait four to six years between launching new tours, those classic runs — Zoo TV, Popmart, 360° — lasted a heck of a lot longer. Zoo TV ran for 156 shows, while 360° was 110. By comparison, 2017's The Joshua Tree anniversary shows only played 51 dates. But focusing on this undercuts the significance of three separate tours launched within the last four years, touring behind three different albums, each with their own stage show. Sure, the recent Songs Of Experience run has many of the same features of the Songs Of Innocence tour, including the mega screen that spans the length of an arena that the band members can walk through, but the changes were so numerous to the set as a whole that it really does feel like its own unique experience.
On Tuesday night at the Forum in Los Angeles, the first of two shows at the arena, U2's first battle was against parking traffic caused by the construction of a new football stadium on the property. Holding up the performance nearly 40 minutes to accommodate as many late arrivals as possible, they performed a set that spoke most directly to fans that have seen them for the last couple tours.
For a band like U2, it is impossible to play all the hits, especially if they want to also highlight their newer material. But the choices on this night and tour, in particular, spoke to not repeating themselves. The Joshua Tree was completely ignored, with the band likely figuring that fans of that album had plenty of opportunities to hear "Where The Streets Have No Name" in stadiums last year. Also absent were a number of the hits that were played faithfully over the last few years: "Mysterious Ways," "Even Better Than The Real Thing," and recent single "The Miracle (Of Joey Ramone)."
To confidently make this tour specifically about giving loyal fans something a bit different says something about U2. More than 40 years into a career, there is still the sense that they remain rooted in their art rock genesis. Sure, they have been playing arenas and stadiums for decades, but they aren't afraid to get weird on the largest stages imaginable. Look no further than their comic book interlude to a ominous mix of "Hold Me Thrill Me Kiss Me Kill Me," tags ranging from The Bible to Bowie, and even a song, "Iris (Hold Me Close)," that was preceded by a spoken word monologue ripe for a beret and a cappuccino.
As much as a U2 concert is a physical spectacle meant to overwhelm, it's also a testament to longevity and identity, for showing not just how far these four Irish men have come, but that they are a lot more than the physical dimensions of their LED screens. Even after all these years, it's still just Bono, The Edge, Adam Clayton, and Larry Mullen Jr. on the stage.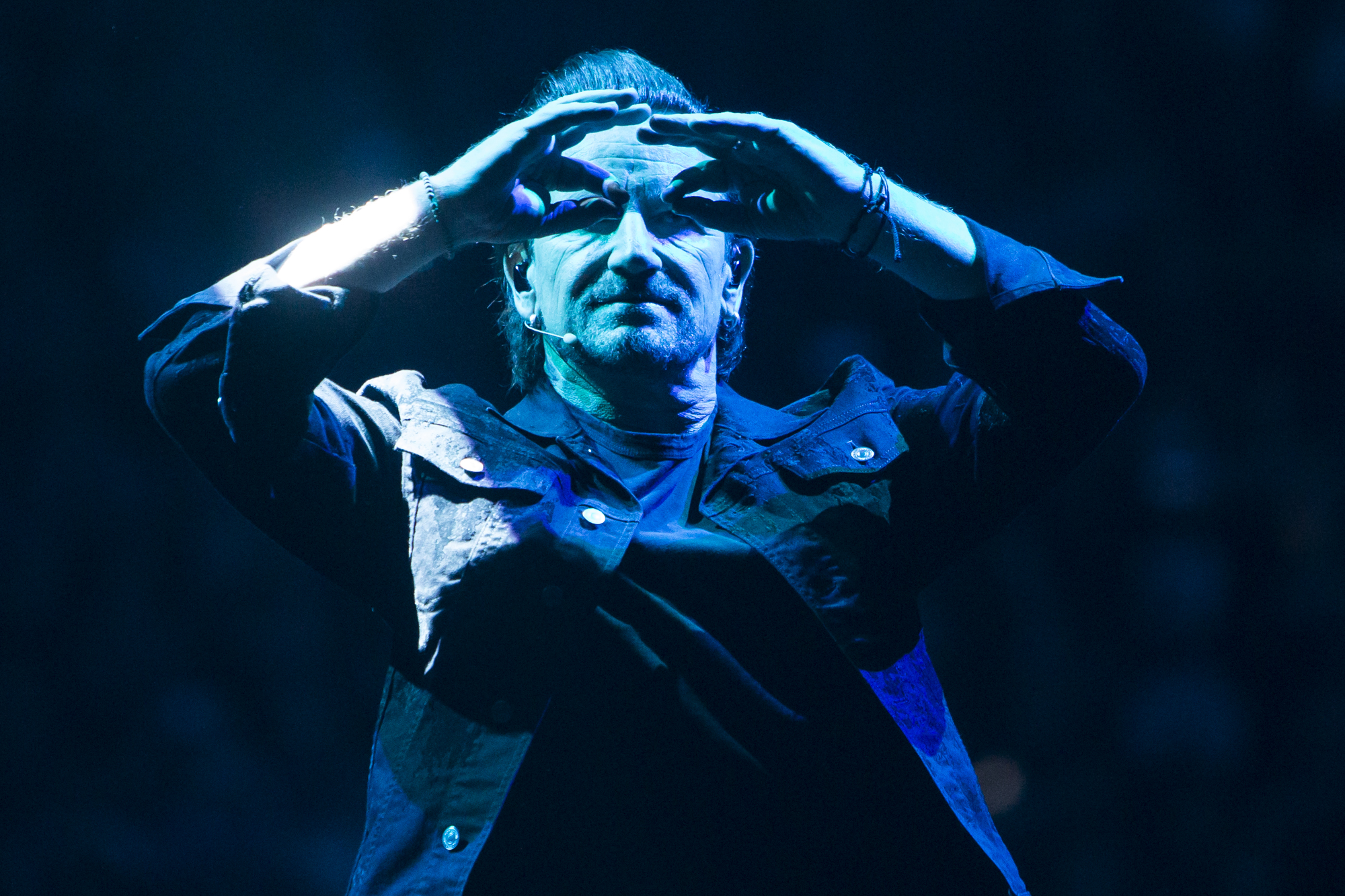 And even with nearly half of the songs performed coming from their last two albums, there was still plenty for the casual fan. They played "One" and "Beautiful Day." The provided the moment for the entire audience to shout along "unos, dos, tres, catorce" before "Vertigo." They dusted off songs like "Staring At The Sun," "The Ocean," and "Acrobat." They demonstrated the balance between esoteric and populist appeal. And even when the show took itself very seriously, the messages were nothing short of commendable, be discussions of Irish history, civil rights, or American politics.
And at the center of it all is Bono, just a handful of years after his body and life were saved he still has it in him to leap on stage, to belt out the soaring chorus of "Pride (In The Name Of Love)," and to make the over-the-top rock star gestures waft a fragrance of cool. There has to be an awareness that this is as young as the band will ever be, and that performing at this pace, with this intensity, can't go on forever. Seeing U2 in 2018 is seeing a band determined to make the most out of their time left, committed to giving back to the fans that have made their life possible. It's as if one of their best-known lyrics has also become the band's own rallying call — sometimes you can't make it on your own.