Coachella has come and gone, yes, but festival season persists. Really, though, festival season actually started back in November or so, in a way. Around that point is when most of the world's major fests started announcing their 2019 lineups. That's when fans got the final piece of evidence they had been waiting for to decide whether or not the events are worth checking out. They had already evaluated their feelings regarding the location and time frame of the fests, but only once they knew which artists were going to be there were they be able to definitively decide if they wanted to go.
Then there's the lineup, the most important part of a festival. Usually, the more names on the poster you recognize, the better, even if they're further down. That knowledge gives a festivalgoer a set of expectations they can take with them into the experience. They can know where to go, when to go there, and what they're in for once they arrive. Name recognition is a paramount component of the festival experience, but not at Waking Windows. Because of that, the Vermont festival is a different kind of thrill.
Of the 176 bands (and 60 DJs) that performed between May 3 and 5 in downtown Winooski (which is right next door to Burlington), I had previously heard of maybe ten of them. That might sound like a disappointment, but what it really meant is that I wasn't at the mercy of the lineup. At most other festivals I had been to previously, I had a clear idea of who I wanted to see at all times, and because of that, my days were scheduled. Unless I strayed from my plan, there was little room for being pleasantly surprised. At Waking Windows, though, I had no plan most of the time. I planned to see headliners like Tune-Yards and Twin Peaks, but aside from those few wants, I was free.
On the first day, I was walking around the festival grounds, and the action over at the main stage caught my ear. It was Vermont group Mal Maiz, who have been described as a "cumbia, Latin, reggae, Afro-Caribbean fusion band." The upbeat international sound drew me in, and I was unexpectedly entertained once I got there. The next day, somebody told me about Caroline Rose, a rising artist who released her well-received album Loner via New West Records last year, and how she was a Burlington hometown hero. I headed over to the stage and sure enough, the queue to get in was the longest one I had seen all weekend. With the crowd on her side, she put on a hell of a show, thanks to her jovial pop rock and equally fun personality. It's a moment I was glad to stumble upon, like when I saw the jazzy and simply delightful twin brother duo The Mattson 2. The weekend was full of little snapshots like that, all thanks to the freedom of spontaneity the fest fosters.
Waking Windows felt like a choose-your-own-adventure book: At every step, I had options, and any of them would lead to something fun. The difference is that I doubt there would have been any truly bad outcomes, regardless of what I picked. I'm sure I could have seen an entirely different set of artists from the ones I actually checked out and had a similarly enjoyable experience. It's easier to have a great time when you don't have a predefined idea of what a "great time" has to be, after all.
Part of the reason this works is because discovery isn't a burden at Waking Windows. Festival co-founder Paddy Reagen told me over the phone before the festival, "Someday, we'd like to take over more space like South By Southwest or Pop Montreal, where it's spread out all across the city, but the fact that you can walk the entire festival in 15 or 20 minutes is a cool aspect as well." He's right: If it wasn't for the relatively small festival grounds, it would have been easy for me to stick to one area and miss out on the variety of venues, which included everything from local bars to the Winooski Methodist United Church.
This sense of discovery was also possible because Waking Windows is an exercise in honoring local music scenes. A majority of the artists on the lineup had Vermont ties; even Tune-Yards' Merrill Garbus spent some time in Vermont, having spent a few years in her younger days working for the Sandglass Theatre, a puppetry performance troupe.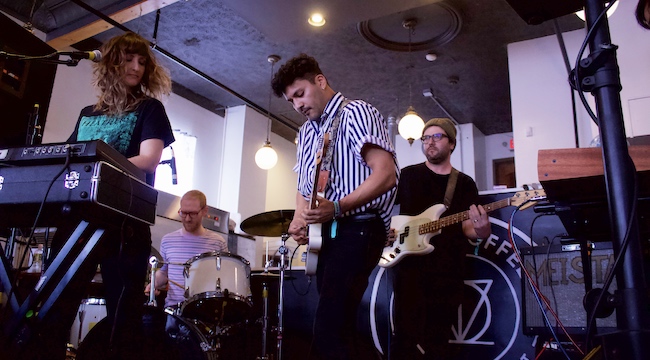 Vermont has a strong local scene, one that is trying to shake off some old stigmas: The state's musical identity will likely forever be connected with Phish, who formed at the University Of Vermont in Burlington. There's nothing wrong with Trey Anastasio, but the group's impact meant that Vermont had a lot of local jam bands trying to emulate that success in the years following. Reagen told me over the phone before the fest that "the shadow of Phish still loomed really large" when he moved to Burlington, but that Vermont's music scene has since expanded to offer far more, and Waking Windows is a great showcase for that.
"Over the past nine or ten years, that's changed quite a bit, so it's really nice to showcase bands that are local that hold up to some of the touring bands that we have," Reagan said.
Most music festivals don't put as big an emphasis on exposing their audience to new talent, and honestly, that's understandable: You have to give the people something they know they want to get them through the gates. Waking Windows does this too, they just shifted the ratio, and you'd think that other events would take a similar approach, considering that so many entities tout discovery as a significant priority of theirs: Just recently, Rolling Stone announced they were launching their own charts, and Penske Media Corporation (which owns Rolling Stone) CEO Jay Penske said the magazine's brand "should be used in other ways to help people discover music."
Focusing on discovery is a risk, though, because going to a festival that you don't know much about might seem scary. Then again, how many great stories happened because the hero only did the expected?
Uproxx was hosted for this story by Waking Windows. Waking Windows did not review or approve this story. You can learn more about the Uproxx Press Trip policy here.