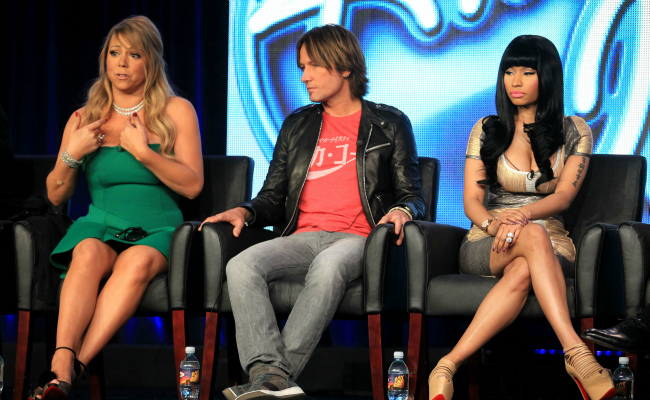 Throughout the 2000s, I watched American Idol on a regular basis. It was my exception to the rule on multiple levels; the only reality show I was willing to watch, and the only thing related to mainstream pop that I cared about. I was there for many of the show's big moments during that decade; Jennifer Hudson somehow finishing seventh, Taylor Hicks winning because he was a likable guy despite obviously not having much of a future as a pop star, and of course, Sanjaya's reign of terror. The show was a tradition of sorts in my house, but somewhere around 2012, my family and I just stopped caring.
I could claim there were a myriad of reasons why Idol stopped being a regular part of my life, but really, it came down to one problem; they kept changing the judges. For the first seven seasons of the show, there was a simple formula. Paula Abdul was the  judge who liked everything by default, Simon Cowell was the one who hated everything by default, and Randy Jackson was the swing vote, the Anthony Kennedy of the Idol supreme court. It was an obvious formula, but it worked well. There were those anxious moments of "oh, what's Simon gonna say about this," and those sad moments of "wow, even Paula couldn't think of anything nice to say about that." That was an undeniably successful format, and the endless tinkering the Idol producers did with the panel is what ultimately destroyed the show.
In 2009, Kara DioGuardi was added as the fourth judge, and things were already a bit more awkward. With four judges, it felt impossibly long to get the judges' thoughts on a given performance, to the point where it was a serious drag on the show. The following season, Abdul left, and was replaced by Ellen DeGeneres, beginning the show's endless infatuation with A-list celebrity judges. DeGeneres wasn't especially knowledgeable about music, but she was likable, which was probably why the producers thought she'd be a good fit.
She wasn't, and she left after just one season. Cowell and DioGuardi left with her, causing a major shake-up. The producers decided the logical solution was more stunt casting, as Steven Tyler and Jennifer Lopez were brought in for the 10th season. In all honesty, this kind of worked, for awhile, at least. Tyler said things that made no sense, and often flirted with female contestants, but he was entertaining, if nothing else. What hurt the show during this period, besides the general unreliability of the panel, was that without Cowell, nobody wanted to take his place as the Mean Judge. You can understand why; it's not easy to be famous for being cruel, but the panel was unbalanced now. Everyone was too friendly, and the critiques had become increasingly meaningless.
After the 2012 season, in which ratings plummeted considerably, Tyler and Lopez left, and three new judges were brought in: Mariah Carey, Nicki Minaj, and Keith Urban. On paper, this would at least seem interesting. Carey is one of the greatest vocalists of all-time, and Minaj is one of hip-hop's biggest contemporary stars. You'd think they'd at least have some thoughtful critiques to offer, but nothing really came of it. We heard of the pair's off-stage feuding, but the show seemed less essential than ever. With all the stunt casting at the judging panel, the actual contestants felt less and less important. One of the reasons why things worked so well in the Simon-Randy-Paula era was that the judges, while important, were not the main attraction. It was about the people competing to become pop stars, and the judges were simply there to guide us into making the right choice. As the panel kept rotating, that became less and less true. Now, it was just "hey look, it's Steven Tyler! And there's Nicki Minaj and Mariah Carey!" Quite simply, the judges were there to be celebrities rather than to offer criticism and advice, and the show suffered greatly for it.
The ratings suffered, too; in its prime, an American Idol finale could be counted on to bring in at least 30 million people (the most successful, in 2006, brought in 36), but last year, only eight million people tuned in to watch Nick Fradiani — who has yet to release a proper album — win the Idol crown. As a result, the show is now going into its last season. Fox is marketing it to death, presumably hoping people will turn in for old times sake. It'll probably work to a certain extent, but the numbers are unlikely to come close to what Idol was at its apex.
For better or worse — and plenty would say worse — this show was an essential part of American popular culture. But after too much tinkering, and too much celebrity-over-substance at the judging panel, the show lost its cache. The contestants mattered less and less (and had less success in their post-Idol endeavors), and viewers naturally stopped tuning in. American Idol had a good run, and it will likely be remembered for just how big it was at its peak. Still, if not for all that infernal stunt casting, the show could have had a lot more staying power.