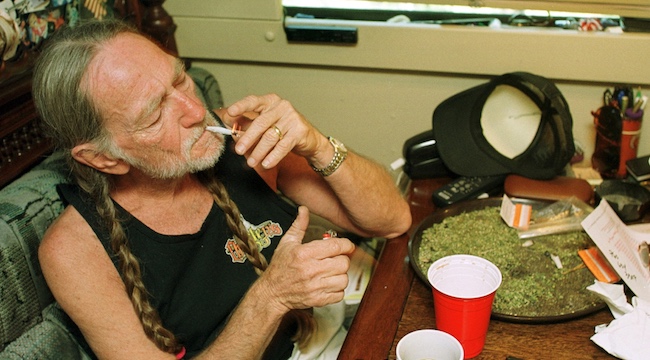 Based on Willie Nelson's journey, smoking weed might be the key to a long and productive life: He is getting ready to release his seventy-third (yes, seventy-third) album, Last Man Standing. He turns 85-years-old at the end of the month. Through it all, he's famously smoked a ton of marijuana. If you want to be like Willie, and you live in California, now's your chance: His cannabis line, Willie's Reserve, is available from dispensaries in Colorado, Washington, Nevada, Oregon, and now, for the first time, the Golden State.
Willie's Reserve launched in 2016, and now Nelson is happy to have his products in California, which he praises for its progressive nature:
"California has a progressive way of thinking and they've decided that cannabis is a positive plant to have in the land which is what I've always believed. And know we've come pretty damn far. From the point where they'd put you in prison for life for a seed to where we are now, which is a lot of progress."
For prospective customers, Willie's Reserve products, which include packaged flower and pre-rolled joints, will be available at the following retailers: Medithrive in San Francisco, 7 Stars Holistic Healing Center in Richmond, Ojai Greens in Ojai, Desert Organic Solutions Collective in Palm Springs, Torrey Holistics in San Diego, Green Goddess Collective in Venice Beach, Little Trees in Arnold, Airfield Supply Co. in San Jose, and Big Sur Canna+Botancials in Carmel-By-The-Sea.
Find out where else you can get some Willie's Reserve of your own here.