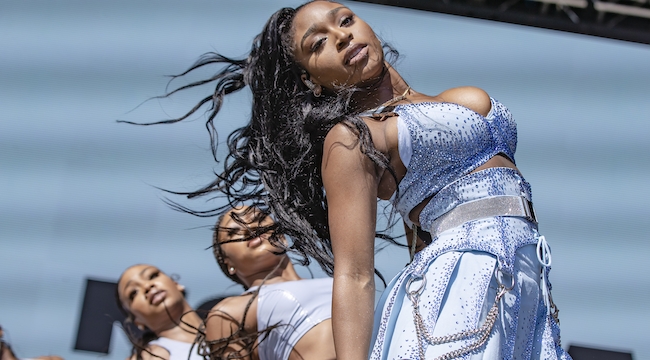 The transition from member of a beloved pop group to solo career is notoriously tricky, but Normani is handling it just fine. On her new single, "Motivation," which is arguably her first real solo release — since all of her other new music featured collaborations with other artists — the still-emerging pop star proves that she knows how and when to drop a career-defining hit, even if hers is still just getting started.
After the somewhat dramatic dissolution of Fifth Harmony — sorry, Camila knew what she was worth — it was clear that the other girls would be embarking on their own solo careers, and none of these endeavors was more anticipated than Normani. While Camila may have been the first to leave, and is one of the most beloved and obviously talented Harmonizers, Normani's quiet determination spoke volumes.
Not just a powerhouse singer but also an incredible dancer — she was even a finalist on Dancing With The Stars in 2017 — the Atlanta-born, New Orleans-raised artist relocated to Houston in the aftermath of Hurricane Katrina in 2005, citing the fact that it was Beyonce's hometown as a major factor that impacted that decision. Whether it was nature or nurture, elements of all three of these powerhouse musical epicenters have made their way into Normani's skillful blend of hip-hop, pop, R&B and dance is showcased to a T on "Motivation." There are so many things this song and video release got right that it's almost hard to count them.
The first great strategic element of "Motivation" is that it moves Normani even farther away from her past as a Harmonizer, and aligns her more directly with Ariana Grande, who is arguably the most powerful force in pop right now (or in the middle of her imperial phase, if you will). Ariana co-wrote the song, which is her first time writing a song for another artist, as Joan Grande so generously and excitedly pointed out on Twitter when the track dropped last week.
Congratulations to my daughter @ArianaGrande on her first song placement as a writer for another artist .. Motivation sung beautifully by @Normani … how exciting, I'm very proud and so much love to @Normani … SMASH!!! Congratulations @Savan_Kotecha and team as well!!!!

— Joan Grande (@joangrande) August 16, 2019
After opening for a leg of Grande's massively popular Sweetener tour, Normani's name recognition definitely went up in the pop world, and releasing a single that creates more of a connection between the two is a genius marketing move. But it's also a genius musical move, too, because the song fits neatly into the lane of deeply rhythmic and super melodic pop that Ari has been scoring hits off this year, and a promising start on another chart hit for Normani. And even if she sings and performs the song on her own, unlike her previous collaborations with Khalid and Sam Smith, Grande's co-write almost functions as another guest on the song.
Aside from the sonics, the music video accompanying the track is another huge part of its successful launch. In a video directed by Dave Meyers, who has worked with everyone from Kendrick Lamar to Taylor Swift to Billie Eilish to Travis Scott, the clip plays into the rising nostalgia for 2000s pop, while also bringing it squarely into the present moment. The swaggering, effortless street dancing that Normani and her all-Black crew engage in throughout the clip is preceded by her past, younger self watching 106 & Park, and daydreaming of making a video worthy of the show. This creates the perfect tie-in for a video geared toward nostalgia, while also emphasizing the importance of representation.
Plenty of artists are drawn to shoot music videos in areas of LA that are known for their history in hip-hop or as important areas for urban culture, but a lot of those visuals transport white artists into these predominantly Black and Brown neighborhoods — Ariana herself faced scrutiny for the pink "trap house" in her "7 Rings" video, populated with girls decked out in glitter. As someone who dealt with displacement from her home because of flooding that predominantly affected Black Americans and those in lower-income areas in New Orleans, Normani's decision to shoot a video in these spaces feels like an homage to her own past. Another final, clear nod to New Orleans is the element of brass, not just in the song, but the players featured at the end of the video performing in the rain, which include Nola's own Trombone Shorty himself.
The video also brings a hip-hop swagger to the song's storyline, as Normani first baits and then rejects all her suitors throughout the visual, a welcome bit of misandry that suits the modern mood in pop nicely. And as far as pandering to the current moment, the basketball-dance trick, where Normani bops the ball back up into the air across several different moves, gave Twitter plenty of material to craft conspiracy theories and memes about. Add in her extremely '90s airbrushed white outfit with "1996" emblazoned across the top and "Motivation" splashed across the skirt, and the potential for memes and jokes increases a hundredfold.
The most successful popular music of 2019 has all been indebted to hip-hop in some way, primarily through production and beats, and "Motivation" definitely carries that trend within it as well. But instead of attempting to rap or bring on a guest verse, Normani relies on her own vocals and singing chops to carry the song. Whether she goes in that direction in the future or not remains to be seen, but emphasizing her ability to sing by herself after being buried within the harmonies of four other girls is another smart element of this release that helps separates it from her other collaborations. But as far away as she might get from those roots, the core of "Motivation" is an uplifting, inspiring song that would've fit neatly into the Fifth Harmony catalogue, proving that even as she grows, Normani still knows and respects her audience — and isn't planning to leave them behind.