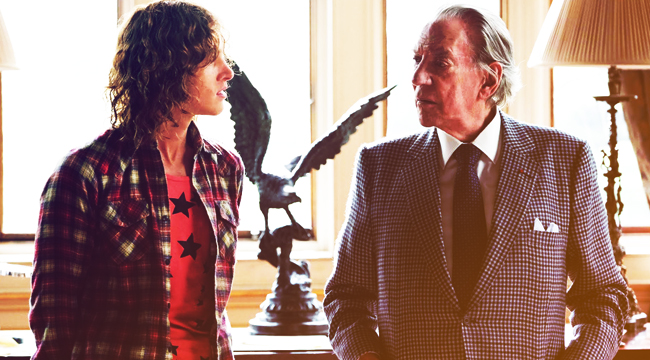 Tomorrow night, FX airs the finale of The Assassination of Gianni Versace: American Crime Story, the long-delayed follow-up to The People v. O.J. Simpson. Versace has had its moments, and some outstanding performances, but it hasn't been nearly the phenomenon that The People V. O.J. was, in either ratings or online discussion. Where the O.J. season was able to cover a wide array of topics and tones — having room for both Sterling K. Brown's heartrending Christopher Darden and whatever John Travolta was doing as Robert Shapiro — this new one has been much more of a piece, and required spending a lot of unpleasant time in the company of pathological liar turned serial killer Andrew Cunanan. Though the series uses Cunanan to tell an assortment of tragic stories about being in the closet in the '90s, it's by design not the rollicking good time its predecessor so often aspired to be.
FX's new limited series Trust, debuting Sunday at 10, isn't part of the American Crime Story brand — it was created by Simon Beaufoy, and executive produced by Danny Boyle, who directed the three episodes sent to critics — but I wouldn't be surprised if it becomes a magnet for viewers who'd been expecting Versace to be something it had no interest in becoming. Trust has its own flaws, but it also has that blend of true crime, macabre comedy, the foibles of the rich and famous, and social issues that made The People v. O.J. so addictive.
If you happened to see All the Money in the World, or just paid attention to stories about the Kevin Spacey/Christopher Plummer switcheroo, the story of Trust will seem familiar. It's 1973, and oil tycoon J. Paul Getty (Donald Sutherland, his voice now rich and slow as molasses) is exasperated by the lack of a potential heir among his decadent offspring, until prodigal grandson J. Paul Getty III (Harris Dickinson) swans into the family estate in the English countryside and shows more interest in the business than his father Paul Jr. (Michael Esper) or any of the other adult Gettys. For a moment, the line seems secure again, but then Paul III is cast out again, goes missing in Rome, and Getty has to send his chief fixer James Fletcher Chace (Brendan Fraser) to investigate whether the kidnapping is real, staged, or a bit of both.
Beaufoy takes a welcome anthology approach to the storytelling, focusing on a different POV character for each of these early episodes. Sunday's premiere is primarily a J. Paul Getty spotlight, though we also get to see how his kids, grandkids, and the women who unapologetically comprise his harem feel about the world's wealthiest and most inscrutable man. Chace moves to the forefront for the second hour as he heads to Rome looking for the kid, who in turn is the primary subject of the third hour, which clarifies the what, when, where, why, and how of his disappearance. And though Boyle is behind the camera for all three, each hour has its own style and tone: the Getty hour is an at times surreal, at times Gothic family drama; the Chace episode is a swaggering private eye story with stunning location footage; the Paul III hour is a decadent romp of Ugly Americanism gone badly awry.
The individual chapters aren't always perfect — that third episode in particular spends more time than is necessary (all three installments are around an hour without commercials) filling in blanks the audience could probably surmise — but for the most part, they manage to avoid overstaying any one idea's welcome. There's a lot in the premiere, for instance, about Getty's sex life, and the cutting edge of 1973 methods he uses to stay in action with the harem; extended over multiple episodes, it would feel self-indulgent, but in only one, it provides useful (if disturbing) insight into the man whose wealth and control drives so much of the story.
The highlight by far is the Chace-centric second hour. Fraser, as discussed at length in this terrific GQ profile, has been in movie jail for about a decade, through no fault of his own, and this is a marvelous and fun return to the spotlight. Chace is a bundle of affectations — a white cowboy suit, a honey-dipped drawl, a tendency to address the audience directly (something nobody else in the cast gets to do) — yet Fraser seems utterly relaxed and comfortable in this guy's skin. He's not a lanky as he was in his George of the Jungle days, but he knows how to put that middle-aged spread to good use: Chace is physically and temperamentally bigger than anyone he encounters, and he makes sure potential troublemakers know it.
Beyond Fraser, the biggest star of the production is Boyle, the Oscar-winning director (Slumdog Millionaire, Trainspotting) giving American television a try. His kinetic visual style is a perfect fit for the sequences where Paul III dances barefoot across the streets and rooftops of Rome, and he knows just the right garnish to put on obligatory sequences where we watch Chace pound the pavement in search of his boss's grandson, so that we might start with the screen split into nine squares showing different interviews, then five identical vertical stripes, then a wipe into the next scene, keeping things lively and evoking the movies made in the period of the story. He also gets a performance from each actor to match the tenor of their role and position in the story, so that Sutherland is allowed to chew all the scenery in the world, while Hilary Swank, as Paul III's mother Gail — who married into, and has long since been cast out of, the Getty family — feels much more understated and at peace with herself than anyone else on-screen.
That FX didn't make any of the non-Boyle episodes available is worrisome, as is the fact that the last episode provided is the weakest of the three. It could all go to seed in a hurry, just like J. Paul Getty feels about his children. But there's an energy and opulence to the whole production that evokes the "all things for all people" nature of People v. O.J. This probably won't be as big a hit — the crime is much older and less famous, and was just the subject of a well-publicized (if modestly grossing) recent movie — but it's not hard to imagine FX executives taking a look at the early footage and wondering if they could get away with slapping the American Crime Story label on it while Boyle and Ryan Murphy weren't looking.
Alan Sepinwall may be reached at sepinwall@uproxx.com. He discusses television weekly on the TV Avalanche podcast. His new book, Breaking Bad 101, is on sale now.