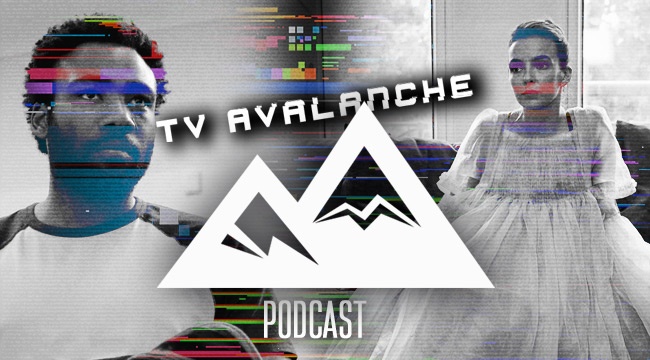 Welcome to another episode of TV Avalanche, where Brian Grubb and I try to sort out the best, worst, and most interesting things happening in Peak TV.
After a couple of weeks off since our last installment, we're back with a very special episode where we check in on four of the year's very best shows — including one apiece for each of us to declare the early frontrunner for our respective 2018 Top 10 lists — in Barry, Atlanta, Killing Eve, and The Americans. Lots to talk about with each, with full spoilers through the most recent aired episode, and I was especially glad to have a chance for an extended Killing Eve segment, since I've written nothing about the show yet for various dumb reasons, yet it's a delight.
We open the show, though, with the roller coaster ride that was last week's cancellation of Brooklyn Nine-Nine by Fox, followed swiftly by its resurrection by NBC. Brian also offers parting thoughts on disgraced magician crime procedural Deception, I yell at him at some point about a whole in his viewing history, and we close things out with Brian grieving the end of the Philadelphia 76ers 2018 NBA playoff run.
As always, you can send questions to tvavalanche@uproxx.com, or tweet with the hashtag #TVAvalanche.
You can also follow the podcast directly on Twitter. Uproxx now has a dedicated TV Avalanche page with links to all the ways you can subscribe, but just in case, the podcast is available on iTunes (please rate and review if you haven't already), Stitcher, Google Play, and Android. You can also stream it below or download it from SoundCloud. Our theme song is "Brundlefly" by The Zombie Dandies, which you can download here.
The rundown:
0:00 – 10:15 Brooklyn Nine-Nine lives
10:15 – 17:10 Deception dies
17:10 – 31:55 Barry
31:55 – 43:00 Atlanta
43:00 – 55:32 Killing Eve
55:32 – 1:19:05 The Americans
1:19:05 – 1:29:04 Brian Mourns the Sixers