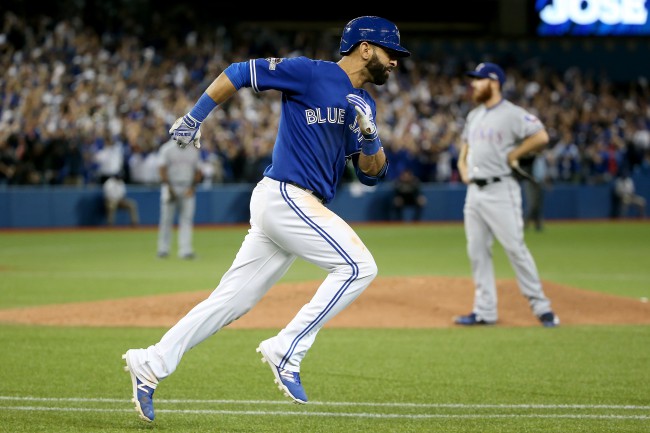 If you didn't watch Game 5 of the ALDS between the Rangers and Blue Jays, you missed the most bonkers inning of baseball in a long, long time. Far too much happened to get into everything all over again—and, as a fair-weather Rangers fan, it would be too emotionally taxing to re-open the wound—but the climax of it all was Joey Bautista's three-run shot to give Toronto a 6-3 lead. That, of course, would be the final score.
Here's another video of the home run and a GIF of a second angle of perhaps the greatest bat flip/launch of our generation.
https://twitter.com/BlueJays/status/654444286281256960/photo/1
What prompted the three-run shot? Clearly this kid in the outfield, who dressed up as Joey Bats, beard and all. Right as this kid takes an imaginary swing, Bautista rockets the pitch into center field.
It's going to be hard for any MLB playoff game this year to top Game 5 of Wednesday's ALDS and Bautista's home run will be a big reason why. The series was an unbalanced one, but lest we forget Game 2, also in Toronto, was a circus in its own right. Blue Jays fans will remember this one for an eternity.
(Via Barstool Sports)