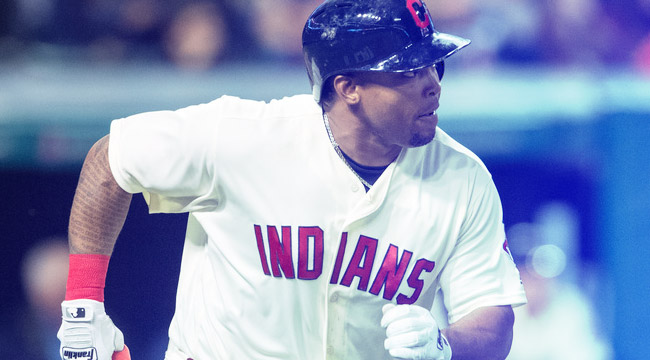 Marlon Byrd is a 38-year-old one-time All-Star and a middling slugger (who inexplicably got better with age) with 159 home runs spread across a 15-year career spent with 10 teams. He isn't on your fantasy team, and he isn't going to get a Hall of Fame vote. Especially now. Marlon Byrd's career all but officially died Wednesday as he tested positive for PEDs (specifically, human growth hormone that he says came from using uncertified supplements) for the second time, earning a 162-game suspension that may as well be for an eternity at this point in his career.
Unsurprisingly, there are fellow players who don't feel compassion for Byrd in this moment, but while we shouldn't condone PED use, sometimes you have to understand a pro athlete's motives.
David Murphy was a teammate of Marlon Byrd's with the Texas Rangers from 2007 to 2009. Both have had similarly productive careers, both were free agents this season, and both signed minor league contracts late in the off-season (on March 17, halfway through spring training, in Byrd's case) in the hopes of making it back to the majors after steadily productive careers (and decent performances in 2015). Both are also almost certainly done with baseball.
Murphy retired at age 34 on April 23 after signing a minor league deal with the Minnesota Twins (his second team of the season following his release by the Boston Red Sox, who had signed him to a minor league deal at the end of the off-season). He was hitting .194 in AAA. He played 10 games. Murphy didn't want to play in the minors (or spend time away from his family) and clearly felt like he didn't deserve to after the career he had. He also didn't want to ride the bench for the Twins or get shuttled back to AAA at some point. The same can be said for former Red Sox World Series hero, Jonny Gomes, a useful veteran outfielder and platoon bat who wound up playing in Japan for a spell before returning to the U.S. to look for a job in early May — he's still looking.
For these players — who go to Japan, the minors, or simply wait by the phone like two-time All-Star Alex Rios — adapting to baseball's changing ecosystem has become a near impossibility. Almost gone are the days where wizened veterans could eek out a few million (guaranteed) dollars as bench players and clubhouse leaders while they headed toward age 40. The Jason Giambis and Raul Ibanezs have disappeared in a whip-lash inducing instant.
In the post-PED boom era, roster and payroll flexibility is in, as are league-minimum earning speedsters and AAAA players who are given bench jobs and league minimum salaries while many gray hairs struggle to stay healthy, productive, and employed over the course of a long season that is unaided by now-banned greenies (once widely used amphetamines) and other substances. Their off-seasons are a torturous waiting game that morphs into musical chairs where a lot of talent is left standing at the end of spring training. It breeds desperation and disillusionment.
There are no sendoffs, and more and more, there are no more chances to leave on one's own terms. You don't even get a tap on the shoulder anymore. You're a ghost.
Guys like Murphy and Gomes have tried to do it the right way, but they've clearly struggled with the reality of the moment and baseball's dismissive attitude toward the intangibles they bring to a team. It's not fair or uncommon in the world at large to see youth overvalued and experience undervalued. It just is. So why wouldn't that carry over into baseball? It's not hard to feel a sense of pity or a sense of kinship to those guys.
Yes, PEDs are an affront to those guys and anyone who tries to fight time without cheating, but you have to wonder if a lot of players who can't put their interests and their comfort ahead of the game wish sometimes that they could. It's only natural that they might feel a small bit of empathy (mixed with the anger) when an older player gets caught using PEDs. After all, they're also going to extremes to stay in a game that doesn't want them anymore – they're just doing it in a more hazardous way.
Time comes for all of us, and no amount of junk you put in your body can stop it. If anything, it might push you out of the league even faster these days.