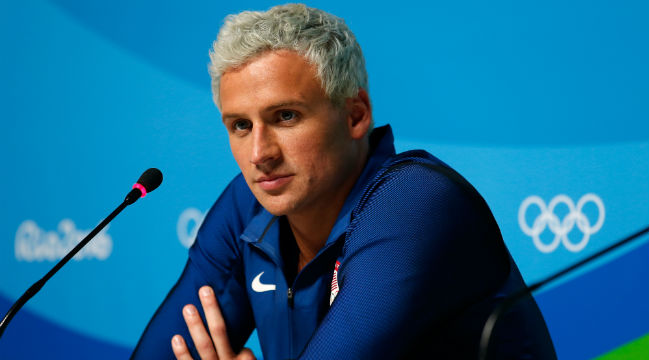 Early on Sunday, reports came out that American gold medalist Ryan Lochte may have been robbed at gunpoint in Rio after attending a party. Now, the United States Olympic Committee is confirming those reports, saying that Lochte as well as other American swimmers Gunnar Bentz, Jack Conger, and Jimmy Feigen were held up by men posing as police officers.
Their official statement reads in full:
"According to four members of the U.S. Olympic Swimming Team (Gunnar Bentz, Jack Conger, Jimmy Feigen and Ryan Lochte), they left France House early Sunday morning in a taxi headed for the Olympic Village. Their taxi was stopped by individuals posing as armed police officers who demanded the athletes' money and other personal belongings. All four athletes are safe and cooperating with authorities."
NBC also got Lochte on the record, and he confirmed that his wallet was stolen at gunpoint.
By far the weirdest part of this story remains the fact that the IOC originally said the report was "absolutely not true," even though Locthe's mother was the one who confirmed the reports in the first place, saying that Lochte had texted her. Now that the U.S. Olympic Committee has confirmed it, the IOC was proven to be talking out of their butt when they said that, especially since the only reason they came to that conclusion in the first place was because they saw someone say it was false on social media.