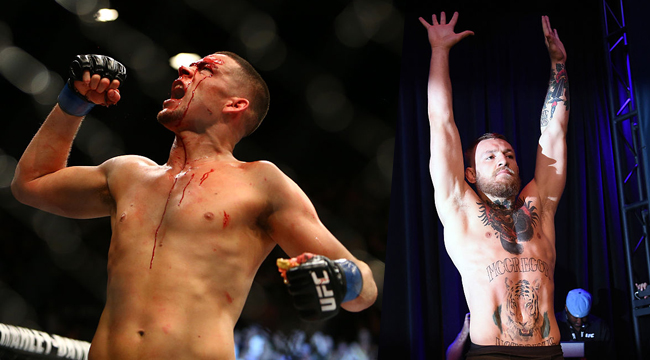 Welcome, fight fans! UFC 202 is the name, predictions and live discussion are the games. The fight festivities kick off at 6:30 p.m. ET on Fight Pass with the early prelims, capping off with Neil Magny taking on Lorenz Larkin in what should be solid welterweight action.
The regular prelims will be on Fox Sports 1 starting at 8 p.m. ET, and we've got some solid bouts here. Strawweights Randa Markos and Cortney Casey square off at the top of the hour, then it's a Straight Blast Gym versus Cesar Gracie Jiu Jitsu appetizer when Artem Lobov faces Chris Avila. The prelims end with top bantamweights Takeya Mizugaki and the undefeated Cody Garbrandt clash.
The main card is exclusively on pay per view and it starts at 10 p.m. ET with Tim Means welcoming former The Ultimate Fighter cast member Sabah Homasi into the UFC proper in welterweight action. Speaking of 170 pounds, Cowboy Cerrone faces Rick "The Horror" Story in what should be an exciting bout.
The co-main event pits number one and number two ranked light heavyweights Anthony "Rumble" Johnson and Glover Teixeira against each other in what is likely a title eliminator. The main event is a welterweight rematch from UFC 196 as featherweight champ "The Notorious" Conor McGregor looks to get his win back against lightweight contender Nate Diaz.
Let's jump into the staff predictions for the main card, and don't forget to stick around for a live discussion of the entire event.
2016 Important Results:
Jessica: 141-112-4 (55 percent)
Burnsy: 101-103-3 (49 percent)
Ryan: 5-1 (83 percent)
Jason: 52-40-1 (56 percent)
Bill: 29-17 (63 percent)
Jared: 20-20 (50 percent)
Jackman: 7-5 (58 percent)
Enrique: 7-5 (58 percent)
Jamie: 16-13-1 (55 percent)
Justin: 13-4 (76 percent)
Marty: 20-12-1 (62 percent)
Parker: 3-4 (43 percent)
Team Davis: 72-56-3 (56 percent)
Dan: 0-0 (undefeated/winless)
Welterweight – Tim "Dirty Bird" Means vs Sabah "The Problem" Homasi
Jessica: I don't know who Sabah Homasi is, but I feel sorry for him. Tim Means is going to inflict some serious violence on this guy's face and win by first round KO.
Bill: Tim truly is a Dirty Bird. And he's going to eat Homasi's lunch … which is really mean, because his dad packed that lunch and put an inspirational handwritten note in it and everything.
Jason: Tim Means seems like the easiest pick on this entire main card, so I guess that's the pick to make.
Burnsy: I'd say the real Problem here will be Means beating the snot out of Homasi.
Dan: There's presumably a reason why Tim Means is a gargantuan favorite versus TUF alum Sabah Homasi. *has a think* Oh right, he's a battle-tested vet going into his first 2016 fight with three impressive 2015 victories under his belt and the cardio to keep up with an opponent with less career wear-and-tear. Pencil this in as a win for the Dirty Bird.
Jared: Easily my favorite fighter who was ever knocked out by a sauna, I'm taking "The Dirty Bird" Means to score a quick KO here. Homasi might have the power to catch him early (judging by his record, at least), but he's only being brought up to the UFC as a late replacement and will be dispatched with relative ease.
Suzanne: After the world's first confirmation that a supplement DID actually contain a banned substance, Tim Means is making his return after a brief suspension.
Sabah Homasi is making his UFC debut just two weeks removed from his last fight. This probably doesn't go well.
Pick: Tim Means KO, 2.
Welterweight – Hyun Gyu "The Ace" Lim vs Mike "Platinum" Perry
Jessica: I don't know who the heck this Mike Perry dude is, so nuts to him. Hyun Gyu is gonna take him to the Lim-it and blast Perry with some huge shots. Lim wins by second round KO.
Bill: Lim is way too good-looking to lose to a dude whose nickname is "Platinum." Perry is undefeated, but Lim has a six-inch reach advantage and is also great. Bad news for Platinum.
Jason: What's with putting these people we've never heard of on the main card? Why are they doing this? I'm picking Lim just to spite Perry.
Burnsy: My very good friend — he's practically my brother — has the last name Lim. I cannot pick against that name. Except maybe if the guy's name was, like, Hitler Lim. In that case, I'd pick Perry, but that's not the case so I will pick Lim.
Dan: Look! Lim Hyun-Gyu (or Hyun Gyu Lim if you're nasty/into the name flip) has been taken out of suspended animation for his first fight in well over a year. Mike Perry should make for an interesting opponent as he can exchange punches with Lim and the two appear likely to keep things on their feet. It's been a goofy year for the UFC, so I'll take the underdog Perry for the upset.
Jared: It's been a while since we've seen Hyun Gyu Lim in the octagon, and his defeat to Neil Magny exposed a LOT of holes in his game. That said, this Perry guy doesn't even have a Wiki page, is being called up to the big leagues on short notice, and isn't the kind of grapple-focused fighter that could give Lim real trouble. Lim by violence.
Suzanne: Hyun Gyu Lim and Mike Perry have made their separate ways from worlds apart to meet this weekend in Las Vegas. Lim made the dreaded west-to-east travel and dealing with the wheel in the sky is no easy task. We'll see if he takes on this task with open arms.
That said, Perry faces a tough test in his first UFC fight. Will he execute his game plan faithfully or will he stop believing?
Pick: Any way you want it, Hyun Gyu Lim shuts off Mike Perry's lights in the first via lovin', touchin', and squeezin'.
Welterweight – Rick "The Horror" Story vs Donald "Cowboy" Cerrone

Jessica: I fully admit, I sometimes fall into the trap of not thinking Story is as good as he is. It might be a residual effect from losing to human punching bag Charlie Brenneman on short notice, but he's got the kind of style that can really give Cerrone fits. I think Cerrone will have some success early, but I see Story grinding Cowboy into the fence, beating him up and taking a decision win.
Bill: This is the toughest fight of the night to pick, I believe. It's really going to be a slugfest, but I see Story taking this one. Maybe Cerrone will ask for more money afterwards.
Jason: It seems like now is the time for Donald Cerrone to lose. If he wins, he could be looking at some serious welterweight competition. Right now, he's just kinda flirting with the outskirts of the top ten, so while he's fighting well, I'm more impressed by his boating trips than his welterweight winning streak. The question is whether Rick Story can work the body. I don't think he can, thus Cerrone wins a decision.
Burnsy: Story beat my main man Gunnar Nelson. I can't live without Nelson's love and affection, so I'm not cool with anyone beating my guy (even if my guy barely showed up to that sad fight). Cowboy's gonna get revenge for me, since I can't get revenge for myself because Story would hit me once and I'd burst into a cloud of dust.
Dan: Rick Story should provide quite the test for Donald Cerrone. Mind you, Patrick Cote was supposed to provide the same thing in Ottawa at UFC Fight Night and he came out the other side beaten into MMA paste. Cerrone takes it and stays undefeated on his current welterweight run.
Jared: Donald Cerrone strikes me as the type of guy who unironically brandishes a pair of Truck Nuts on the back of his jacked up F-150 and calls his tanner white friends "Mexican" while jamming the hell out of the latest Luke Bryan album. I don't know if that counts as analysis, but he's definitely winning the sh*t.
Suzanne: Rick Story is one of those fighters that I completely forget about between fights. Did you know that Rick Story has the landed second most significant strikes in UFC welterweight history? Me either. Did you know that Rick Story has landed the 5th most strikes in UFC welterweight history? Me either.
Did you know that Rick Story's parents call him "Dick Story"?
Pick: Cerrone by decision.
Light Heavyweight – Glover Teixeira vs Anthony "Rumble" Johnson
Jessica: I don't really believe in Glover all that much, but I'd rather be wrong than hate myself, so I'm picking him to beat Johnson here. Glover is going to use his grappling to beat up Rumble on the ground and force Johnson to tap to strikes. Teixeira wins by second round submission.
Bill: No. 1 vs. No. 2 in the standings is terribly exciting and whichever one of these dudes wins is a lock for the next light heavy title bout. I feel like Johnson is gonna RumbleJohnson his way to victory here and prove he IS as good as he's supposed to be.
Jason: This is violence. One of these men will be waking up, looking at the ceiling of the arena, wondering what brand of truck hit them. I think that man will be Teixeira after getting head kicked to oblivion. It's a bummer, because I'm sick of rematches and don't care about Rumble vs. DC.
Burnsy: I don't like picking Rumble, but my record has taken a beating in recent months — awful pun not intended — so I need a winner. Dammit, Rumble wins.
Dan: There certainly have been sexier donnybrooks between top light heavyweight contenders, haven't there? Rumble is very good at walloping opponents into bits of mammal pulp, and Glover Teixeira isn't half-bad on that side of things as Rashad Evans and Patrick Cummins can attest. Rumble gets the edge from this goober who sees Johnson getting the KO over Teixeira in the opening round. If he doesn't? The odds start to shift in Teixeira's favor.
Jared: As terrible of a person as Anthony Johnson is behind the scenes, there is some part of me that wants to see him keep winning fight after fight until we're finally given the Rumble vs.Bones matchup that we deserve. Teixeira is as tough as they come and has shown a markedly improved grappling game in recent performances, so this fight basically boils down to whether or not he can survive Johnson's early storm and break him like Daniel Cormier did. My guess is that he won't be able to, because "Rumble" could probably KO a water buffalo with one punch if he wanted to. Johnson for the win.
Suzanne: One of the most underappreciated accomplishments of modern medicine was the successful reattachment of Antônio Rogério Nogueira's noggin after Anthony Johnson uppercut-ed it off. (Good news, Mr. Burns, we're closer to discovering the cure for 17 stab wounds in the back!) So, there's never been any question about Anthony Johnson's power. His 12 knockdowns places him at 5th for the most knockdowns in UFC history.
While Glover Teixeira has only been knocked out or TKO'd once (in his first fight), he hasn't faced many fighters with the power that Anthony Johnson possesses. With Johnson's stellar takedown defense, this fight is likely to play out on the feet and the longer it stays on the feet, the more likely it is that Teixeira gets slept.
Let me be honest — I think this fight is one-sided and I think Anthony Johnson wins. But Johnson is one of the few fighters with outside-the-cage issues that I cannot set aside long enough to enjoy their inside-the-cage talent. Anthony Johnson can go [many words not suitable for the fine Uproxx audience] himself.
Pick: Even if it ruins the vaunted Team Davis picking record, I'm going with Glover Teixeira via something that forces me to talk to my children about death some time in the second.
Welterweight – "The Notorious" Conor McGregor vs Nate Diaz

Jessica: I've probably thought about this fight more than is healthy, so I'll try to keep my prediction under a billion words. I think Conor will actually take a more measured approach, which will help his cardio, but that's going to get counteracted by Nate throwing with more volume earlier. I think Nate's going to hit some solid punches, get Conor wobbled again, but McGregor won't shoot, he'll try to tough it out and just get battered against the cage. Diaz wins by TKO midway through the second.
Bill: I'm just so excited for the reality of this fight that there's no way it's going to live up to expectations, but that's okay. Diaz has this one. He's going to shut McGregor up. … For the amount of time it takes for McGregor to get to the press conference and announce he's returning to his own weight class, and then start running his mouth again.
Jason: My God, this fight. Like Jessica, I've dissected and rewatched their first fight a milion times. I think McGregor will do (even) better this time, but will still lose, and lose via TKO or submission. I think McGregor is a fabulous martial artist, but Nate is elite and motivated. I wonder if all the media has messed him up, though…
Either way — NATE! One only needs to see Dan Hardy nerd-out on Nate's superb finish of Conor to know he's bringing something that Conor doesn't know how to deal with. Also — I've watched every piece of footage released by both camps on this fight, and I truly believe McGregor isn't being pushed by his training partners. It's the typical thing that happens with stars. Conor brings in a lanky, Irish boxing champion to emulate Nate, and all you see is Conor teeing off on him and the boxer acting timid. Probably because Conor is paying him so well. I don't think Conor's prep for this fight has been as good as it's being touted. But hey, I could be wrong! Conor is elite and anything can happen, babes. I wish I could write another 10,000 words on this. Nate via sub round 3.
Burnsy: I went from wanting McGregor to win this fight and one against Robbie Lawler and one against whatever fighter is the heavyweight champ to wanting Nate to beat him until he sees all of the Lucky Charms floating around his dumb, arrogant, obnoxious head. And that's remarkable because I don't like the Diaz brothers! This fight is so stupidly pointless and it only exists because McGregor is too afraid to defend his belt, because he knows he got lucky AF. So, he's going to lose this one, then lose his belt, and then what? He'll beg Vince McMahon for a job or whatever. Amazing how quickly I've turned against McGregor. Oh well.
Dan: Congrats, Jose Aldo! Your mystique getting snuffed by Conor McGregor was kinda/sorta for nothing. That's a bit much, but if McGregor (OOOOH! LOOK OUT, WWE SUPERSTARS®) gets fustigated, tapped or generally humiliated by Nate Diaz, it certainly doesn't reflect well on the featherweight division which has been treated lately with all the love of an abandoned Sears. McGregor is apparently leaning hard into his prep game, although Diaz took their UFC 196 on ridiculously short notice, so let's tone down the "fighting man is working hard at fighting" banner waving. When McGregor swings, Diaz has the reach to hit back right away. Unless Conor connects with a deadly strike, Diaz will handle this fight to emerge with the victory and the soundbite.
Jared: Heading into their first fight, I was convinced that McGregor would be able to find Diaz's chin early enough to put him away, while simultaneously feeling this sickness in my stomach that his hype train was about to come to an end. One does not simply KO a Diaz, after all. This time around, however, I can't help but feel that McGregor has so much more on the line that Diaz, which will ultimately push him to the level of greatness he's been selling us on since day one. He's cut out the bullshit media appearances, picked up some insane training methods, and has become borderline obsessed with re-establishing himself as the most dangerous guy in the game. He's basically undergone the Rocky 3 transformation upon which all great champions are measured, and although Diaz may forever hold a grappling and cardio advantage over him, McGregor has a fight IQ and a will to win that just cannot be overlooked. I'll take Mystic Mac to outsmart Diaz and pick up the win.
Suzanne: In my day job, I have to make a lot of decisions based on the facts I have and cannot allow how I feel about one thing or another cloud my judgment. I have to be deliberate and exact, not fiery and passionate. Because of this, this fight has been hard for me to figure out and I've flipped picks dozens of times.
Nate Diaz has a slight reach advantage, he's taller, he's bigger, and, most importantly, he's already beaten Conor McGregor. 209: 1, Touch Butt: 0. While McGregor took the first round, the work he did was worse visually than it was actually. It's not that McGregor is a bad fighter, he isn't, it's that he has a lot of ground to make up against someone with so many advantages.
Logically, the pick has to be Nate Diaz.
Going into this fight, none of the plusses I give Conor McGregor come from anything that has to do with actually fighting. He's intensely prepared, he's had a tight training camp, he's focused on this opponent and not a late replacement, he doesn't want to lose again, he wants to prove he can fight, and beat, 170 pounders, but I can't ignore whatever it is that keeps telling me that, for some reason, this is going to be different. That the fight will be a more energy-efficient version of round 1 from the first bout. That McGregor predict dees tings.
Pick: Not because I think that he'll win, I don't. I'm unabashedly a Nate Diaz fan and I am so, so hoping to be wrong on this one. I'm going to take the chance and say Nate Diaz Conor McGregor Nate Diaz Conor McGregor Nate Diaz… oh dammit, Conor McGregor by decision.
Performance of the Night
Jessica: Avila, Magny
Bill: Johnson, Lim
Jason: Diaz, Rumble
Burnsy: Cerrone, Diaz
Dan: Cerrone, Perry (no, you're high)
Jared: Lim, Garbrandt
Fight of the Night
Jessica: Markos vs Casey
Bill: Story vs. Cerrone
Jason: Diaz vs. McGregor
Burnsy: Sabah vs. Homasi
Dan: Story vs. Cerrone
Jared: Diaz vs. McGregor