A League Of Their Own isn't just the best baseball movie — it's the best sports movie ever made. But could the fictional story of the first season of the All-American Girls Professional Baseball League ever happen in Major League Baseball? If so, it would probably go like this.
Before Game 1 of the 2017 World Series — a historic matchup between the league's two best teams, the Los Angeles Dodgers and Houston Astros — Dodgers manager Dave Roberts speaks to the media.
Reporter: What would you say was the hardest part of getting here?
Roberts: That's tough. It wasn't just one thing. We lost a lot of players in the middle of the season. Cody Bellinger got drunk in a bar, did karaoke, had sex for the first time and quit the team to get married. It was particularly strange when we traded Clayton Kershaw after he got into a feud with Yasmani Grandal and I can't for the life of me tell you what we got in return. And when Grandal's wife returned from the war, he decided he was going to quit the team just before the Series. So having all that happen just before we play Houston, it really hasn't been easy.
Reporter: And now you have to face Kershaw, because your GM traded him to the Astros.
Roberts: I won't lie, it's pretty ridiculous that we managed to get to the World Series after all this happened to us.
Reporter: And Curtis Granderson?
Roberts: Yeah, him breaking down in tears and calling it a season after he got that telegram from the Army was understandable. I'm still not sure why the messenger had to be such a dick.
Reporter: Any regrets about telling Grandal to "stop thinking with his tits" when you were mic'd up by ESPN during that Sunday night game?
Roberts: Yep, that was uncalled for, as was scratching my balls in the dugout earlier in the year. Now if you'll excuse me, I need to manage a team that doesn't have its best pitcher, catcher, cleanup hitter and left fielder.
Fast-forward two weeks, as the first six games were somehow played to a 3-3 draw despite the Dodgers' obvious lineup deficiencies. Roberts is feeling very optimistic after assaulting a player's child with a baseball glove.
Roberts approaches his catcher, Austin Barnes, who is warming up Rich Hill before Game 7.
Roberts: Austin, if Rich doesn't have it today, you tell me, OK. Do you hear me? Do you hear me?!?!?
Grandal: [removes his mask] Yeah, you're yelling, of course I hear you.
Roberts: Oh, hey. You're back. We've been doing pretty well with Austin.
Grandal: If you don't want me to play, I don't have to play.
Roberts: Well you're already dressed … although, we are six games into the World Series and I had to submit my roster before the start of the series, and I'm pretty sure MLB rules forbid me from just sticking you into the lineup for Game 7.
Grandal: How about we just do a montage that gets us to the eighth inning and this way no one can stop us?
Roberts: Sure, that works.
It's the bottom of the eighth and with two outs, a player whose name nobody knows swats a single to right field. Yasiel Puig fields the ball but throws it wildly into the infield, allowing the runner the score.
Puig: I'm sorry! Shoot!
It's 1-0 Astros but Justin Turner snares a line drive to the end the inning without further damage. Roberts climbs out of the dugout and manically gestures with his finger for Puig to come to him.
Roberts: [trembling with anger] Yasiel, you're still missing the cutoff man. That's something we'd like you to work on for next season.
Puig: [smiling] Thank you, Mr. Roberts.
It's the top of the ninth. Kershaw is on the mound to get the final three outs with the Astros up, 1-0. It's hard to understand why the team with the best record in baseball doesn't have home-field advantage in Game 7, but that's not even close to the weirdest thing about this situation.
Kershaw puts two runners on and Astros manager AJ Hinch refuses to go to Ken Giles or Chris Devenski. Grandal glares at Kershaw as he strides to the plate. Kershaw is on the verge of tears. He gathers himself and throws a pitch that Grandal, who, again, is not listed on the Dodgers' official World Series roster, smacks back up the middle for a base hit that puts the Dodgers ahead, 2-1. Kershaw is an emotional mess but gets the final out.
Cameras catch Kershaw sobbing in the Astros dugout.
Brian McCann: Clayton, get it together, you have to bat.
Carlos Beltran and Evan Gattis are watching this from the other end of the dugout.
Gattis: Why wouldn't we pinch-hit Kershaw in the bottom of the ninth?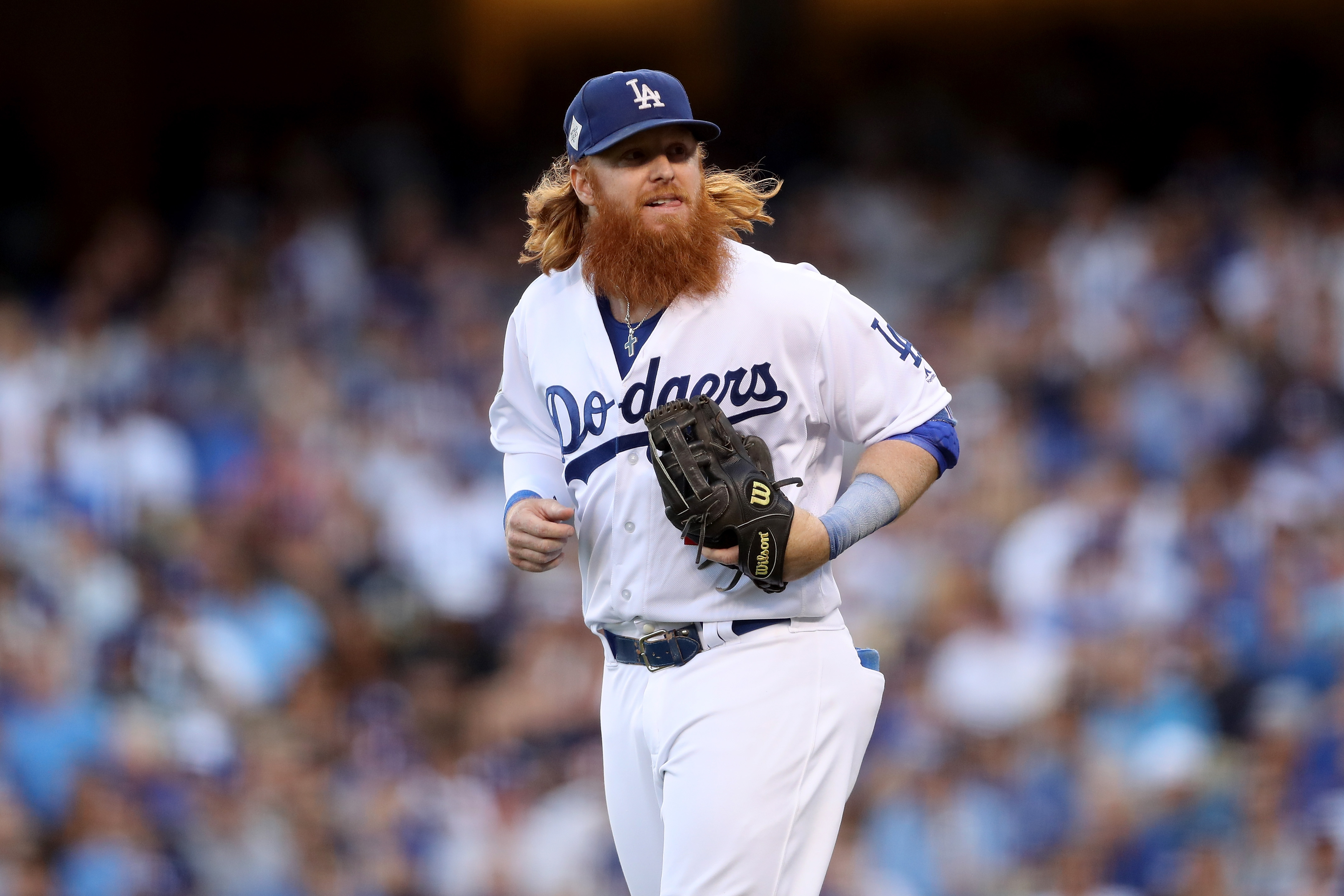 The Astros get a runner on base and Hinch sends Kershaw to the plate. Grandal goes to the mound to talk to Hill.
Grandal: High ones. Can't hit 'em, can't lay off 'em.
Hill: It's lefty vs. lefty and he's a pitcher, can't I—
Grandal: High ones.
Hill throws the first two pitches past a teary-eyed Kershaw. The Astros are one strike away. Turner is obnoxiously screaming "One more!!!"
Hill fires a third high pitch but Kershaw smokes it into right field. It rolls all the way to the wall. Grandal is stunned. One run scores to tie the game. Puig hits the cut-off man and the ball gets to third base, where Kershaw will hold with a trip—OH MY GOD KERSHAW IS ROUNDING THIRD AND HEADING HOME.
Turner gets the ball home to Grandal. Kershaw is still 15 feet from the plate. Grandal has time to position himself and brace for impact. The collision happens. The ball … trickles out of his bare hand.
Kershaw has smacked a walk-off inside-the-park home run to give the Astros their first World Series title in 55 years of existence.
In the locker room after the game, reporters try to ask Grandal about the final play.
Reporter: Why did you drop the ball on purpose?
Grandal: Did I? Who said that? I believe the mystery is—
Reporter 2: You clearly dropped it on purpose.
Grandal: But—
Corey Seager: [obnoxiously yells from far end of locker room] WE ALL SAW YOU DROP IT ON PURPOSE WHY DID YOU EVEN COME BACK AND PLAY GAME 7 WHEN YOU LEFT US BEFORE THE SERIES STARTED?!
Kershaw and Grandal meet outside the stadium near the buses. Kershaw signs autographs for some kids.
Kid: Wow, an autograph from the guy who only won because his old catcher let him win. What an honor!
Kershaw and Grandal say their goodbyes, as Grandal is off to make a bunch of babies after returning to sabotage the biggest game of his teammates' lives.
Grandal: Mule!
Kershaw: Nag!
"This Used To Be My Playground" plays as the buses pull away.
Dave Lozo is a freelance writer whose work can be found at Uproxx, Vice Sports, and Deadspin. His book The 100 Greatest Players in NHL History (And Other Stuff) is available on Amazon. He is also the co-host of the Puck Soup podcast and wishes every movie wasn't a reboot, remake, or sequel, but only watches Friends and Seinfeld reruns. His back probably hurts and he knows most people didn't read this all the way through.